---
Neha S.





Direction : Vijay Kenkre
Writer : Neeraj Shirvaikar
Cast : Saurabh Gokhale, Sharvari Lohokare, Sandesh Jadhav, Ajinkya Bhosale, Vineeta Date, Neha Kulkarni, Pramod Kadam, Dhanesh Potdar, Harshal Mhamunkar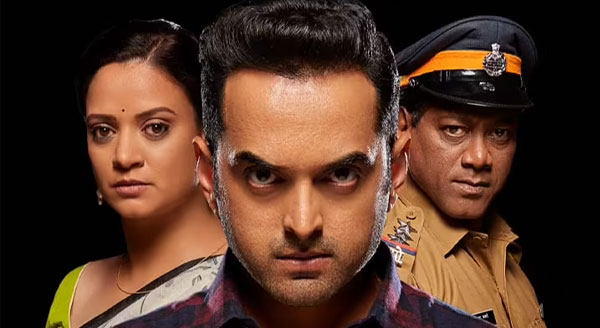 YOU MUST DIE, directed by Vijay Kenkre and adapted to stage by Neeraj Shirvaikar from Agatha Christie's play THE UNEXPECTED GUEST, is the story of Mahesh Mane (Saurabh Gokhale), a man who chances upon a murder in a house he has come to, seeking help with his car on a foggy night in Khandala. Malti (Sharvari Lohokare), the wife of the murdered man Anurag Pathare, claims she has committed the crime. Mahesh decides to help Malti escape punishment. Soon the police arrive -- the inspector played by crowd favourite Sandesh Jadhav along with the sub-inspector. What follows is a whodunit with each family member bringing new information to the fore as they are introduced to the detectives and to the audience.

You can tell when you are watching a Vijay Kenkre thriller, even if you had no idea that he directed it. It is usually a whodunit adapted from a novel or another play. Developing a recognisable style is what auteurs do. Kenkre is an auteur in that regard. His characters have a certain old-school poshness, like what the Marathi kakus and kakas from Dadar and Mahim would have been like when they were in their 20s. The action usually takes place indoors -- in a single room even -- and there's a sense of suffocation because of it that adds to the mystery. Two or three windows and doors lead to offstage rooms, creating the perception of extended space to ease up the stifling atmosphere. There's passion, plotting, twists and turns until the very end. A PERFECT MURDER, MAHARATHI, 38 KRUSHNA VILLA, all excellent plays, will serve to illustrate the point. More peripheral aspects of a Kenkre play that are immensely enjoyable are all the free cussing, a minibar that is always part of the box set of the house, characters smoking on-stage, and the operatic 70s-style musical score. In short, these plays end up being an odd mixture of noir films from retro Bollywood and gothic romances.

YOU MUST DIE checked all those boxes, and yet, some amount of predictability seeped into a couple of the performances. Kenkre's plays that came before this have never failed to amaze and a big part of it, along with the thrilling storyline, has been the charm that the actors brought to each play: Girish Oak, Aniket Vishwasrao, Priya Marathe, Shrikant Bhide, Shweta Pendse shone as their characters, embodying them so completely, you couldn't imagine anyone else playing those parts. But in this play, the two protagonists -- played by Lohokare and Gokhale -- who should share the chemistry that two people stuck together in a difficult situation do, did not. Their performances were not as convincing as those that have come before them.

The interactions between the policemen were much more enjoyable. Their observations served twin purposes: they pushed the plot forward, recapping the 'story so far' at regular intervals for the benefit of the audience, and their banter provided great comic relief -- another recurring feature of a Kenkre-Shirvaikar play.

Ajinkya Bhosale who plays youth politician and Anurag's friend Siddhesh Vardhan, was a standout performance. He brought oodles of charm and looked every bit his part with his crisp white kurta, Nehru jacket, a small ear stud and perfectly coiffed hair. Costumes for the play were done by Kenkre's wife and actress Mangal Kenkre. Costumes and lighting played an especially important part in YOU MUST DIE, giving it the stylish, dangerous quality that's so important in an urban thriller.

The play is an enjoyable watch overall, with the storyline, direction and supporting characters holding it up.

*Neha S. is an avid theatre goer and enjoys watching old Bollywood movies in her free time.



| | |
| --- | --- |
| | YOU MUST DIE Play Schedule(s) |
No upcoming shows.