META to confer 'Lifetime Achievement Award' on theatre veteran Arun Kakade...Meta 2017 judges...Four plays from Mumbai have made the top 10 nominations at the festival this year...



March 3, 2017 6:52:10 PM IST
MTG editorial


The Mahindra Excellence in Theatre Awards (META) festival announced that the META 2017 Lifetime Achievement Award will be conferred upon veteran Marathi theatre exponent Arun Kakade, popularly known as 'Kakade Kaka'. Eighty-five-year-old Arun Kakade is a veteran theatre producer and the man behind managing the Marathi theatre group, Awishkar. Starting his career in Pune, he shifted to Mumbai where he was associated with theatre greats like Vijaya Mehta and former veterans, Vijay Tendulkar, Arvind Deshpande, and Madhav Watve.

In past years, the META Lifetime Achievement Award has been conferred upon several stalwarts of Indian theatre, including the Late Zohra Sehgal, the Late Badal Sircar, the Late Khaled Chowdhary, Ebrahim Alkazi, Girish Karnad, the Late Heisnam Kanhailal and Padmashree Ratan Thiyam.

META, which is the most comprehensive awards event for theatre in India, will be honouring the best of Indian theatre across 13 award categories, in addition to the Lifetime Achievement Award. That is not all. Four plays from Mumbai - DHUMRAPAAN; I DON'T LIKE IT AS YOU LIKE IT; LASSANWALA and ELEPHANT IN THE ROOM, will compete for multiple awards across 13 award categories.

The week-long META Festival, which kickstarts on 4th March in Delhi which will be held till 9th March 2017. Ten plays in all will be staged, followed by a special red carpet 'Awards Night' to be held on 10th March which will celebrate the best of Indian theatre from the past year.

The jury members for META 2017 comprise distinguished thespians, including actors, Dolly Thakore, Seema Biswas and Sachin Khedekar, playwright and actor Mahesh Dattani, along with theatre and film actor Avijit Dutt and performer and drama educator Maya K Rao.

The launch also featured a discussion on 'The Politics of Theatre' focusing on how theatre is seminal to social change. A panel moderated by Sanjoy K Roy, including popular theatre artists and playwrights Arvind Gaur, M.K. Raina, Bishnupriya Dutt and V K Sharma discussed how theatre can be a reflection of the times as well as a catalyst for social change.

Jay Shah, Head, Cultural Outreach, Mahindra & Mahindra Ltd, said, ''META remains India's most definitive platform to recognise theatrical talent. For twelve years now, it has brought together the very best of theatre productions from across the country. There is a multitude of talent in this art form which is the source code of all performing arts and the Mahindra Group is proud to present META each year as an inclusive, empowering, and prestigious canvas.''

Over 300 entries were submitted this year and viewed by a discerning selection committee comprising eminent theatre practitioners. With the sheer diversity of cultural identities and languages represented in Indian theatre, the 10 nominated plays feature Bengali, Malayalam, Rajasthani and Kannada plays along with Hindi and English productions.

Sanjoy K Roy, MD, Teamwork Arts & Festival Producer, said, ''In keeping with increasing focus on the digital medium, we began accepting online entries for the very first time for this edition of META. This has further strengthened our commitment to reflect the artistic diversity of our country and provide opportunity and access to the finest talent out there.''

The Festival Schedule: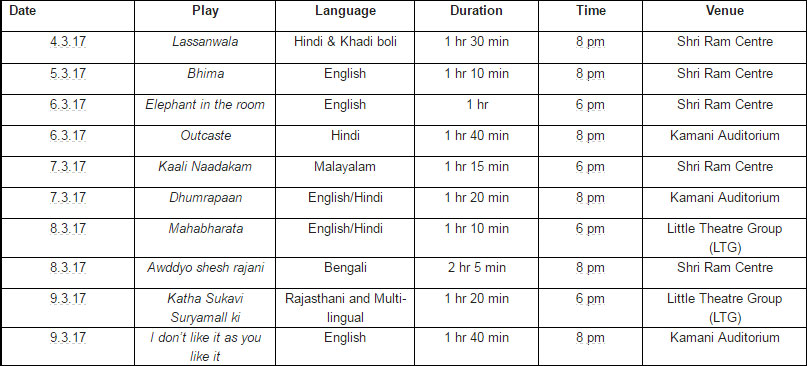 *Tickets available on www.metawards.com/www.bookmyshow.com

*Non Hindi/English plays will be subtitled in Hindi.

*For more information on the nominees and full list of category wise nominations, please visit www.metawards.com

Mumbai Theatre Guide takes no responsibility for change in schedule.