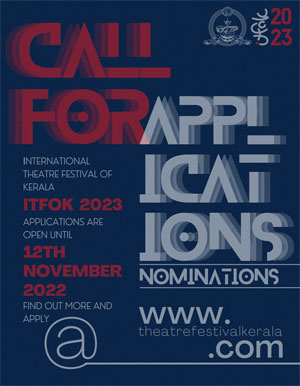 The Festival Directorate of the International Theatre Festival of Kerala (ITFOK) 2023 has announced the invitation of entries from national and international theatre companies/ groups, curators and cultural activists for the festival scheduled between February 5th and 14th 2022 in Thrissur. The major objective of the curatorial panel of this year is to bring excellent productions to showcase the leading edge contemporary theatre cultures under the thematic rubric of the festival HUMANITY MUST UNITE. Theatre productions from all the Indian languages including English are welcome under the national category and the performances are not restricted to any specific genre as it can be verbal or non- verbal, devised, text based, digital, dance, musical...The three member festival directorate will be finalizing the selection through a process which is deemed fit to the festival's objectives.
Entries should be submitted through the prescribed format without leaving any field unfilled. High resolution video/ video link of the full performance with supporting documents on its earlier performances has to be provided along with the application. Productions featured in earlier ITFOK festivals are not eligible to apply.
Entries are open from October 12, 2022 to 12 November 22. Any entry after the closing date will not be considered.
For more details check: https://www.theatrefestivalkerala.com
*Mumbai Theatre Guide takes no responsibility for change in schedule.