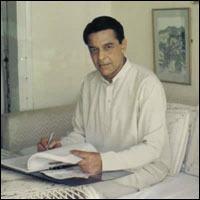 ''Death be not proud, though some have called thee
Mighty and dreadful, for thou art not so...
................................................
................................................
One short sleep past, we wake eternally
And death shall be no more; death, thou shalt die.''
- John Donne

Few humans have defied death as valiantly as Partap Sharma. A victim of emphysema, he was given six months to live in 2004. But Partap was not one to give in to dire predictions. Using Yoga, Tibetan medicine, classical music singing and stem cell transplants he fought off the inevitable, remaining creative till his last breath seven years later. His passing on the last day of November leaves a deep void in the creative world.

In the early years Partap, popularly known as The Voice of India, was the prominent voice on hundreds of Films Division documentaries and commercial ads, often running from one recording studio to another in a single day. Two decades later he started The Studio not far from his home, little realizing that this studio would provide the base for his most exceptional voice work.

When his first play A TOUCH OF BRIGHTNESS ran into trouble and was censored because it featured a prostitute, Partap got a court verdict censoring the Censor Board. His later plays BEGUM SUMROO and SAMMY! have been applauded by international audiences. Emphysema hit Partap while he was acting as Nehru in a Chinese film.

In 2004 Partap received the citation ''The Voice of India'' and was jovially asked to sing. He started training in the Gwalior gharana of Hindustani classical music, growing increasingly conscious of breath control. His oxygen levels rose. He was able to have long conversations. He started carrying a portable oxygen cylinder and re-vitalised his social life.

Then a neighbour asked Partap to help her son struggling with JULIUS CAESAR in school. Partap, author of several books for children, decided to do a recording of the play to make Shakespeare accessible not just to the neighbour''s son but to all children.

Intensifying his early morning breathing regimen, Partap spent weeks in his studio rehearsing voice modulation to take on all the complex Shakespearean characters. The CD that emerged is not only a brilliant solo rendering of Shakespeare''s famous historical plays, but is also testimony to the triumph of human will over a decaying body.

The recording was followed by two another Shakespearean classics, MACBETH and THE MERCHANT OF VENICE. The three CDs form a trilogy of Partap''s solo rendering of Shakespeare''s plays. 'I used to be a martial artist. That taught me never to consider limits but go beyond,' Partap told me in an interview after the recording of JULIUS CAESAR. 'One of the doctors told my wife I must be a spiritual person but I''m not anything of the kind. I''m just determined,' he added.

It was but sheer determination that fuelled the extension of his life span. As the body grew frail and his stamina dropped, Partap''s creativity did not flag. He switched from Shakespeare to recording ''Home Songs'' written and sung for his grandson Zen. Too bad the grandchildren will miss his guiding hand. Too sad the creative world has lost an irreplaceable icon.

*Meher Pestonji is a journalist, novelist and playwright. The radio version of her play, FEEDING CROWS won the South Asia segment of the BBC/British Council Radio Playwriting Competition in 2009 and was also the international runner-up.