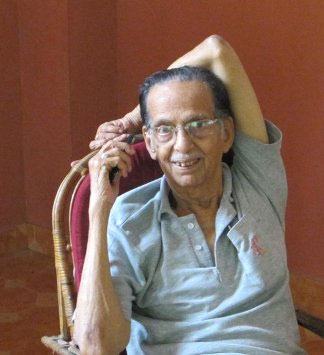 Born in 1928 at Kavalam, a tiny village in Alleppey District in Kerala, Kavalam Narayana Pannikar started writing plays in 1964. He was able to appreciate that Kerala, predominantly, had a rich tradition of classical as well as the folk and tribal art forms. Hence he chose theatre as his medium of expression.

Though Kavalam wrote several plays in Malayalam and presented them in an intrinsic ''thanathu'' style, he will be widely remembered as a maestro in Indian as well as world theatre for his successful fusion of the classical tradition and contemporary theatre. Kavalam was a multi-faceted personality who carved his niche in diverse fields, being a well-established poet, lyricist and theatre director. Untouched by the western influence in Indian drama, Kavalam had evolved a unique theatre training system with an Indian perspective.

His plays were known for their Indian narrative mode, use of ethnic languages and for their rural flavour. While his plays, AVANAVAN KADAMBA, DAIVATHAR and SAKSHI, are considered milestones in the history of Malayalam contemporary theatre, he also translated Sanskrit plays of classical masters like Kalidasa and Bhasa. SHAKUNTHALAM, KARNABHARAM, VIKRAMORVASHEEYAM and OORUBHANGAM were among the Sanskrit plays he adapted in his style and gave them life on stage.

In 1974 he presented AVANAVAN KADAMBA, directed by the internationally renowned film director Shri G Aravindan. The structure of the play and its staging was unusual. The theme demanded a picturesque ambience with a lot of trees in the background. Hence the concept of the proscenium stage was broken in this play. The acting area grew beyond the prescribed limits and made the audience participate in the presentation. Kavalam had used stylised movement as well as narration throughout the play. Nuances of classical art forms such as Koodiyattom and temple art forms such as Padayani, as well as the ethnic Kerala style music of Sopana Sangeetham were introduced in the play.

He was offered to produce and present a Sanskrit play at the prestigious Kalidas Samaroh in Ujjain and he selected Bhasa's MADHYAMA VYAYOGAM which received a standing ovation in Ujjain. This was a turning point in re-introducing Sanskrit theatre with all its pomp and glory and paved way to revive the age-old Sanskrit theatre.

My association with Kavalam dates back to 1981. I was the Programme Committee Secretary for the Golden Jubilee Celebrations of the Bombay Keraleeya Samaj. The celebration was for 7 days at the Shanmkukhananda hall, with evenings comprising music, plays and dance. Kavalam's AVANAVAN KADAMBA was presented to a large audience. In fact I was instrumental in my encounter with two maestros in the field of theatre and dance at this event which revived the classical dance form Mohini Attam. Dr. Kanak Rele was also performing Mohini Attam at this programme and Kavalam witnessed her performance. Her association with him led to the introduction of Sopana Sangeetham and creation of choreographic pieces set to Sopana Sangeetam's talas. Traditionally only Carnatic music was used for the performance and choreography of Mohini Attam. Dr. Kanak Rele has credited Kavalam's compositions as being inspirational for several of her choreographies that ''highlight the trauma of women in society based on women characters in mythology.''

Later I was associated with Kavalam in staging the play OTTAYAN enacted by Bharat Gopi at the NCPA. His association also helped me to direct his play AGNIVARNANTE KALUKAL in Mumbai by using his own thanathu nataka style with stylised movements and dialogue delivery. My association with him and his family members continued since then.

Kavalam's contribution towards creating a remarkable theatre culture by blending classical, contemporary and folk theatre elements will be remembered by Indian theatre practitioners for many more decades to come.

*Surendra Babu is a theatre enthusiast who has directed and acted in several Malayalam plays and has conducted theatre workshops. He has acted in Malayalam films and has been associated with award-winning directors. He is actively associated with the Kerala Sangeetha Nataka Akademi and other cultural organisations in Mumbai. He is engaged in reviving Malayalam theatre in Mumbai. He is Director, Marketing for Parksons Graphics Pvt. Ltd, Bombay.