The Kerala Kendra Sangathana organised a tribute to Padmabhushan Kavalam Narayana Panikkar on 5th July at Mysore Association, Kings Circle, Mumbai.

On the occasion, Dr Kanak Rele spoke about Kavalam's role as a musicologist plus his intricate knowledge about the taal system in Kathakali and their collaboration over three decades. Later Amrit Gangar discussed Kavalam's lyrics and cinema collaborations. Gangar also read out two messages by Kumar Shahini and Udayan Bajpeyi. After which, a short documentary by Anjali Menon who is making a film on Kavalam's process, was screened. It was a dignified evening of memories and celebration with songs being sung and recalled.

On the occasion, playwright, Ramu Ramanathan spoke about Kavalam's theatre process.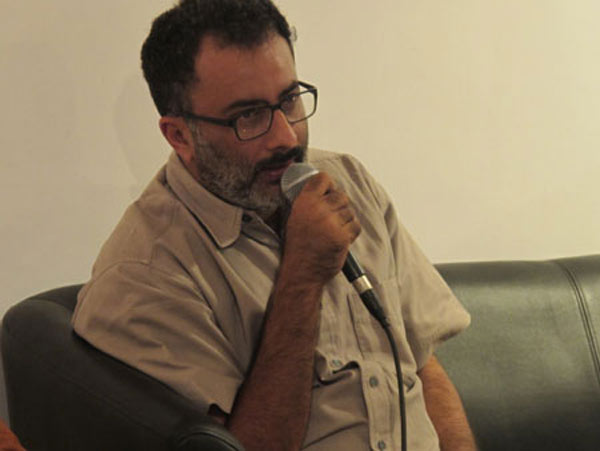 Excerpts from his speech:

Today, in the passing away of Kavalam Narayana Panikkar, we celebrate the ancient art of story-telling.

I recall a production of Kavalam Sir's MALAVIKAGNIMITRAM which I had seen. This play by Mahakavi Kalidasa dealt with a ruler (Agnimitran) who is torn by two strong emotions; love and war. The modern theme in the play was the relationship between the ruler and the ruled. But for me what was most interesting was the state of the country, symbolically presented through an Ashoka tree.

After the show when I wandered on the stage, I walked over to the Ashoka tree. There were termites on the frame and fungus on the bamboo structure. That was the state of the nation: termites and fungus!

It was the subtext to Kalidasa's text.

If you read about Kavalam Pannikar; his body of work includes: six collections of poems and more than 12 original plays in Malayalam; plus the essays on lok dharmi vs natya dharmi; and the theorems of Natyashashtra. In all this one thing stands out: the story.

What is a story?

Stories are a way of explaining the world to ourselves.

To make sense of our lives.

Of remembering.

Of preserving.

To be human is to tell stories.

To tell stories, you need languages.

At the moment we have 6000 languages (including Sanskrit and Malayalam) which are spoken on the planet.

What happens when they are dead or they forgotten?

Should we create a language museum?

Like we have a science museum.

A history museum.

A textile museum.

Or the BEST bus museum in Wadala.

Or Bhau Daji Museum.

The point is, if you want to physically experience the story of the languages of the world, other than the stage, there is no place to go to.

The stage is the sum total of languages!

But a stage cannot be called Language Museum; since it doesn't seem right.

Museum connotes old and extinct objects.

A language is not an exhibit; plus a language is not mere history.

We sing along. We repeat the great lines. We jot them down in your little diaries.

For me, this is the theme of the Kavalam Sir's work; plus the use of boat songs, plus the songs associated with sowing, harvesting which are prevalent throughout the region.

In an interview in PT NOTES, Kavalam Sir said, "I have been particularly fortunate to witness regular Kaliyogams (Kathakali performances) under the supervision of the great poet, Mahakavi Vallathol. Vallathol was a close friend of my uncle. Eminent performers in and around our village used to assemble in our house whenever Vallathol used to visit. Invariably they used to bring out the best in front of Vallathol. You know the stature of Vallathol in those days! … Vallathol used to read my poems and propose modifications." So?

What is the future of Vallathol?

More importantly, what is the future of today's 21st century Vallathols?

Indeed - what is the future of language?

I learnt a smattering of Latin in my school from the Jesuit priests. And thousand years ago, no one could have predicted the decline of Latin.

Will the same thing happen to Sanskrit? To Malayalam?

Kavalam Sir says Sanskrit words possess a unique energy and vigour which could never be translated fully into regional languages. Moreover it is not totally alien to us. Almost all the Indian languages have their roots in Sanskrit.

But then, the same is true of Latin, too.

So? What will the Martians speaks with us when they land on this planet?

Will they speak? Will they tweet or send a WA ping? Or will they communicate through sign language?

Like Kavalam Sir will we need to hire a Sanskrit scholar to train the Martians about the nuances of Sanskrit? Or like Kavalam Sir will they prefer to watch Kuddiyattam and learn the language?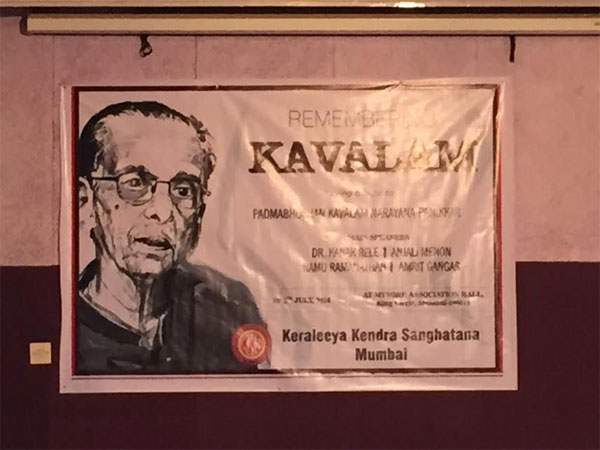 Kavalam Sir recalled a comment from Vallathol after witnessing the performance of a play ATOM BOMB by N P Chellapan Nair. The play was a verbose farce. On Kavalam Sir's request, Vallathol sat through the play. Please remember: Vallothol was deaf and could not hear a word. By the existing standards, the play was well-received.

However, Vallathol's comment was sharp. He asked me "Kochu Panicker do you want to waste your time doing this?!" The message was clear and loud that the popular theatre of that time, didn't have anything to offer to the senses other than the ears! Kavalam Sir says, "It was far removed from the rich Indian tradition of Total Theatre. In his comments, I heard the voice of a sincere critic who has dedicated his life to highlight the values of our classical theatre which stresses on the visuals than the spoken words. It was an eye opener for me and in a way a strong reassurance to my own unclear convictions."

This is important.

Especially as all of us are speaking one global language and being hypnotised by one kind of global art and one globalised set of gestures.

Why do we speak different languages?

It is simple: Identity and intelligellibility!

Language, they say, is a special index of human identity.

Language can be heard in the dark on the stage.

Language is cheap. And speech - even an actor's speech - doesn't cost anything.

Therefore the case for a human language museum where we can celebrate words!

The Kerala Kendra Sanghatana and the Kerala Sangams can conduct a workshop in Mumbai and Navi Mumbai during which we collect the words spoken in the plays of Bhasa which were staged by Kavalam Narayana Panikkar.

It can be a simple workshop.

All we need is a big brown box or a jhola if you're Left inclined, in which we collect the words.

So, let us consider the words of Mahakavi Bhasa.

Why Bhasa? That's because Kavalam Sir introduced me to this great playwright.

Let us travel through time.

We can talk about T Ganapathy Sashri who discovered the Pandu Lipi scripts, hundred years ago.

1). PRATIMA-NATAKAM: A play about Ram's vanvaas and Bharata's abhsishekham and the death of their father.

2). ABHISHEKAM (a play in six acts): As the name suggests a play about the events in the Ramayana leading up to the Rajya-abhiskeshkam. 3). PANCHARATRA (three acts from the Mahabharata): Acharya Drona's advise to Duryodhana about the division of kingdom. But Duryodhana places a counter proposal.

4). DHOOT-GHATOTKACHANAM (one act): This story is not found in the Mahabharata. This is one day in Kurukshetra after the death of Abhimanyu. Arjuna takes a vow that he shall eliminate the one who has killed or shall sit on a fire pyre. Simultaneously, Ghattotkacha (son of Hidimba and Bheem) is sent by Lord Krishna to Dhritarashtra to end the brutal battle. Duryoadhana says no - that he shall reply with his bows & arrows. Lord Krishna spreads the message of peace.

5). KARNABHARAM (again, a one act): This is a well known play in Panniker's repertory about Karna's burden; about how he learnt the art of archery from Parasurama and how Arjuna's father dressed as a poor Brahmin asks for the kavach-kundal. Now, Karna in spite of knowing that this is Lord Indra hands over the cloak of invincibility. In return, Indra hands over Divya Shakti (astra) for the war.

In Pune, Kavalam Sir in his interview to PT NOTES said: "Over the years, three or four actors have performed the role of Karna in our production of KARNABHARAM. Currently it is performed by Satheesan. To the credit of both Satheesan and Mohanlal, they have maintained a great level of mutual respect. Both of them have been exchanging notes throughout the rehearsals and trying to get enriched. Mohanlal had always been eager to learn from Satheesan. Above all, you should note that Satheesan, who used to essay the role of Karna, has gladly participated in KARNABHARAM as a part of the ensemble, when Mohanlal was acting as Karna. Such conviction of values can be found only in theatre, particularly in our kind of theatre."

A play within the play.

When Kavalam Sir pointed this out to Vijay Tendulkar, the master-playwright told him to stage the play of Satheeshan and Mohanlal and their Karna's burden. The play was never staged.

6). DHOOT-VAKYAM (again this one act play was staged by Kavalam Sir): It is the Udhyoga Parva, and Lord Krishna enters Duryodhana's durbar and tries to preach as a messenger of peace. Duryodhana refutes the argument and tries to capture Krishna who transforms himself into a godly avataar; and war is inevitable.

7). HARIVAMSA or BALA-CHARITA (in five acts): This play depicts the child-like avataars of Krishna. But quite unlike Shrimad Bhagwat, Bhasa's approach is very simple and Krishna as a central character is made accessible.

8). PRATIJNA-YAUFANDHARAYANA (four-acts): The play is about King Udayana and his trusted Minister. The King is captured. While the Minister educates and edifies the Raja.

9). SWAPNA-VASAVADATTA (six acts): This play was discovered by Pandit Anandalvar of the Archeological Survey of Mysore in 1909. It is a play which plays on the theme Udayan's sorrow for his queen Vasavadatta, who may or may not have perished in a fire. This is a ploy by Yaugandharayana, a minister of Udayana to ensure the king marries Padmavati, the daughter of the king of Magadha.

Like a good theatre person, I had watched the production of this play obediently unfold the key elements of a Sanksrit drama one after the other. And then there was one brilliantly penned scene wherein Vasavdatta, the first wife (assumed dead) is making a garland for the marriage of her husband to his second wife, Padmavati. She's seated in a garden along with a saheli with whose help she selects flowers for the garland. Every flower is carefully chosen or rejected depending on its guna or nirguna. Superbly penned.

You get the scent the aroma of the flowers in the auditorium.

This is the power of the spoken word.

10). URUBHANGAM (one act): Again an episode from the Mahabharata. A Dukhanth Natakam as opposed to Sukhanta Natakam. The anti hero Duryodhana becomes the nayak of this play. Bhasa gives Duryodhana a new dimension which pits into our modern times where we seek heroes even though our leaders are have zero political ideals. The incident is: the breaking of Duryodahana's thighs, and breaking of the rules of Mahabharata due to that. This is the apocalypse of war and the masterminding of this war by Krishna. The play is a gem. It starts with a veer rasa and concludes with karuna rasa as Gandhari and the two wives of Duryodhana find the fallen king on the battlefield! A brilliant play about the rise and fall of a larger than life war hero.

I have not read the 11th play by Bhasa.

Nor have I read the 12th play.

Nor the 13th play.

So, I cannot comment. I am grateful to Kavalam Sir for producing four of Bhasa's plays. I met Bhasa because of Kavalam Sir.

There are two important things Kavalam Sir said about Bhasa's plays: 1). Bhasa has been more theatre oriented while Kalidasa's plays are literature oriented. 2). Bhasa's written texts are closer to the stage texts ... While more effort is required to create a stage text from Kalidasa's plays

In this way, the 2000 year words of Bhasa reached us.

This is important.

Did you know, the biggest 21st century crisis is: half of the 6000 languages which the planet speaks will die.

As the linguist, Ganesh Devy reminds us, over 50 languages have only one speaker left.

If you are reading this, you must know, one language will vanish from this planet in the next one month.

Never to be found, again.

Simply because many languages have never been written down.

Many languages cannot be read

They have never been.

This is a shame.

So many stories waiting to be told.

How are these stories transmitted to us, through: dialects, a cue, a dialogue.

Or as Kavalam Sir said, "Through Rangakarma. The structure of my plays was different from the prevailing ones, which were predominantly dependant on spoken words (Vachikam) with very little movements or action. Our theatre, whether it is folk (Theyyam, Thira, Mudiyettu, Padayani, Kakkarassi, etc) or classical (Koodiyattam, Kathakali, Mohini Attam, etc) have been based on the principles of Thouryathrikam (i.e. Geeta, Nritta, Vadya). Therefore, without them, our theatre cannot have an organic relation with people."

Today as all of us gather at the Mysore Association, why is all this important?

In honour of Kavalam Sir and in his memory, we need to re-look at the state of theatre. And the state of the Malayalam language.

Three final points!

1). The target of colonialism was the word and language. As TMP Nedungadi said: The influence of English Romanticism injected an artificiality into the Indian languages; and our prose and poetry and words came to acquire meanings divorced from the cultural experience.

2). Today, theatre is the only art form that has retrieved the word and continues to do so even as the other art forms got swayed by this semantic erosion. In the times that we live, "theatre has several things but there cannot be theatre without words". It is theatre's close interaction with language that has made possible the retrieval of words and restoration of vitality in the language.

To give an example from Malayalam theatre. One of my personal favourites is CHUMARUKAL (Walls) by the Malayali playwright Divakaran. In this long one-act play, a man and woman inhabit adjacent rooms on either side of a wall. One day, they start to speak to each other. But communication breaks down since both man and woman are not attentive listeners. Initially, the play is hilarious, but even as the actors become more-and-more slapstick, the language starts to become more-and-more perverse and stripped to its guttural beginnings. Finally, both actors are almost naked; since they have hurled their clothes at each other, over the wall. There's anger and frustration. In the silence, they start to adorn the partner's clothes. A siren is heard; the two actors have to report to work.

Life plods on. But a wall has been built.

3). The concept of an 'Indian theatre' has always been a complex and contentious one, inviting radically different views. Theatrewallahs like Kavalam Sir questioned the very idea of an Indian theatre. Rightly so. ...Nobody would ask a poet for example to write Indian poetry, everybody will be happy if he writes good Malayam poetry. A playwright however is forced to write the wretched Indian theatre, whatever that is. I recall GP Deshpande stating that there can be no Indian theatre unless it discusses individually, the Marathi, Gujarati, Hindi, Malayalam or other language theatres. Any attempt at creating a monolithic Indian theatre is necessarily futile and will only result in a manufactured entity, a theatre of the lowest common denominator at the cost of diluting the linguistic experience of individual language theatre.

Beware!

I say salaam to Kavalam Narayana Panikkar.

Sir: I hope you are having a good time in heaven discussing your favourite theatre of the roots with Bhasa, Kalidasa, Bhavabuti, Saktibhadra and Bodhiyana.

Ramu Ramanathan is a playwright and director with acclaimed plays such as COTTON 56 POLYESTER 84, 3 SAKINA MANZIL, JAZZ, among others, to his credit. His collection of plays has been published by Orient Blackswan. Ramu has previously edited the Prithvi Theatre newsletter (PT Notes) and the website of the Seagull Theatre Quarterly. He has written about theatre for various national dailies. Ramu is also the group editor for Print Week India and Campaign India, published by the UK based company Haymarket. He has experience of over 30 years in the print industry.