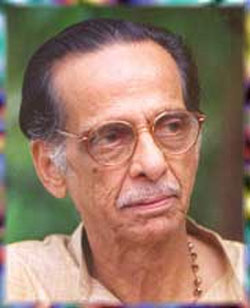 In the theatre of cinema charming eccentricities have lived. They have danced as they walked; they sang as they generously conjured up the magic of life, as did Kavalam Narayan Panikkar, like the gift-giver Myra. In the film Thampu, the lilting jugalbandis of the filmmaker Govindan Aravindan and lyricist-composer Kavalam Panikkar are still heard in and out of Kerala. The Kummattys and Estheppens still live somewhere in the non-consumerist Thampus, where life can still be enjoyed outside the malls, in open fields and farms, under the sun, the moon, the twinkling stars, and where children stirringly move, with no school bags to burden their backs.

Kavalam Panikkar imbued G. Aravindan's films, particularly, Thampu (The Circus Tent, 1978), Kummatty (The Bogey Man, 1979) and Estheppen (Stephen, 1979) with enchanting lyricism and turned 'realism' into a different experience – mystical and magical. This jugalbandi would create a space that would be 'uncloven' or abhed, blurring the divide between the sacred and the profane, between the earthy and the otherwise.

The versatile Kavalam Narayan Panikkar not only penned lyrics for Kummatty but he also composed them along with M.G. Radhakrishnan. Even if you have not seen the film, listen to this song 'Manathe macholam' and see how you are deeply drawn into its euphony. Enchanted, you will also start singing 'Kummatty'! 'Kummatty'!

https://www.youtube.com/watch?v=iM3EmpBTtts

Bhâshâ (language) won' t matter much but sharira (body) will, and âtmân, the soul, too. Like his theatre, Kavalam also made his film-lyrics sensuous, along with director G. Aravindan, in a universal sing-song manner. Everyone at the 'Remembering Kavalam' gathering organised by the Keraleeya Kendra Sanghatana at Mysore Association Hall, Matunga, Mumbai, joined the Bogey Man, clapping and singing, as if they were little children celebrating life whose secrets are yet to be known!

Kavalam Narayana Panikkar still lives, and lives in optimism.

He also lives in Estheppen, the strange and mysterious figure played so ethereally by Kakkanadan, like Kummatty, which was played by Ramunni. Both are not professional film actors. Estheppen (Stephen) is a strange and mysterious being, thought to be immortal, in a Christian fishing village in Kerala. In a more earthly version of Kummatty made earlier in the same year, all manner of virtue and magical powers are ascribed to the Christ-like worker of miracles, including printing his own money and drinking whisky without getting drunk. G. Aravindan said, it was made as a rejoinder to the criticism levelled against him and his scenarist Kavalam Panikkar for the emphasis on folk ritual in their theatre. An extra dimension is given to the central character, adapted from stories about religious mystics of all stripes, by casting Kakkanadan, a Malayalam tantric-modernist painter, in the role.

Kummatty, the film, made after Thampu, blurred the divide between fiction and non-fiction, and adapted an age-old Kerala folk-tale that featured a part mystic and part magician called Kummatty, played by the famous musician and dancer Ramunni in his screen debut. Kummatty enters a village to entertain the local children with dancing, singing and magic tricks. In one scene, he changes them into animals. One boy changed into a dog is chased away and misses the moment when the magician breaks the spell restoring the children to their human form. The dog-boy has to wait a year until Kummatty returns to the village. At this moment you might like to chant once again clapping, 'Kummatty'! 'Kummatty'! and celebrate Kavalam Narayana Panikkar's life.

Kavalam also wrote lyrics for the film Thampu, one of G. Aravindan's finest B &W films chronicling three days with a circus in a small town in Kerala. G. Aravindan along with Kavalam Panikkar and the cinematographer Shaji N. Karun fill the film with a deep poetic experience, where human and non-human gazes merge with cosmic curiosity. Like G. Aravindan's previous unusual film Kanchana Seeta (1977), Thampu, Estheppen and Kummaty also show their deep reverence to prakriti (nature).

That was perhaps the prakriti (read also as svabhâva - nature, temperament) of Kavalam Narayan Panikkar deep down. So just as in the theatre of cinema lives Kummatty; in the Thampu, the circus tent of life, still lives the immortal charisma – Kavalam!

Amen.

*Amrit Gangar is a Mumbai-based film scholar, curator and historian. He has been closely involved with film research and has led several projects.