Avinash Kolhe is a professor of Political Science and a renowned reviewer, yet I know him better as a theatre aficionado. The Marathi 'manoos' is known by his love for the theatre. The Marathi audience is discerning and only after going through the cast, credits, reviews and word-of-mouth publicity will they patronize a play. However, Professor Kolhe is a theatre lover of another kind. He will make it a point to watch those productions which none shall venture for. He watches plays in different languages and writes about those for the benefit of Marathi audiences and theatre students as well. Earlier, it was a monthly family ritual for Maharashtrians to watch a popular play in the theatre. There were times when three shows in a day would run to packed houses. Many fans were forced to turn back disappointed as 'Houseful' boards went up at the theatres. It was shocking for people from other States to learn that we paid to watch plays! Alas! the footfall has reduced considerably since then. Few youngsters choose to watch plays these days. The 50 plus generation still throngs theatres faithfully, but then they aren't game for new plays – they are looking to revive some good old memories. So threatrewallahs are forced to whet their appetite for nostalgia by resorting to ''old wine in new bottle'' formula. This trend is detrimental to the experimental theatre in Marathi. Many such production houses have been forced to pull their shutters down and meaningful plays are becoming rare. Marathi theatre has become stagnant, allege scholars.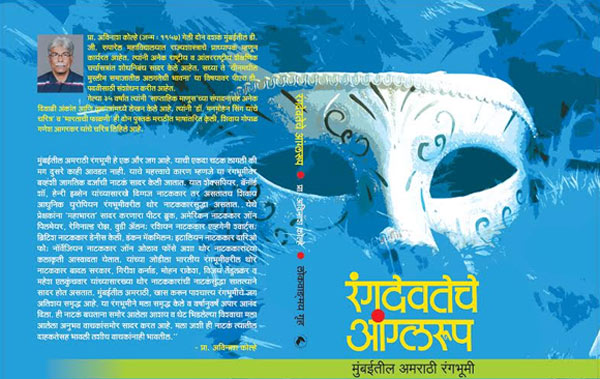 Technological advances and the emergence of new media have changed the face of entertainment today. The dazzle of technological marvels has robbed theatre of its sheen. The magic of theatre is getting lost. How to lure back the audiences from the vice like grip of new media is the question that plagues the theatre community, the world over. The world is on a lookout for new plays. Play-structure needs reinvention, since the theatre today has strayed away from its main purpose. 'Natak' needs to be freed from meaningless rhetoric, say some, while others say that life is advancing at such an extraordinary pace that the charisma of actors and concept alone are unable to keep it on track. In this age of limited attention spans, it is no mean task to keep the audience tied to their seats. Perhaps with the help of technology and human talent, 'natak' can bring back the magical realm of fact and fiction.

But instead of a vitalized plot, today's theatre directors not only in Marathi but also in Hindi, English and Gujarati, are just trying to mesmerize the audience with technology and actors. At times, such experiments are favoured by the younger lot, but the fact remains that the regular audience is not appreciative of such innovations. Marathi theatre folk also do not waste their creativity on such endeavours.

Avinash Kolhe writes about various theatre experiments being conducted all over the world. He keeps us informed about the changes that are happening in the world of theatre. Through his writing he urges the Marathi audience to watch theatre from all parts of the world. After reading this book, even I regretted having missed out on certain radically experimental plays.

His language is lucid and his reviews are direct. Through his books he makes you experience the play - as if you were watching it yourself. His write-ups are not only narrating the story but also relating the history of the play. While writing about the Iraqi play NINE PARTS OF DESIRE, he brings forth the story of atrocities waged against Iraqi women and also sheds light on the political scenario - the Middle Eastern countries and the American interference. He then goes on to explain the story behind the intriguing title of the play. He introduces the reader to noteworthy playwrights such as Brecht, Bernard Shaw, Dario Fo and talks about contemporary theatre writers too.

Kolhe also highlights anecdotes, such as how Bernard Shaw's play ANDROCLES AND THE LION runs into 57 pages while its epilogue/ introduction is 58 pages! Through this he educates us about the detailing of characters that are never seen on stage but which have to be grasped by the discerning viewer by reading between the lines. This book is a compilation of Kolhe's articles in various newspapers, so there are some limitations to the writing. But those do not take away the vitality with which he brings us the milestone plays from the global theatre.

*Shafaat Khan is a well-known playwright with various plays such as SHOBHA YATRA to his credit. He was formerly the Head of the Theatre Arts Department at Mumbai University. The English translation has been done by Deepa Karmalkar.

Professor Kolhe's book 'Rangdevateche Anglaroop' has been published by Lokwangamay Prakashan Gruh, Prabhadevi, Mumbai. Price: Rs 250.