In small town Satara, 100 kms further down from the budding metropolis Pune in Maharashtra, lives a poet - performer couple. Sheetal Sathe, the woman, who is 32 years of age, lends her voice, while Sachin Mali, the husband, 35 years old, pens his angst and resistance to the establishment on paper. Mali is released on a bail bond after he was charged of alleged links with Maoists.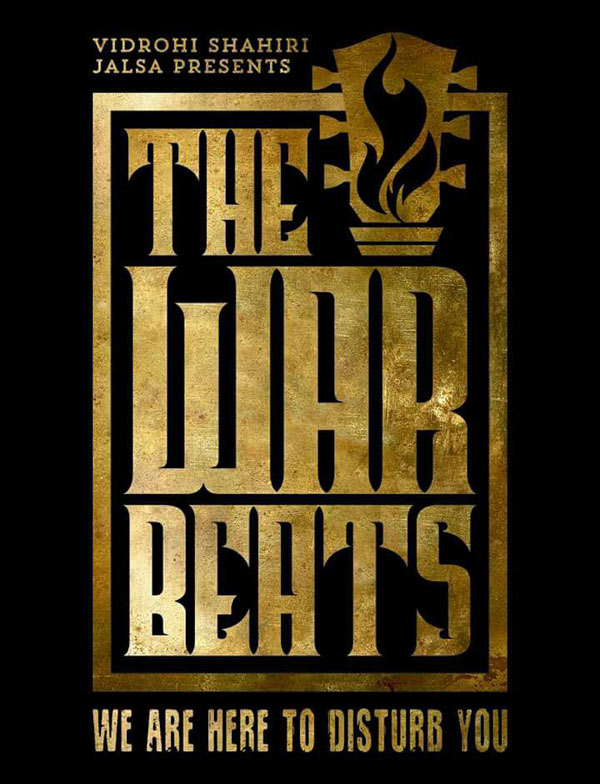 THE WAR BEATS



The couple is vocal in their strong views against caste and gender inequality. Through their moving words and voice, they stress how inequality still persists and has a vice-like grip over society, and that it should be completely uprooted. Through their performances, they emphasise that inequality affects the weaker sections in our society, while exposing the inhumanity that marginalised sections like the Dalits and our women experience even today in the daily course of their lives.

Their band, Kabir Kala Manch, a folk performance troupe comprising of activists from the local, downtrodden communities, was formed in 2002 and they ran the show for 9 years. This was stopped short by their sudden arrest in 2011 under the State's draconian laws.

Maharashtra's Anti-Terrorism Squad (ATS) arrested the Manch members and charged them with the controversial Unlawful Activities Prevention Act (UAPA). Sachin and Sheetal went hiding after the news of their arrest appeared. Later in 2013, they came out of hiding to stage a Satyagraha (an oath of truth) outside the State Assembly.

Sheetal Sathe was granted bail on humanitarian grounds as she was pregnant but Sachin spent 4 years in jail. He published his first book of poetry from prison, and named it Sadhya Patta Bhoomigat (Present address: Underground).

The duo have been banned performing in four districts of Maharashtra. Out on bail now, Sachin has taken up to his task again, now, through a different channel: Youtube.

''Internet is a democracy in a real sense. It is a worldwide network where freedom of speech is finding its resurgence. It is a new guerrilla way of fighting against injustice in society,'' says Sachin.

Sachin recently published his first poem ''Dear Democracy'' on YouTube. The channel is aptly named, 'The War Beats' which is led by the renowned Lokshahir Sambhaji Bhagat, who is also a music composer.

''We have been banned from performing in Gadchiroli, Gondia, Bhandara and Chandrapur districts of the Vidarbha region, but now we can reach every corner of the world through Internet,'' says Sheetal.




Sheetal Sathe and Sachin Mali



Their videos have been getting thousands of views, easily surpassing the average number of audience that would turn up for their live performances. ''Our first video got more than 5000 views. We cannot have such a large number physically present,'' she adds. Sachin Mali and Sheetal Sathe have a modest following among the marginalised sections across Maharashtra.

Sambhaji Bhagat, the people's poet and the balladeer in his sixties, is very curious and is fascinated by the reach of the 'new' technology he is now using to broadcast his work. He is stunned to know the advance of mobiles and internet penetration even in rural parts of Maharashtra. He talks about viewers from a village, where continuous electricity is a rarity, but internet connectivity has proliferated. These are the people who watch their songs on the YouTube channel.

Too old for the smartphone generation, Sambhaji Bhagat waves his Samsung S4 and says, ''This is the language of tomorrow. If inequality needs to be uprooted, if our voice has to stay, our movement must adapt to how society is changing.''

Bhagat, who was born in Mahu in Satara, graduated from Siddharth college in cosmopolitan Mumbai. He used to perform as a young artiste in the performance troupes of Awhan Natya Manch, Vidrohi Sahitya Sammelan and has worked with people like the critically acclaimed documentary filmmaker Anand Patwardhan and important Dalit writer, the late Daya Pawar.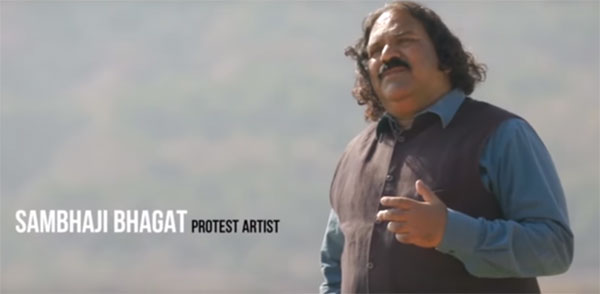 Sambhaji Bhagat



''I am the representative of the bygone generation which took to streets to register protest. We did street plays, shahiri jalsa (poetry festivals) and public performances but the new generation is smart. They are changing the form and language of the protest phenomenon. With technology, they can aim to reach a million, a number which I have not achieved if I total my lifetime audience!'' exalts Bhagat.

Sambhaji Bhagat is a national award-winning lyricist for the Marathi film Nagrik (2014), has composed music for another national award winner Court (2015) and is also the writer and director of a contemporary Marathi play SHIVAJI UNDERGROUND IN BHIMNAGAR MOHALLA, along with Rajkumar Tangde.

Instead of traditional shahiri performances, the young team of the Youtube channel 'The War Beats' produced songs with professional inputs and created a modern avatar of their original work. The team consists of artists like Shirish Pawar, Parvin Done, Babasaheb Atkire, Roshani Sakpal and Aditi Bagul, who want to express their angst against unjust practices, but through peaceful and artistic means.

The team took slices from different genres of music, like rock and jazz, and experimented with the songs written by Bhagat. The groups has been calling him ''Rockshahir'' (rock poet) since.

''My generation prefers YouTube channels more than attending live performances, which explains why we have geared up with new energy and enthusiasm,'' says Shirish Pawar, one of the team's youngest. The troupe is planning to maintain continuity by uploading more songs, and adding interviews and poems recitals to it as well.

With a decent reach of over 600 subscribers and 20000+ views in less than a month, Sambhaji Bhagat, however, seems worried about the 'virtual' revolution. Bhagat has spent around Rs 6 lakhs so far for this channel; the money which he earned from performing in commemorative ceremonies which are held in remembrance of Dr BR Ambedkar, the architect of the Indian Constitution and a widely revered Dalit icon.

''Currently all existing equality oriented movements are on the ventilator. I am not sure if this YouTube channel can give us enough oxygen, but we will try our best to be that beam of a new light which would enlighten the society embroiled with misogyny and casteism,'' he hopes.

''We are not here to entertain you, we are here to disturb you,'' he famously concludes.

*Namrata Bhingarde is a freelance journalist based in Mumbai. She has travelled the length and breadth of Maharashtra and has written extensively on traditional folk forms and commercial and experimental theatre.