Let me say at the outset that the list is merely illustrative of the plays I was able to see among other plays this year and is a cross section of the sheer number and variety of plays that are staged in the city each year. There were plays I would have liked to see but could not. So, the list is at best indicative of some of the good work, which I felt was staged in 2017. Again, not all plays have necessarily premiered this year, and some plays are from outside Mumbai as well. In two spots, there is a tie, though the plays are very different from each other.

Beginning at No. 10: THE THREEPENNY OPERA, directed by Imaad Shah.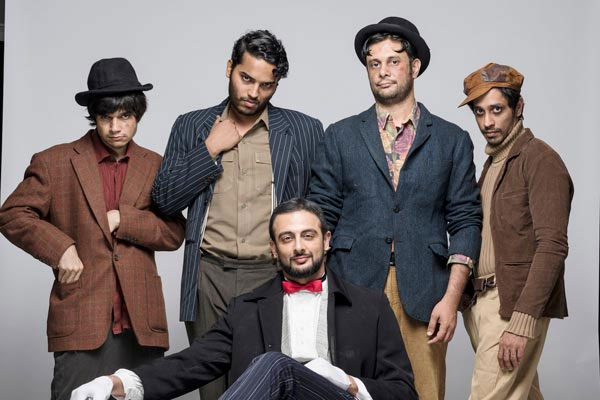 This Bertolt Brecht classic brings together some of the best singing voices on stage in Mumbai. Arunoday Singh, who has made his mark in film, makes for an uncanny but an ultra sophisticated Macheath, the tragic hero of the musical. The ensemble is supported by veterans Bugs Bhargava Krishna (Mr Peachum), Joy Fernandes (Tiger Brown), and Delna Mody (Jenny).

No 9: SHIKHANDI-THE STORY OF THE IN-BETWEENS, written and directed by Faezeh Jalali

Actor-Director Faezeh Jalali experiments in her re-telling of the myth of Amba/Shikandi from the epic The Mahabharata with her peppy ensemble. She adds to the repertoire of plays that verily and merrily celebrate the LGBT community on stage, questioning gender stereotypes in the process.

No 8: ZOYA KI DIWALI, written and directed by Mehak Mirza Prabhu and featuring Mohammed Muneem Nazir.

This story-telling performance, in monologue-style, by Mehak Mirza Prabhu, is really sweet as it foregrounds little, simple stories on love, relationships and overcoming communal hatred. The stories are beautifully enhanced by the music and poetry of Mohammed Muneem Nazir of the band ALIF. The story "Gudiya" which was also released on social media has received more than 1.5 lakh views.

No 7: GAJAB KAHANI directed by Mohit Takalkar. Adapted from José Saramago's novel The Elephant's Journey by Amitosh Nagpal. MUKTIDHAM, directed and written by Abhishek Majumdar.

Among India's best-known contemporary directors, Mohit Takalkar, and his team took on the onerous yet laudable job to make the Portuguese writer Saramago's sublime writing accessible on stage. The production in its second innings brings together an ensemble cast of strong actors and gives a vivid sense of the journey that one elephant and his mahout make from India to Europe in the 16th century.

MUKTIDHAM, set in the 8th century, is in the genre of historical fiction. It re-imagines an ancient period of conflict between Buddhism and Vedic Hinduism when the Buddhists were in power. In spite of its assumed gravitas, and its mainstay that all power corrupts, no matter what form it takes, the play trickles down to plotting and revenge, not to mention some of its more bizarre attempts at symbolism. The production is however exceedingly well designed and has some mature performances – for which it is worth a watch.

No 6: THE ELEPHANT IN THE ROOM, directed by Yuki Ellias, and written by Sneh Sapru.

Yuki Ellias, the solo actor of this enchanting fable-like performance, summons up a masterful portrayal of a range of characters in a play that touchingly and humourously re-visualises the myth of Ganesha, the Elephant God. It's a very good play for children especially as it conflates myth with fairytale adventure, and is a telling tale of how we need to work with our ecosystem and not against it.

No 5: WADA CHIREBANDI, directed by Chandrakant Kulkarni and written by Mahesh Elkunchwar.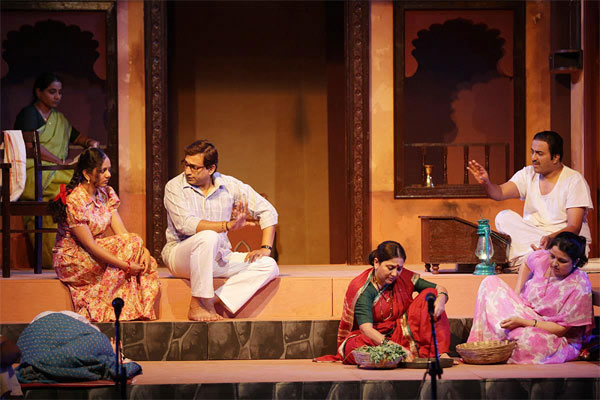 Elkunchwar's WADA CHIREBANDI is a veritable classic of the modern Marathi theatre of the seventies. It is in the genre of the big family drama but like Arthur Miller's DEATH OF A SALESMAN, it is also definitive of a period of great transformation that has sociocultural ramifications. Chandrakant Kulkarni revives the play as well as the two plays in the trilogy that follow it – MAGNA TALYAKATHI and YUGANT. This year he staged all three plays back to back in an unusual performance of its kind. WADA CHIREBANDI has renewed meaning in the context of Maharashtra's agrarian crisis, which has steadily gone from bad to worse.

No 4: THE FATHER, directed by Naseeruddin Shah and written by Florian Zeller. MAHABHARATA, designed and directed by Anurupa Roy.

Veteran thespian Naseeruddin Shah challenges himself in the titular role of a man whose mind is wasting away and who is in the care of his daughter. The production has a double cast, save for Shah's character, and Heeba Shah, his daughter in real life as well, delivers a stirring and a heartfelt performance, especially.

Puppet theatre is not to be taken casually. Anurupa Roy and her team reclaim India's foremost epic and a theatre favourite, in mixed forms of puppetry, some of which are consummately conveyed. The play was recently staged at the Nehru Centre's auditorium in the city.

No 3: Irish Plays @ the Tata Lit Live! Festival: THE DUBLINERS DILEMMA ; DIARY OF A MADMAN and THE BIG FELLOW

The first play is about twentieth century's famous Irish novelist James Joyce whose collection of stories titled 'The Dubliners' almost never got published. The play recounts the fraught relationship between the novelist and his publisher.

The second play is a stage adaptation of Russian dramatist Nikolai Gogol's short story 'The Diary of a Madman', which is not only regarded as one of the master writer's best stories, but is also a great piece on a variety of themes of the human existence. 'Madness' here is both a condition and an enabler of insights, lurking in the shadows of alienation and repression.

The first two plays were solo performances. THE BIG FELLOW had two actors, who thoroughly engrossed the audience in their staged biography of Michael Collins, an iconic Irish revolutionary. But this is not any straightforward biography as we discover from his biographer Frank O'Connor.

All three productions were minimalist in their staging and the actors ruled.

No 2: SAMAJSWASTHYA, written and directed by Atul Pethe.

For a country in which sex remains a taboo subject, not to mention the more dangerous trends of cultural revivalism rooted in patriarchy and prudery, the play SAMAJSWASTHYA makes a strong statement. This biographical play centres on the life of the radical social reformer Ragunath Dhondo Karve who was a pioneer in family planning and birth control, beginning in the early 1920s. It takes its name from the magazine that Karve published with the help of his wife in the face of much opposition and difficulty, and in spite of all the legal battles he found himself implicated in. Karve, a Maharastrain Chitpawan Brahmin, never gave up espousing his cause for a woman's sexual freedom and even her right to pleasurable sex. The production has fine performances to boot.

No 1: HEY RAM, directed and written by Ram Daund.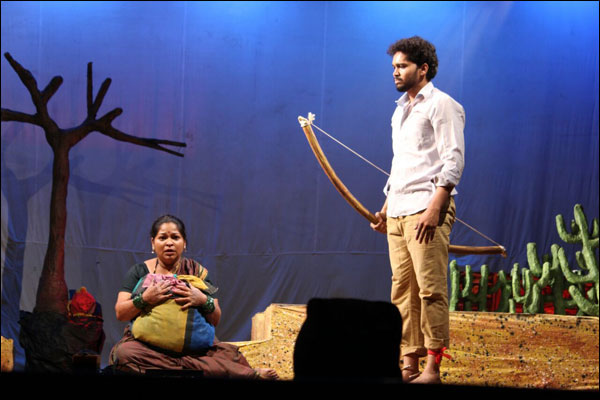 Ram Daund found inspiration for his play in a story penned by Sadanand Deshmukh, the Sahitya Akademi award-winning Marathi writer of the novel 'Baromas'. Daund masterfully casts an ensemble close to 65 actors on stage who beautifully demonstrate the folk art form of the Bohada, which is an intrinsic part of the story. Without overly dwelling on caste politics, Daund presents a sensitive and meditative insight into the viciousness of caste and its rampant inequity that continues in our society to this day.

*Deepa Punjani is the editor of this website.