Fish in twos and threes flit in dappled water. They nibble food and enjoy themselves till a fishing hook begins to snatch them away. The fish move as they normally do, yet the audience feels the tension building up to the time, the hook is vanquished.

In another story a woodcutter's saw breaks while trying to cut down a rather unassuming little green flowering plant and his smoke-spewing tractor is buried by the very plant it tries to crush.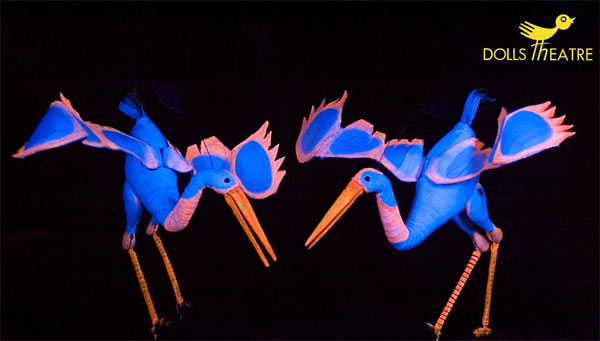 TAMING OF THE WILD


Then a couple of blue and yellow cranes (four and half feet tall) take one's breath away as they dance all over the stage shaking their huge wings and moving fluidly to the background music and the sound of the surging sea. One cannot help but believe.

Sudip Gupta's puppet theatre never uses dialogues. He uses classical music - both Western and Hindustani. Rarely he uses an introductory voiceover. Those who feel that 'messages' should be drummed out and repeated to make children understand, should see them cheering at Dolls Theatre's TAMING OF THE WILD.

Making the audience laugh and cry for his puppets; to have them dream a little; think a little and against their certain knowledge, have them believe the puppets to be alive - that is magical, says Sudip Gupta, founder-director of Dolls Theatre, Calcutta. Sudip is busy preparing his new production CHI CHI LAND to be staged by March end of this year. His company will travel to the eleventh Izmir International Puppet Day festival in Turkey where three shows of his TAMING THE WILD will be presented, taking the total shows of this production to 1506.

Sudip like most puppeteers is a jack-of-all-trades. He writes his own scripts, designs puppets, costumes, choreography, props, music, lights, etc. ''It is a confluence of all art forms dance, music, theatre, art... and one has to know everything in order to take up the challenge of breathing life into things, animating lifeless objects. In theatre you are working with actors who if not experts have above average skills at communicating with the audience. But here you have to create the 'actor' from wood, cloth, paper pulp, metal, leather, foam, plaster odds and ends.''

Dealing in objects also has its advantages. With puppets there are no limits to what one can do. A very realistic narrative can take a sudden turn towards abstraction and violins can float in the air playing a tune or a pair of giant police boots marching loudly can symbolise the oppressive British regime. The depiction can also move at will from 3D to shadow puppet 2D.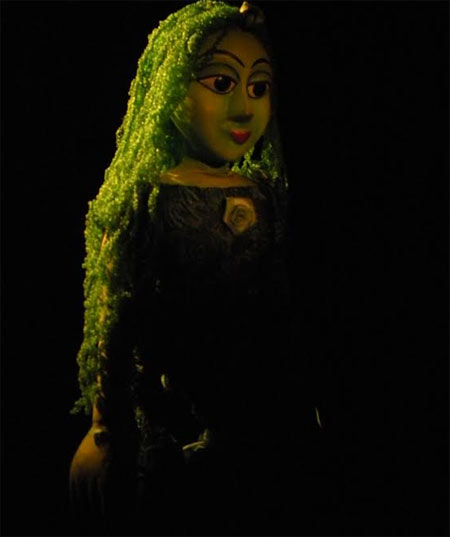 Beginning with an amateur theatre group Sudip chose puppets over acting, thirty-four years ago after a workshop with Padmashree Suresh Dutta who is considered a pioneer of modern puppetry. Sudip went on to work regularly as a puppeteer for Dutta's Calcutta Puppet Theatre and undertook a research on 'Modern and Contemporary Puppets in Eastern India.' In 1990 he launched his own group, Dolls Theatre - a dedicated unit that includes his puppeteer wife Shreeparna Bhanja Gupta - a Bismillah Khan Yuva Awardee and son Souparno Gupta.

Right from the start Sudip knew his puppets had to be different in tune with the times. Instead of limiting himself to Indian folk forms he drew inspiration from traditions all over the world, devising new techniques that merged and evolved with each production. Modern concerns of endangered species, of liberty, environment and wildlife have been the catalyst for most of his productions like FLORAL TRIBUTE, THE WORLD WITHIN, CALL OF THE WILD, MOVEMENT IN WILDERNESS, A WILD TALE, AN ENCOUNTER OF A SPECIAL KIND, PADMAGATHA, SATARANJ KE KHILADI, DINOSAUR ERA EKHONO AACHE, NAK KATA RAJA, AGUNER PARASHMONI, BANG RAJA, CHUKTI, SAHEB BAGANER SUNDARI, CHIDAM CHASIR KATHA and the latest CHI- CHI- LAND.

Some of the early productions evolved into the show TAMING OF THE WILD, which has run for over 1500 shows. The sophisticated materials, techniques and skills of the puppeteers make the suspension of disbelief almost automatic. If Sudip has gone out of his way to see how rural puppet artists work he can with ease adopt new techniques, like that of Japan's Bunraku puppets, and then improvise to suit his own ensemble.

Sudip feels things should have been better for puppet theatre in India. ''It has been long acknowledged that India is the birthplace of puppets. It is from here that rich traditions of nearly every genre of puppetry spread all over the world. Take Bengal's Beni Putul, Dunger Putul, Assam's Putala Nach, Orissa's Ravan Chhaya, Kerala's Tolpava Koothu or Bommalattam of Tamilnadu.

Yet most people regard it as part of outdated rituals or something childish and superfluous. Traditional puppet shows are connected to religious rituals. They often go on for five or six hours. ''Folk artists lack the exposure to know how to fine tune their art to appeal to today's audience. I remember we had taught a Kerala group to edit their production and they have since performed everywhere except in their village where it is considered a sacrilege to cut the stories of God. There is so much we can learn from each other and teach the next generation. Yet there are no institutes dedicated to teaching puppetry.''



Though preservation is necessary (puppets being mostly made of fragile material) we should not be content with stashing a few traditional puppets in museum cabinets while the traditional puppeteers struggle to make ends meet and slowly fade into oblivion. There has never been a separate grant for puppet practitioners, rued Sudip. The procedures of applying for registration and government grants are too complicated for traditional artists and craftsmen. So they often get exploited or cannot fund a group.

There is also a lack of interaction and display. International puppet festivals are common in other countries like Iran, Spain, Russia, Turkey, Poland, Israel, France, Britain etc. In Spain even a local mayor organises an international puppet festival, and Teheran's auditorium dedicated to puppet shows has a stage that rises and extends according to the requirements of puppeteers. But in India, international puppet festivals are rare.

The Sangeet Natak Akademi puppet festival organised in different parts of the country is one regular event to look forward to, as is the 'Ishara International Puppet Festival' at the Habitat Centre, Delhi and the 'Dhatoo Puppet Theatre festival' in Bangalore. Sudip's Dolls theatre organises 'Sutradhar', a national puppet festival where along with performances, there is a seminar, an exhibition and workshops. Dolls theatre also conducts workshops in schools to spread social awareness and bring forth future puppeteers.

Click here to visit Doll's Theatre's website.

*Sebanti Sarkar is a freelance writer, translator and editor based in Kolkata.