"Dost thou think because thou art virtuous, there shall be no more cakes and ale?" Sir Toby Belch asks rather extravagantly in Shakespeare's TWELFTH NIGHT. These words from 400 years ago still ring true. Cakes and ale, and indeed the other joys of food and drink, continue to hold their own virtues. Ask Shivani Savant, who runs the theatre group "High-Pot-In-Use-Tri-Angle" along with her husband Digvijay Savant aka Diggie. The group among other activities, focuses on teaching drama to school children. Shivani also runs 'The Odd Hour Kitchen' where she moonlights as a pastry chef, whipping up muffins, cakes, cookies, sauces and breads. Shivani has been doing theatre for the past two decades starting off as a stage manager with Bharat Dhabolkar when the designated manager took ill. Her last performance was in 12 ANGRY JURORS, an adaptation of the classic Reginald Rose teleplay 12 ANGRY MEN. Currently working on a play for children, NATKHAT KRISHNA, Shivani is part of the creative team that has co-founded The Moonlight Café.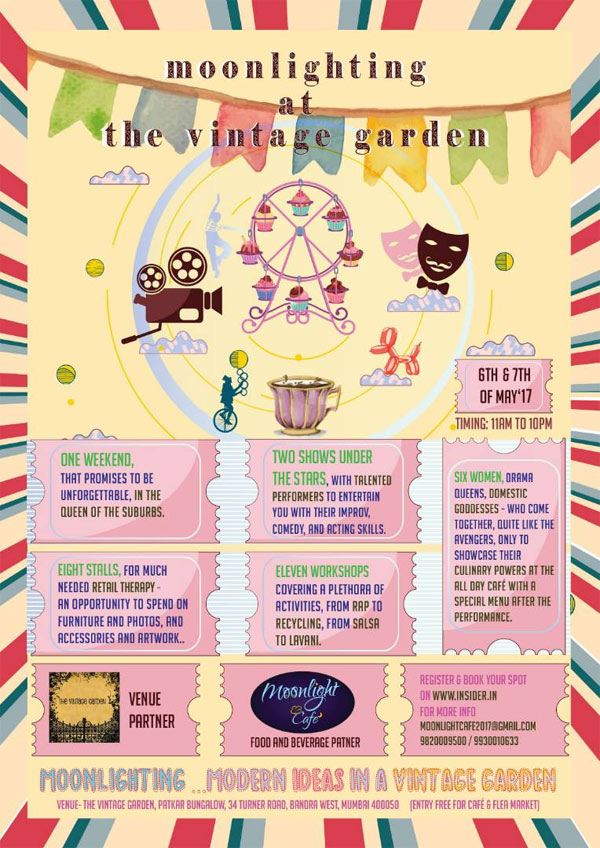 I was looking at the colourful little pickle jars on the counter. These belong to the Chawla sisters, Prerna and Preetika. Prerna who produces web content, is also a voiceover artist and a voice & accent coach. Preetika is an actor and runs a content production house for web based series and advertisements. Together, they curate 'Pickle Shickle' with their grandmother's recipes that feature chicken, prawn, jackfruit and lotus stem as eclectic alternatives to traditional pickles.

'Dough-Re-Mi' is Dilshad's ensemble piece with Moonlight Café, where she brings to life her quiches, customised cakes and pizzas on delivery. When not moonlighting to the symphonic rhythms of Julie Andrews as a baker, Dilshad Khurana is an actor and a back stage lights & sound designer. She is also a trained counsellor and works in education development.

Shivani Tanksale wears many hats. She has featured in quite a few films notably Happy Ending, Inkar, Zed Plus, besides her extensive repertoire of television commercials and shows. A trained filmmaker and a theatre artist, Shivani moonlights her love for pies, quiches and cakes through her venture 'The Baking Game'. All of this, when she is not exhibiting her paintings.

Reetha Balsavar joins us as we are in conversation. A computer engineer for 30 years, she is now a producer with the Arpana theatre group. Reetha balances the indulgences offered by her moonlighting partners through 'Navdanya', the organic food store that she runs in Andheri, and in the salads and dressings that she creates and home delivers.

The Moonlight Café is an ode to entrepreneurship by a team of accomplished women from theatre, expanding the boundaries of their creativity and love for food, art, and friendship. Moonlight Café in association with Aarti Patkar, hosts 'Moonlighting @ The Vintage Garden', at Patkar Bungalow on 6th and 7th May 2017. The two day event will feature workshops on Nail Art, Make-Up, Object Theatre, Photography and Dance. The Moonlight Flea Market features furniture, clothing, shoes, home accessories and much more. Interestingly, this ensemble hosts all exhibits only by theatre artists who work in theatre both out front and back stage.

The event will also present two performances on both evenings. All of this will be held together by The Moonlight Café as the centre-piece in the Vintage Garden where the team will display their culinary wares for you to savour. Catch them Moonlighting at The Vintage Garden, Patkar Bungalow, Bandra West.

For more programme details, visit their Facebook page:

https://www.facebook.com/events/1872587123018500/?ti=cl#sthash.NDYRugp3.dpuf

*Anil D'Souza enjoys commenting on drama and its versatility in mirroring our lives.