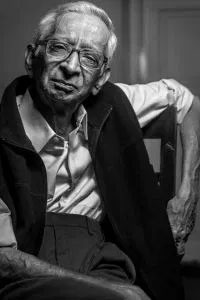 Comrade Hemchandra Adhikari is no more. I was to meet him and collect a copy of his latest book. I didn't.

The last time I met him was on the Mumbai streets. His frail frame was undeterred. He was protesting the brutal murders of Dabholkar, Pansare and Kalburgi. And before that at a seminar at the Podar-Ruia college, he was exiting with his buddy Kamlakar Nadkarni. "Ghari ye, khoop bolaycha". He was the sum total of many things. A scientist at the BARC, a science activist with the "Lok Vignyan Chalval" (People's Science Movement), an actor in cult plays like DHOL TASHE, a voice for the prayogik rangbhoomi as well as the Vidrohi Sahitya Sammelan at Dharavi.

Hemu Kaka will be missed. And since he hated RIPs, the best way to pay homage to him is to remind him about the other Mumbai theatre mavericks he may bump into wherever he is.

1. Adi Marzban. I have heard many of his radio plays. I recall Mumbai grinding to a halt on the days his plays were broadcast. Hemu Kaka said, "He was ghettoised as Parsi theatre but with plays like BALWANTI BABY he left his stamp on the stage. He set high standards for the theatre."

2. Vijay Tendulkar. For many things. Especially his plays and children plays for Sulabha Deshpande. Be it: Rangayan, Chabbildas, Awishkar, his commitment to the theatre cause was 101%. But what Hemu Kaka admired him most for, "Having the gut to take punga." I knew if we got into a scrap, "Ten" was there in the corner of the boxing ring. Today there is no one...

3. Satyadev Dubey. Hemu Kaka chuckled when I called him "that boy from Bilaspur". But Dubey's was the shoulder on which the "gang of four" created their reputation. The "gang of four" were: Tendulkar, Mohan Rakesh, Badal-babu and Girish Karnad. Besides the "gang of four", Dubey gifted us with many OLD and NEW playwrights (GP Deshpande, Dharamvir Bharati, Sriranga, Rajeev Naik, Chetan Datar, Shafaat Khan, CP Deshpande, Irawati Karnik, etc). And finally there was NSD (The National School of Dubey), which created a stable of "Method" actors from Naseer, Amol Palekar, Amrish Puri, etc.

4. Pravin Joshi. For theatre craft, for the one-act plays; and for the finesse and form that epitomises the best of Gujarati theatre in Mumbai. I recall him and Arvind Joshi rocking the toughest of audiences in the Gujarati version of SLEUTH, plus a sensible production of Madhu Rye's KUMAR NI AGASI. Today, Gujarati theatre needs another Pravin-bhai. Hemu Kaka said, ideally a Umashanker Joshi!

5. Jennifer Kapoor. For creating Prithvi Theatre. In a way that curtain-less, intimate space in Janki Kutir and her vision which unshackled the performance praxis. Today, a majority of modern Mumbai theatre practitioners dare to say things differently, due to the experiments in minimalism and modernism at Prithvi. I had mentioned to Hemu Kaka about how I had a massive school boy crush on her (he said, everyone did) and I suspect it is the only reason I did theatre instead of playing football for Dempo Sports Club.

6. Machindra Kambli. My hero. I have seen him play Tatya Sarpanch in VASTRAHARAN at least 17 times. I admired him for making a transition. He was born in Rewandi in Sindhudurg Zilla. He earned Rs 15 doing odd back-stage jobs. He ironed stage costumes for Vijaya Mehta's theatre group. He hung curtains. In 1973, Mohan Tondwalkar (who became an adversary in the Marathi Natya Parishad) offered him a tiny role. And thus began his journey. He became the King of Konkan ... I used to hire a theatre bus from him when we did outstation shows. He never gave me a discount, saying "you're a paisawallah English theatrewallah." He was right, you know, said Hemu Kaka.

Red salute Hemu Kaka.

Ramu Ramanathan is a Mumbai-based playwright.