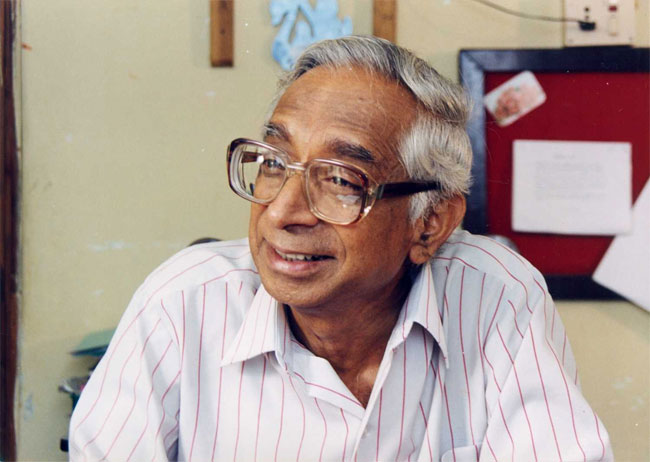 Staunch supporter of the leftist ideology, noted scientist at the Bhabha Atomic Research Centre (BARC), anti-nuclear weapons and anti-superstition activist, radical socio-political thinker, passionate theatre academic, director, and a stage and film actor par excellence...these were the many faces of the late Dr Hemu Adhikari. Senior theatre critic, Kamlakar Nadkarni pays tribute to his multi-faceted childhood friend who passed away on 21st May 2018 after struggling with a long illness.

It was well anticipated, almost a foregone conclusion... yet when it really happened – it came as a debilitating blow. I was shocked. Hemu Adhikari, my dearest friend of over 60 years, had been fighting for his life over the past year. With oxygen tubes and an incessant dosage of pills, it was evident he was going. But there was always a passing hope that he would recover.

His was a lifelong struggle: whether it was against nuclear weapons or against superstitions, for popularising science or for experimental theatre. He always fought valiantly for the causes he believed in. But over the past year his fight was for his own survival - with his medication, with his illness. His ill health posed a great hurdle in his writing work. He was compiling his views and experiences regarding his social work, achievements in the field of science, his acting career, his perspective of contemporary theatre and his footnotes on life. When his health didn't permit him to write, he recorded his account, which was being typed. This book is important study material of a socio-political era. In spite of his debilitating condition, the title of the book was finalised: "Natya Vidnyan Samajen : Vrutta ani Vichaar" (Theatre, Science and Society: News and Thought). The cover was designed and the date of publication was also decided. 28th February 2017. The publishers wanted to postpone it, "Needs editing", they said. But I insisted. "Let it be. The book must be published on Science Day i.e. 28th February." We were all worried about Hemu's frail condition. So when the book was published on the appointed day before him, we were greatly relieved as well as grateful. In his short thanks-giving talk on the occasion, he was overcome with emotion while reading out the blurb written by Pushpa Bhave. He could not control the tears coursing down his cheeks! I had never seen him getting this sentimental ever before. (I wonder if he had a premonition about his ominous future).

He headed 'Bahurupi', an institution of experimental theatre, for the past 15 years. Under his guidance and inspiration we staged many meaningful plays. He was not only our guide but also the head of this family of about 50 members and theatre workers. He had an intimate relationship with each one of us. He was our friend and philosopher. He was our sole support and our leader. He who gave us the courage to face all odds. How did he get so emotionally disturbed? What was he thinking about? Was he afraid? What can scare a scientist? He who had worked relentlessly with missionary zeal to inculcate scientific thought among people, delivered talks in schools and colleges, conducted workshops, wrote booklets, distributed them far and wide. He was a scientist in BARC and he was vehemently opposed to his scientist colleagues wasting precious time standing in the Siddhivinayak temple queue. He detested people garlanding and worshipping the computer. He was an atheist but he did not publicise that. Yet he strongly criticised blind faith and the worship of godmen.

He was the curator of 'Aantarnatya's Galilio'. He wanted to stage a play based on the judicial trial of the American scientist Oppenheimer, known as the father of the atomic bomb. He was actively involved in organising competitions of science-based plays. He was always concerned about the misuse of science and technology. Through his articles, he would demolish the unscientific claims made by political leaders.

Rajiv Naik's AAKHERCHE PARV was one of his favourite plays, for its historical and scientific perspective. He also liked Chintmanrao Kolhatkar's SAM POORNAVATAR for its scorching commentary on terrorism. He thoroughly enjoyed acting in both these plays.

He strived to build a bridge between theatre and science. He searched for the science in theatre and for drama in science. He lamented the commercial plays that promoted traditions under the false guise of modernism. He was also dead against using women as commodities in plays. He had a terrific social consciousness. Be it politics or social issues, an artist must take a firm stance, he opined. His 5-minute role as the common man in the popular Hindi film 'Lage Raho Munnabhai' was greatly appreciated. The old man in JULOOS and Balwantrao in the play DHOL TASHE are some of the memorable characters he essayed. Not only was he a great actor but he was also a socially sensitive person – that enriched his performances.

Way back in 1965, very few realised the importance of training as a theatre actor. In such times, Hemu joined the drama classes that were being conducted by Narayan Kale and Prabhakar Gupte and this training completely changed his outlook towards theatre. Our institution, 'Bahurupi' benefitted greatly by this and it became one of the leading producers of experimental plays. Hemu went to the USA for two years and he acted there as well in a play titled MISER, which was translated by Acharya Atre as KAVADICHUMBAK in Marathi. Hemu got some portion of Moliere's MISER translated by me and with the permission of Shirith Pai, he directed this version of the Moliere-Atre combine called KAVDICHUMBAK. Staged in pantomime format, this play was hailed by the audience. Produced by 'Bahurupi', the play was staged without an interval over one and a half hours.

Alongside experimental theatre, he also made his mark in parallel cinema like 'Aakrit', 'Katha', 'Dhyasparv', 'Restaurant', 'Harishchandrachi Factory', 'Dopahari', etc. Our friendship dates back 60 years. He made me translator-playwright. I was caught in the web of writing verbose dialogue. I was impressed by applause-worthy, long-winding dialogue of noted playwrights. Hemu pulled me out of this and introduced me to realism. He taught me how to write short dialogue and avoid pretension. He led me onto the path of modernistic writing.

We had our differences too. For instance he was of the opinion that I should not be so emphatic in my play reviews. I argued that newspaper readers loved sensationalism – if I wrote otherwise, my writing would be ignored. But when it came to political plays, I always took his advice – he was very well informed about it.

In those days, there was a strange rivalry between Chhabildas and Shivaji Mandir theatres. They were mutually exclusive: actors working in Chhabildas wouldn't ever come to Shivaji Mandir and vice versa. However, Hemu and I never got into this complication. With the passage of time this gulf was bridged. Hemu and I went to the same college. Hitherto, until recently, when we turned 75, we watched plays together. In case we missed out going together, we would inform each other about a new play to be watched, discuss its merits and demerits. I remember watching Prithviraj Kapoor's PATHAN and DEEWAR from the balcony of the Opera House, fanning ourselves with cardboard cutouts. I lost the count of how many times we watched Nanasaheb Phatak's translation of MACBETH.

Once a London-based company came to Mumbai with their version of MACBETH. In a scene, it had the three witches swinging around a big cauldron and then one of them would climb up the wall of the fort nearly a floor high and heckle with Macbeth. He would climb the stairs in rage and grab her by the nape and push her over. A cachinnating laughter followed and Macbeth was left holding the robe of the witch. She disappeared without a trace and as Macbeth bent over to see – there was an eerie silence followed by a thunderous applause. "What a spectacular fusion of drama and gimmickry!" Hemu had exclaimed.

Another play by the same company adapted from Tom Stoppard's ROSENCRANTZ AND GUILDENSTERN ARE DEAD, had the stage plunged in total darkness as the curtain rose. There is a dark sky in the backdrop... the sound of waves… and in a corner hanging high was a lantern. For the next five minutes dialogues ensued between two characters and then the lights come on to show the palace. The sound and light were used effectively to create an impression of a ship sailing! "This is called creativity and innovation," Hemu cried excitedly. Even after 60 years, these scenes rise before my eyes. Only Hemu isn't there to appreciate them.

I stayed in Dadar West, Gokhale Road, while Hemu lived around Khodadad Circle. We were separated only by the Tilak Bridge. Can you believe it, but if you asked anybody the address then, people replied : That bridge on which you see Hemu or Kamalakar in the evening is Tilak Bridge! We were both from the same college and the same class even. But I wonder how we became such close friends and remained so for many years. We were not alike in any respect – he was a Leftist, I was totally non-aligned; Hemu was serious natured and quick tempered while I am very happy-go-lucky. I don't take anything other than theatre very seriously. I liked fiction, I loved writing. Hemu was an academician and he liked political writing. I loved ornamental language. He favoured no-nonsense realism. I sought modernism in traditions while he went for objectivity. In spite of all these differences we were friends forever.

The reason behind our friendship was 'theatre'. We stood for the grandeur of theatre, we always worked towards elevating theatre. Our search for innovation in theatre kept us together. In the play, RAJSANYAS, the friendship between Hiroji and Sabaji was held together by Shivaji Maharaj; likewise we were bound by our love for theatre.

My friend has left me. I remain, only in half measure…only for writing.

*Deepa Karmalkar is a film and theatre reviewer. She has been an entertainment journalist for over fifteen years.

*Kamlakar Nadkarni has been a drama critic for 45 years. He has received various awards for the same from institutions such as the Akhil Bhartiya Natya Parishad. He has written a book on Chattrapati Shivaji and has also published books on theatre. His book 'Mahanagari Natak', published in 2015, is a compilation of his critical writing on plays he saw between 2000 and 2010. His upcoming book 'Natki Natak' will dwell on the history of the Maharashtra State Competition plays, right from Annasaheb Kirloskar. He was an active worker for 'Bal Rangbhoomi' along with Sudha Karmakar. He has written six plays of which 351390 won an award at the Maharashtra State Competition. Kamlakar Nadkarni has been an actor in his younger days and has won medals for acting in state competition plays.