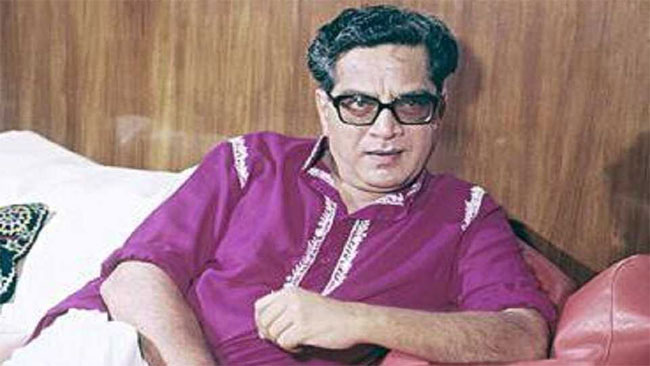 Shreeram Lagoo, popularly known as Doctor, was the most prominent male actor on the Marathi stage since the late 1950s. "Doctor" was really a doctor - an ENT specialist, or more precisely an Otorhinolaryngologist, who trained at Pune's Sassoon hospital in the 1950s. Here, he got interested in intercollegiate theatre and joined the Progressive Dramatic Association (PDA) under Prof. Bhalba Kelkar. Bhalba was the main force in Pune that revived old Marathi plays in which the Doctor always did the main roles.

The most important play done by the PDA was Vasant Kanetkar's VEDYACHE GHAR UNHAT, followed by DEVANCHE MANORAJYA. Doctor did many plays by P. K. Atre: VANDE MATARAM, LAGNACHI BEDI, UDYACHA SAUSAR, BHRAMACHA BHOPLA. The PDA period was dominated by V. V. Shirwadkar's adaptation of MACBETH (RAJMUKUT) where Doctor played the lead and directed. The next period was with Rangayan led by Vijaya Mehta, where Doctor did many lead roles in plays by Vijay Tendulkar: MI JINKALO MI HARLO, MADI, etc. Doctor practised medicine in Pune and also in London and East Africa. But he finally settled in Mumbai to pursue a full-time theatre and film career.

The breakthrough on the Marathi professional stage was Shirwadkar's NATASAMRAT - a loose adaptation of KING LEAR. Here Doctor played Appasaheb Belwalkar, a retired actor cast in the mould of Lear. The play was bad, but very popular, and Dr Lagoo became a household name.

Doctor never lost his interest in parallel theatre even after he left Rangayan, and Rangayan also wound up shortly. Doctor began with Tendulkar's GIDHADE, which was controversial but successful.

Doctor did many foreign plays: Ugo Betti's THE QUEEN AND THE REBELS (EK HOTI RANI), Anouilh's ANTIGONE, CYRANO DE BERGERAC (RAO JAGDEV MARTAND). He directed all these plays and translated the first two.

Doctor used to say that he was not really interested in translation and direction, but did it because there was no one else to do it and he wanted to do the roles.

Doctor did lead roles in over 50 plays, of almost all major Marathi playwrights, and many newcomers also. He did Mahesh Elkunchwar's GARBO and ATMAKATHA, Premanand Gajvi's KIRWANT, Mayekar's AGNIPARIKSHA, Ajit Dalvi's SHATAKHANDA, Shyam Manohar's PREMACHI GOSHTA and Sathe's SOORYA PAHILELA MANOOS.

UDVASTA DHARMASHALA by Go Pu Deshpande was a major production. This was classified as a political play, the first one in Marathi, though both statements were wrong.

Doctor initially refused film offers because of his medical practice and theatre career. But he finally accepted Pinjra (The Blue Angel) by V. Shantaram. Doctor continued to do Marathi films with a difference under directors like Jabbar Patel (Simhasan and Samna). He then accepted insignificant roles in Hindi films. He finally realized his mistake and withdrew. He returned to meaningful plays, where he could use his histrionic talents, albeit in an advanced age.

Doctor stepped on the Marathi stage in the 1950s. This was a watershed decade where new playwrights were writing for veteran actors and old plays were being done by young actors. Thespians like Nanasaheb Phatak, Keshavrao Date, Master Dattaram, Mama Pendse, Dattopant Angre, Vanmalabai, Durgabai Khote, Snehaprabha Pradhan. And new-comers Atmaram Bhende, Vijaya Mehta, Arvind Deshpande, Prabhakar Panshikar, Damoo Kenkre, Madhukar Toradmal, P. L. Deshpande, had already started making their mark. Doctor belonged to this generation, which was exposed to western theatre, to Shakespeare, Brecht, Arthur Miller and the lot. Doctor did not do Ibsen or Shaw, though these could have offered him major roles.

Most of these actors worked together mainly at the Mumbai Marathi Sahitya Sangh. But Doctor was in Pune. So his acting career was that of a loner. He had his own groups and co-actors. That, and an outwardly stern countenance, set him apart. He was never seen fooling around with others and was considered to be an intellectual. He was something of a social activist, and promoter of social causes. His statement 'God should be retired' became very controversial. He was a staunch and a committed atheist, a rare breed in Maharashtra.

Doctor married Deepa Basrur after GIDHADE and they had a son: Tanvir. Tanvir was travelling from Mumbai to Pune in a train and someone threw a stone which hit him. Tanvir succumbed to his injury. Doctor was devastated. He instituted the Tanvir Award for outstanding work in theatre. Ebrahim Alkazi was the first to receive the award. Others to follow were Satyadev Dubey, Vijay Tendulkar, Vijaya Mehta, and this year, Naseeruddin Shah.

Doctor had a heart problem even when he was doing NATASAMRAT and PINJRA. But he took excellent care of his health. He had a couple of bypass surgeries and was unwell for a long time.

Doctor was a real theatre person, in the sense that he always thought theatre, studied theatre and helped theatre. In 1985 we wanted to do OTHELLO at the 25th State Drama Festival. We needed an institution. We approached Doctor. He adopted our production for his Roopvedh, and also financed us. We could return his money through the cash prizes that we won.

Immediately after that we approached him for THE LIFE OF GALILEO. He drew out his cheque book and inquired: 'How much?' He would come and see our shows. But he never interfered. He was a selfless person where theatre was concerned. And a very practical person too. He had a deep study of the art of histrionics. In a lengthy interview given to Mahesh Elkunchwar for Natak Traimasik which I edited, Doctor has made some very special observations.

• The preparation of an actor for a role is fun. It is not effort.
• The body is the actor's equipment. It should be maintained.
• The mind has to be developed.
• Not Rangakarmi but Rangadharmi.
• Many actors have limited canvasses.
• The analytical faculty is very important.
• There are various acting schools: Stanislavski, Grotowski, Artaud, Strasberg.
• There is only one Marlon Brando, though there are many students in the school.
• The character is a hallucination.
• Different actors see the character differently.
• How fantastic are one's life and experience!
• An actor should be an athlete-philosopher (aka Shaw's 'superman').
• Playwrights do not write enough challenging roles in Marathi.
• Appa Belwalkar is a simple character.
• Playwrights' 'stage directions' confuse.
• I am not committed to stage directions. I am committed to dialogues.
• From Shakespeare to Shyam Manohar - anyone worth a name - I've done it.
• I do not know if I can do Willy Loman (DEATH OF A SALESMAN).
• I failed as Macbeth and Cyrano.

Dev Anand wrote Romancing With Life, his autobiography, in which he describes the shooting of the film Jaal directed by Guru Dutt, in Malvan. He returned from there with Geeta Bali, who coaxed him to speed. The car went off the road and hit a tree. Dev Anand got his ribs broken and was admitted to Sassoon Hospital in Pune for nearly a month. Dev Anand writes, 'A young, handsome doctor attended on me. Later he played my father in a film. His name was Shreeram Lagoo.'

*Arun Naik is an author, editor, printer, publisher, theatre critic, translator, theatre director and designer. His translations and productions of Shakespeare's Hamlet, Macbeth and Othello have been widely acclaimed both in academic, and in theatre circles. He teaches Dramatic Literature, Communication Skills, Creative Writing, Translation and Printing Technology. He has contributed to The Oxford Companion to Indian Theatre and has travelled widely to study the latest in printing technology and in Theatre.