Clowns from all over the country and from different parts of the world had assembled in Mumbai towards the end of 2018 for a two-day "International Clowning Festival". This was a collaboration between "Clowns Without Borders" from Sweden and Rednose Entertainment. The hosting venue was the unassuming Harkat Studios in the dusty bylanes of Aaram Nagar in Versova. The festival presented five different troupes of clowns from Mumbai, Pune, Kolkata, Chennai and Delhi, directed by clowning veterans from France, Sweden, Germany, including , Rupesh Tillu from India, who is a clowning and theatre artist, and the founder of Rednose Entertainment.

Clowning has its roots in many diverse performance traditions from the court jesters of Kings, the poor and hungry "Zanni" archetype of Commedia Dell'arte, the continental circus troupes of the 19th century, to the popular and immensely celebrated work of Charles Chaplin on screen, to name just a few. The form has flourished all over the world, and in the 20th century, it became synonymous with a high level of specialised skills that the clown-actor (or actress) must possess. Transcending boundaries of language and idiom, the clown figure is said to embody our collective humanity while celebrating it on the one hand, and mocking it on the other.

In India, film actor Raj Kapoor cut the tragic clown figure in the 70s (a trope that was recycled by the travelling circus "jokers" in the country, of which only very few remain today with the circus having virtually disappeared). Our folk performance traditions have been strong in the grounding of the jester or the vidushak's character (In Maharashtra he is known as the songadya). We may not identify this character with the more typical make-up of clowns, but a clown he is nevertheless, and his job is not just to provide humour, but satire and irony as well. He is also a social and a political commenter with the licence to get away with anything he says, and can double up as the narrator. In fact he is is indispensable and the performance would be the poorer without his presence.

On the contemporary, urban stage in Mumbai, theatre groups like Atul Kumar's The Company Theatre and Rajat Kapoor have been besotted with clowning as a technique and device, and one of their most popular plays has been C FOR CLOWNS. Later they have reimagined some of Shakespeare's best-known classics in this genre. On and off the figure of the clown has appeared on the Indian stage. A festival like this offered the opportunity to further generate interest in clowning as a distinct form of theatre and performance. The five plays, which were born out of a month-long residency process were spread over two days and punctuated by free-of-cost talks by the clowning masters present at the festival.

Here is a review of two shows that came recommended by the organisers:

THE CHAOTIC ADVENTURES OF A VIOLIN

(Delhi)

Directed by Camilla Persson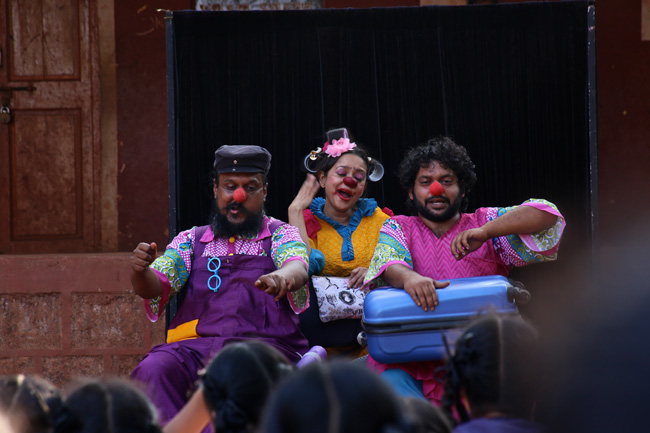 This musical piece traced the story of a renowned violin clown-maestro Miss Meawo (Tapasya Dasgupta) preparing for a big concert with her two musical clown-servants Ali and Rambo at her side (played by Sagnik Chakrabarty and Bhaskar Jha respectively). Miss Meawo, true to her name, is not exactly a benevolent spirit as she chides and berates her helpers to keep up with her musical and professional standards. The hilarious power play between the three figures was crisply directed and deftly performed by the three actors, who carried out each gag with an impressive level of team work and skill. Ridiculous thefts, chases and lamenting monologues formed part of this adventure in a way that can only take place in the ludicrous but charming world of clowns.

The show ended on a high note with a lovely final performance in the moment of all the chaos settling down in joy and camaraderie. The children and adults alike were left wanting more.

SHAKUNTALAM (AGAR PURA KAR PAYE TOH...)

(Pune)

Directed by Rupesh Tillu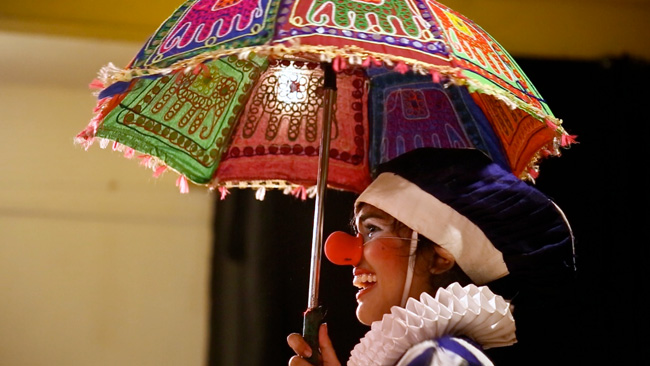 The premise was deceptively simple. Kalidas, or KD, as the name he goes by in this clown version, has come back from the dead to direct a version of the lofty Shakuntalam. The epic love story of King Dushyantha and Shakuntala is surely not the first piece of text that comes to mind as a piece that can be clowned. Meeting this challenge is a young clown trio: Shreeram Chaudhari, Ankita Nikrad and Sagar Bhoir, who brought a perfect balance of innocence and cleverness to each of their clown personas, playing silly goofs and sassy thespians to hilarious effect.

An amusing mockery of the attempts at miming imaginary walls, doors and boundaries by one of the clowns, only to be disregarded by another, was the source of much fun.The piece also stood out with the openness and spontaneity of each of the three clown actors who interacted with the audience, particularly the children, inviting them to speak and get involved with the script. This decision was not without its problems though, especially towards the end as the clown-actors struggled to get a word out without interruptions from the more raucous members of the audience. The actors had different levels of clowning experience but each managed to hold their own. Ankita Nikrad certainly stood out among the three, particularly in a delightful act of the floating umbrella that she struggled to keep down.

Both shows were a great success with children and adults enjoyed them too. The pure and primitive pleasure of a well-executed gag on stage can make for an elevating evening at the theatre. Clowning as an art usually takes several years of practice and experience but the plays at the festival managed to put up an exciting showcase that speaks of a possible, bright future for clowning in Indian theatre. One would hope that these and other young and talented clowns develop their acts further to be India's equivalent to the likes of Avner Eisenberg and Annie Fratellini on the international stage. The process did not end with the festival in Mumbai. Following the spirit of Clowns Without Borders, these clown artists also performed in their respective cities in collaboration with local NGOs to keep the momentum going and to take clowning to the less privileged sections of children in these cities.

*Saudamini Kalra is a student of theatre and occasionally a poet.