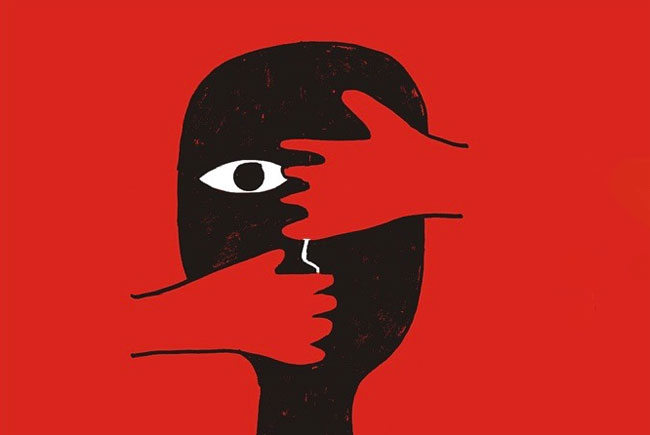 The 92nd Akhil Bhartiya Marathi Sahitya Sammelan at Yavatmal in Maharashtra had invited veteran writer Nayantara Sahgal, who is also the niece of Pandit Jawaharlal Nehru. Nonagenarian Sahgal (91), a Sahitya Akademi awardee, and an outspoken critic of the Modi government was to inaugurate the three-day conclave on 11th January 2019 but was unceremoniously dropped from the invitee list when MNS (Maharashtra Navnirman Sena) activist Raju Umarkar threatened to disrupt the proceedings. The event caused a furore and left many writers and artists disturbed. Making amends, renowned writers from Maharashtra organised the event, "Chala Ekatra Yevuya" (Let Us Unite) at Shivaji Mandir in Dadar, Mumbai, to welcome the firebrand author Nayantara Sahgal. For the occasion, noted theatre critic, playwright and writer Jayant Pawar wrote a stimulating and introspective speech in Marathi, which was read by Pune-based actor and director Atul Pethe. The speech has been translated for our readers here, by Deepa Karmalkar.

Namaskar.

That we have gathered in large numbers today, is laudable, but the reason for this meeting is embarrassing. Yes, it is a strange paradox! They say, unless humiliated, the Marathi manoos does not come together. I would say they are not far from the truth. Do the Marathi people gather for a huge event like the All India Literature Convention? They do, but at the same time, they should be aware that these literature conferences are conducted under the aegis of the State government with a certain political alignment. These conferences are also sponsored by rich patrons who are capable of humiliating writers who dare question their policies. We writers have been called bulls by them! The organisers may pretend to be all-inclusive and liberal but the fact remains that they are totally intolerant. Similarly, the Rashtriya Swayamsevak Sangh (RSS) also claims to be accommodating of all the castes and even the adivasis. But the fact remains that their fundamental ideology is regressive. This conflict of ideologies has continued from the times of the renowned social reformer Justice Ranade who initiated literary conferences when social reformist Jyotiba Phule declined the invitation to a literary conclave because his questions remained unattended.

Phule's pertinent queries are my legacy.

But before addressing those, I welcome senior writer Nayantara Sahgal to this event.

The question is of freedom of expression.

People who declared they would uphold the constitutional rights of freedom of thought, expression and conduct have been attacking the very fundamental right of liberty in the last five years. I remember that a few years ago well-known TV journalist Arnab Goswami interviewed India's biggest film actor and superstar Amitabh Bachchan on Times Now. Even then Arnab Goswami was infamous for his high verbal pitch and his biased outlook, but he wasn't as incorrigible as he is now. He conducted the interview in a restrained manner. At that time the State government had implemented the ban on cow slaughter and in this context when Goswami asked Bachchan: "What is your opinion about the Government's decision?" Bachchan replied: "No opinion. If the Government has enforced a law it must be good."

Next question: "What is your stand on this?"

To which Bachchan said, "I have no stand."

So Goswami countered, "Why don't you ever take a stand?"

Bachchan replied, "I tell you, if I say anything, I get criticised for it; people start calling me up; the media is abuzz with discussions. All this bothers me. The next day I would like to face the camera in a cheerful mood. My job is to act and play different roles, so I like to avoid any such trouble-making situation which will affect my work."

The country's biggest actor has to keep mum for retaining his happiness and his smile.

Likewise the intelligentsia also prefers to keep quiet. Either they aren't aware of the reality or they are not bothered to find out. They remain indifferent.

In his famous book "What Is Art", the Russian author Leo Tolstoy poses a succinct query. Artists give up their lives for their art. They are intelligent and talented. But there are many people working to provide the means for creating that work of art. Masons, painters, tailors, barbers, laundry men, jewellers and many more people who work all their lives, provide the means to create any work of art. They also work to provide all the comforts to the artists. When artists earn state patronage or sposorship from the affluent, they must remember that the money is coming from the pockets of the common man. Unless they acknowledge their contribution, their creations can not be said to be fullly accomplished. Then can their art be called work at all?

So when great actors like Amitabh Bachchan enjoy the stardom bestowed upon them by the common man but conviniently choose to keep quiet about issues affecting the common man's life, then it is an act of conceit.

Not only artists or actors but even when scientists, doctors, engineers, lawyers, administrative officials, teachers, journalists – all those voices that matter choose to remain silent, they are giving the authorities the license to exploit the judicial rights of the common man. Therefore the mission for freedom of expression is not about shouting aloud only when you are personally affected, but it is the tool with which we can guard the basic value system in a society. These celebrities whose voices are heard are the true sentinels of the common man's rights.

When they remain indifferent, then theives enter.

So I feel the enemy of freedom of expression is not someone sitting in the Parliament or some corrupt leader in the Legislature, but the enemy is right here: amidst us!

The poet Gajanan Madhav Muktibodh has rightly put it, "Ab abhivyakti ke sare khatre utthane honge, todne honge matth aur gadh sab" (we will have to demolish the old, conservative, narrow minded institutions and bastions of traditions in order to guard the freedom of expression).

There is a systematic conspiracy by the State to keep you fighting against yourself or your own people.

A poor Muslim labourer is lynched on the suspicion of having cow meat and the Hindu youth who perhaps torched him and made the video viral is also poor. But the dead is labelled a traitor and the killer – a patriot! While the dead man's community lives in terror, the killers are hailed as saviours of the religion and heroes.

A huge wall of polarisation has been erected.

It overshadows basic issues likes poverty, unemployment and migration. This wall has now risen above the Himalayas. It is so high that even if there is rumour of an enemy coming from across the Himalayas, a communal and domestic war will erupt amidst us. At this juncture the battle for freedom of expression has become very complex and gone beyond imagination.

In order to prepare for it I have to start with myself.

I have to demolish the walls that I have built by yielding to pressure around me.

Can I fight with myself?

Can I argue with my friends?

Will I be able to raise my voice against the injustices occuring in my caste and community? In my society?

Can I oppose the injustices prevalent in my family owing to male domination?

Will I be able to face criticism with obectivity?

Can I listen to others peacefully?

These are very crucial questions.

I feel that the freedom of expression begins here and it gives me the strength to raise my voice against the system. Else, it is a lost battle.

My fear as a writer is slightly different. It is hidden in today's unpredented circumstances. I know many writers and artists are openly expressing their displeasure about the current situation in the country. Our gathering today is a proof of that discontent. A writer always strives to put across the truth he has discovered. He has come across several dilemmas about life, human relationships, etc, and he tries to communicate his truth about these through effective words. He is in search of his inner voice of truth. However, his voice has become so loud today that it seems it has lost its edge.

Our national leaders are hammering falsehood so blatantly. Philosophers say it is the "post truth" era.

These are the times when people are swayed by faith and emotions rather than truth or reality. American President Donald Trump's persistent lying in order to win the elections, is considered to be a prominent example of this "post truth" era. India is considered to be one of the countries facing a similar situation. The term "post truth politics" means that the government in your country will be formed through elections but these elections will be delivered by marketing companies. They will gauge your mood and create an atmosphere that you will be made to feel that you got what you wanted!

According to Vedic culture, there are four ages - Satyayug, Tretayug, Dwaparayug, and Kaliyug. The present age is considered to be Kaliyug. In the film 'Gopi', lyricist Rajendra Krishna referred to Rama, 'Hans chugega dana aur kauva moti khayega' which means the swan will peck at the grain while the crow will eat the pearls. But now the crow appears like the swan. The epic Mahabharata refers to the Mayasabha, which was a palace of illusions, where water appeared like land and vice versa. The Mayasabha has become today's truth. So Kaliyug is the age of falsehood.

Our leaders today have taken falsehoods to such heights. There the voice of truth cannot reach. Today's Ramayan is different. Valya is falsely claiming to be Valmiki by manipulating Narad. Or the media in our case. They are making us believe their lies.

So in such an illusory age, how does a writer tell the truth?

Postmodernists may claim that the truth is dead but that is not true. Today lies are being marketed as truth and the truth is lost in a maze.

It is being ensured that no one finds out the truth and somehow even if they discover the truth – it is not allowed to be told.

So if as a writer you accept that you are a bull, then you shall be protected under the anti cow slaughter law and in your old age you may be assured a lifelong fodder house. But those who refuse to bow down, their paths will be strewn with obstacles.

In these chaotic times if we are ready to accept the challenge of conflict and confrontation for freedom of expression, we have to stick together.

Remember at the creative level, a writer is independent; a loner. He is all by himself and this is his strength. We have to come together to retain our creative indepencence. Yes, as I said at the outset, it is paradoxical.

We have to find a solution by remaining independent.

Let us support each other's freedom of expression by coming together like this.

*Deepa Karmalkar is a film and theatre reviewer. She has been an entertainment journalist for over fifteen years.