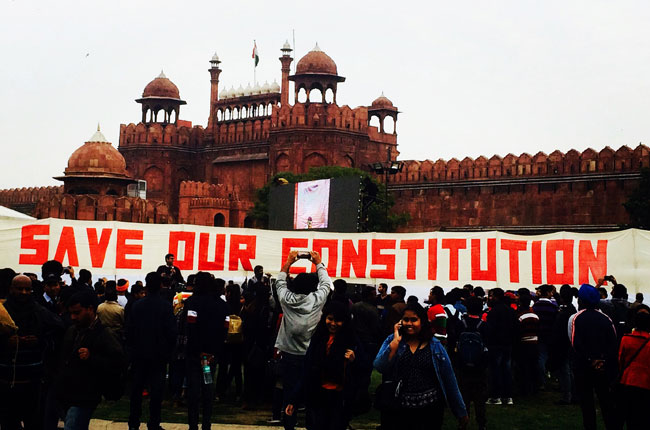 While the Indian mainstream media went hammer and tongs and converted their newsrooms into 'war rooms' on 2nd-3rd March 2019, over 200 artists transformed the Red Fort ground in Delhi into a site for peace and democracy. Resisting the politics of hate and assault on multiculturalism, a two-day cultural festival was organized under the banner of Artists Unite! (AU!).

Initiated in October last year a group of people from the arts fraternity in Delhi came together to create a platform for collective action against hatred and to propagate the message of tolerance, equality, justice and solidarity. The Declaration circulated by AU! prior to the festival was signed by over 600 hundred artists. The statement was an appeal "to all democratic, secular political parties to think anew of a politics rooted in economic and social justice; ecological and environmental sustainability; plurality and diversity; decentralization and devolution of power; ethics, love, compassion, tolerance and the rule of law."

Echoing the statement, Farah Batool, cultural manager and one of the key organizers of the festival says "Artists Unite in Delhi was an unprecedented act of coming together and reclaiming the space in front of the Red Fort for imagination, for peace, for freedom and for creativity." Following this core idea many fellow artists formed local groups in their cities and organised cultural events. Similar cultural assemblies in different forms were thus planned in multiple cities and towns including Mumbai, Bangalore, Indore, Lucknow, Agra, Ahmedabad, Kolkata and Chennai.

In Delhi, with the magnificent Red Fort in the background, numerous performers, poets, musicians, singers, storytellers, filmmakers, photographers, painters and visual artists expressed their concerns and optimism through their work. Specially marked platforms such as "Lok Manch", "Zindabad Manch", "Ekta Manch" and "Khula Manch" dotted the ground of the Red Fort. These platforms witnessed about a hundred odd performances that included theatre, music, dance, poetry, film screenings, impromptu shows, that happened simultaneously over the two days of the festival.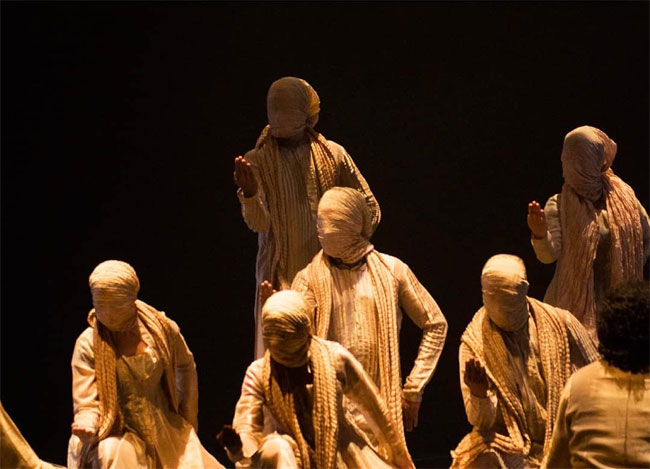 As an act of solidarity the festival commenced with the reading of excerpts from IDGAH KE JINNAT, a play written and directed by Abhishek Majumdar, and which had recently been stopped from being performed by a right-wing fringe group in Jaipur. While the excerpts were being read, Delhi university students were chanting "aao aao, natak dekho..." to gather the audience for their street play at another performance site. Likewise, Bharatnatyam dancer and choreographer Navtej Johar's performance based on Bhagat Singh's 'Why am I an atheist'? coincided with a young band playing Hille le jhakjhor o duniya for another set of audience at the open-air stage.

There were erratic rain showers. When it started to pour everybody gathered under the roof of "Lok Manch" to listen to Assamese singer Mr. India a.k.a Denial Langthasa's parodies that mocked the Gau Rakshaks and the highly controversial Citizenship Amendment Bill. The performers and spectators together defied the gloomy weather with hopeful laughter. Waiting for the sun to shine again defined the essence of the festival. It was a metaphorical and an apposite moment. As the day started to warm up, more inquisite visitors trickled in. A temporary wall that had some striking images from the poster series created by Posters Unite! promptly became a 'photography/selfie zone' for many of the visitors.

In the evening, "Ekta Manch", the central stage, came to life with an eclectic mix of performances ranging from protest songs by the Patna IPTA choir to traditional renditions of Soz Khwani by Askari Naqvi to Sufi songs by Mukhtiyaar Ali and Dhruv Sangari. Brimming with energy, theatre person Maya Rao's performance, filled the audience with verve and hopefulness. The rhythmic movements created by her Kathakali trained body, were punctuated with half constructed sentences and words. Using the allegories of mitti ki khushboo and Namak Satyagrah, she weaved in some key narratives from anti-colonial movements to remind the audience of the sweat and blood that had gone into achieving our freedom that is presently under attack. Citing the walls of the fort behind her as witnesses, Maya referred to the artists as "kalakaron ki fauj". "We'll amass ourselves right here where we belong, where we sleep... arre naa jane wale hain hum yahan se", she asserted. The ambience was bursting with loud cheer and applause as she ended her performance by asking farak kya hai inmein, unmein... when she referred to the use of sedition law by the British Raj and by our own governments.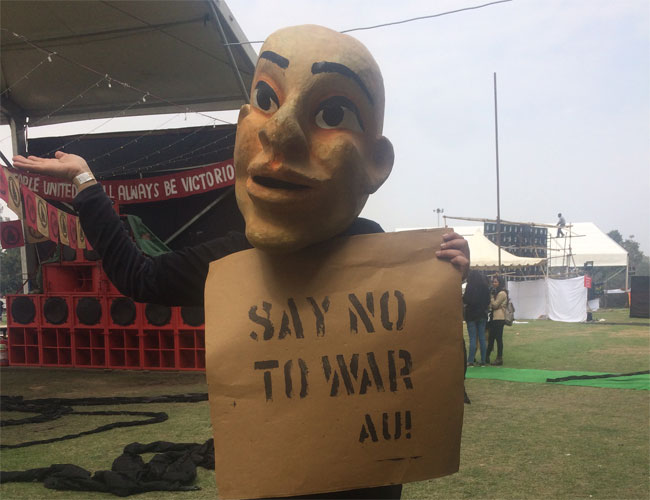 As the sky cleared up on the second day thousands of people arrived at the festival site. It was exciting to see so many people who were not from the artist, intellectual and activist circles that one would expect. The Red Fort ground was truly transformed into a mela (as a passerby called it), and was visited by people from across socio-economic and cultural backgrounds. "Artists should experiment with forms, especially when performing in public spaces to make their work more comprehensible for the general audience who are not necessarily "trained" in art so that the message can get across. I feel this festival has created that possibility", claimed Aishwarya Walvekar, a Jawaharlal Nehru University (JNU) student.

A number of visitors engaged with installation and performance art works. Maharashtra-based artist Smita Urmila Rajmane's installation 'Smash The Brahmanical Patriarchy Now' saw a constant flow of visitors who were asked to identify a piece from the pile of kulhars that represented caste hierarchies and then smash them to the ground. 'Women in War', a series of paintings by Uzma Nawchoo, an artist from Srinagar, depicted the mourning women of Kashmir, and it too drew in many spectators.

There were also artists on the move. Performance artist Inder Salim caught many eyes as he strolled around wearing a headgear that said I'm dharam nirpeksh. Anurupa Roy meandered with her fellow puppeteer, both wearing large head masks and holding anti-war posters, while her other team members clad in dinosaur body suits danced on the famous 'Azaadi' anthem composed by Dub Sharma. "We have all been artists for a while but this is the first time we have stood together physically, philosophically, politically, making ourselves seen and heard in such large numbers. The more the oppression, the stronger the artists get.", asserted Anurupa. By late afternoon about a dozen performances were simultaneously going on.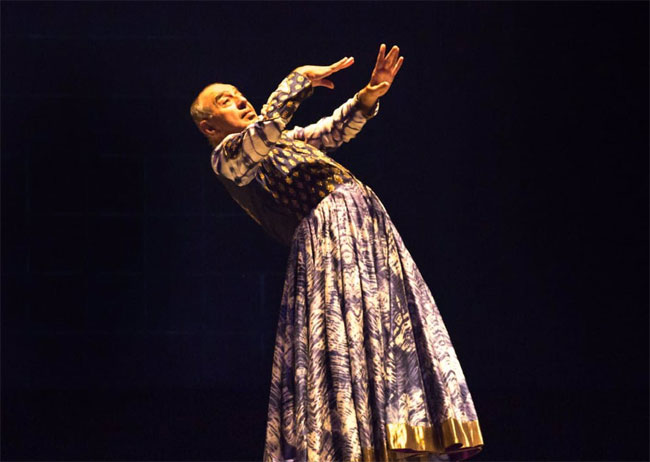 The line-up to culminate the festival was filled with a series of sundry performances by the IPTA Azamgarh group, Aditi Mangaldas, Astaad Deboo, Vedhant Bharadwaj, Madan Gopal Singh, Shubha Mudgal and Sonam Kalra. Pune-based activist and singer Sheetal Sathe's charged performance in Lok Shahiri style took everyone by storm and ended with roaring slogans of jai bheem, laal salaams from the audience.

The festival was not supported by any corporate or institutional sponsorship and was completely funded by individual donations. The festival was an act of protest and resistance and is to be seen as an important political prerogative that has emerged out of the disturbing politics and culture wars of the past five years. Those who could not participate in person, operated through virtual networks, and were as much part of the gatherings in the different cities. The assembly of "the people", as aptly put by gender theorist Judith Butler, is "not just produced by their vocalised claims, but also by the conditions of possibility of their appearance". To create such a possibility where people can show up, stand, move, pause, dance, sing, agree, disagree, speak and be silent together, signifies resistance in itself.

"The festival gave us hope that not everything is lost", said Urmimala Sarkar, a dancer and a faculty member at the JNU. Besides uplifting the spirit of the arts community and to demonstrate their resilience against populist hate politics, the festival left many of us with timeless questions about the functions that art can and must fulfill.





Citizen led initiatives can be sustained only through individual contributions. Support Artists Unite. To contribute click here - https://www.ourdemocracy.in/Campaign/ArtistsUnite

*Komita Dhanda is an actor and organiser with the Delhi-based street theatre group Jana Natya Manch (JANAM). She is currently pursuing her research in Theatre & Performance studies.