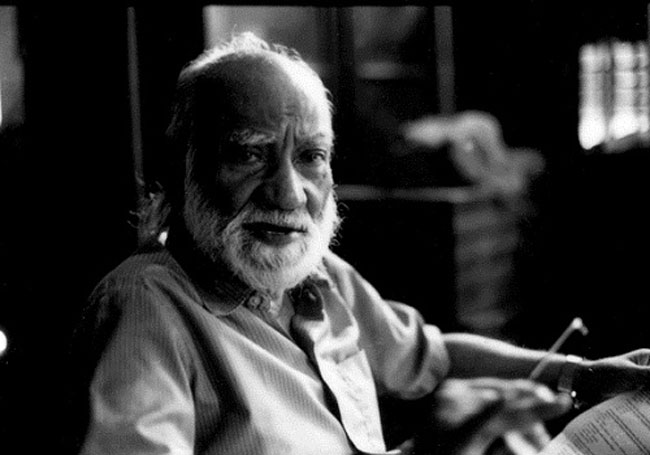 It is ironic that Badal Sircar (1925-2011) passed away a day after the Left relinquished power in Bengal and Kerala. Badal Babu had withdrawn from theatre, and with this final denouement, it seems he was turning his back on the real world.

I met him in Pune in 2004 when he was being felicitated by Amol Palekar. It was a mini-fest with speeches, play readings and nostalgia. It was one of those rare occasions when the upper caste, upper class Indian theatre fraternity doffed their hats to the neglected of the Gang of Four (the other three being: Vijay Tendulkar, Mohan Rakesh and Girish Karnad). During that fest, a scribe asked Badal Babu: "What about the revolution?" He replied, "You don't keep up with current affairs, do you? Of course, for you journalists there's no need."

There was uncomfortable laughter.

One of the key aspects of Badal Babu's genius is that he was one of the first theatre people since Ebrahim Alkazi who grasped the vital importance of presentation. That's how he was able to defeat his ideological opponents. He felt the Leftists and Socialists were sitting round discussing real issues, matters of substance and policy, and then, of course, disagreeing, splitting into factions (and city chapters), insulting each other and telling us not to vote for the ideological heretics who failed to grasp historical materialism. With his plays, he circumvented all of that. He realised, while we argue, the world moves on.

Brittle Choreography And Joltingly Urban

Badal Babu's later plays are good material to perform. That's one of the reasons plays like SPARTACUS, JULOOS, BHOMA became huge favourites on Mumbai's fiercely competitive inter-collegiate theatre circuit which is where I cut my teeth. Most of us had never heard of "Third Theatre" (later Free Theatre) nor did we care about anti-capitalist rants. We wanted easy-to-stage, award-winning plays.

Some of the one-acts I saw on stage in the 1970s, 1980s and even 1990s lent themselves to a vivid sense of spontaneous composition with huge all-male casts and minimal sets (ideal for college students) with ensemble passages appearing and disappearing in an informal manner. The plays had rhythm and there were appropriately phrased lines for the chorus to belt out. Most of the young people had fascinating interpretations of the original Badal Sircar theme of their own. Sometimes there were three versions of SPARTACUS in the same competition. And so, in a way, the plays had to keep re-inventing themselves. When I mentioned his popularity among college students to him, he said, "It's good to know people care about the stuff."

The staging of Badal Babu's plays became a reference point for my generation. Even today, he pops up unexpectedly. There's a moment in the staging of my play COMRADE KUMBHAKARNA that took place at the National School of Drama (and now in two universities in Maharashtra) when there are chants and black flags. It is a classic Badal Sircar dramaturgical moment in a modern staging — brittle choreography and joltingly urban.

Unlike other playwrights, Badal Babu didn't have the ability to market himself. But that shouldn't undermine his role. While the others conjured a world of the boring and vulture-like Indian bourgeois on stage, Badal Babu stirred things up by questioning the status quo. Especially, fake progressiveness.

His death is the end of the end. Perhaps it is a good time to read his early plays like EBANG INDRAJIT, PAGLA GHODA, BAAKI ITIHAAS and even the gentle satire BALLABHPURER ROOPKATHA. And hope that time will accomplish for the poor what money does for the rich.

Why do I say so?

The Gang Of Four

Tendulkar is among the famous four Indian playwrights who changed the face of conventional theatre in the post Nehruvian era, with its decline of idealism and disillusionment with socialism of Indian theatre. Although writing contemporaneously with Mohan Rakesh, Girish Karnad and Badal Sircar, Tendulkar tried to bring a very different sensibility to theatre, one which marks him out as having made a unique contribution to the way theatre has been practised. If Karnad delighted audiences with overturning conventions, and a freewheeling use of mythology, Rakesh brought vibrancy to naturalistic theatre. Tendulkar on the other hand transformed the most fundamental tool of theatre, the spoken word, and even more than the spoken word, the text (and its context) which had been hitherto used in theatre.

Badal Sircar did none of the above. He created plays which did not pander to refined middle class sensibility.

Plus he gave us politics.

Theatre, however, had been quicker to respond to the changing mood of the nation. For instance, Utpal Dutt wrote several Bengali plays in the early 1970s. His EBAR RAJAR PALA (Now is the King's Turn to Play) told the story of a megalomaniac actor, but was an allegory of the absolutely powerful, and the absolutely corrupt. His DUSSWAPNER NAGARI (City of Nightmares) was about a Calcutta in crisis, speaking to a city which still bore scars of the suppression of a Naxalite rebellion. Sarveshwar Dayal Saxena's short story 'Bakri', a scathing satire, was adapted by several playwrights across India. Marathi playwright Vijay Tendulkar told the story of a Brahmin who turns into a tyrannical police chief in GHASIRAM KOTWAL (1972), another play that spoke truth to power and ruffled many feathers.

By then, Badal Sircar had already deployed his art to shout against the government atrocities which were crushing the Naxals.

The Young And The Unemployed

Imagine, a playwright doing that today?

And more importantly to be able to do it with the young and unemployed.

Forty years ago, when the Yuva-Kranti was launched in the late seventies under the helm of "Lok Nayak" JP, it was thought the world would never be the same, again. The Nehruvian dream was ebbing and all that was radical and subversive was welcome. Mumbai was the hub of the working class movement. Mumbai set the pace for everything new. The new left, the new world, the new rebellion. Mumbai witnessed innumerable inter-religious and inter-caste weddings. So much so, a seven-year child of one of these holy matrimonies was horrified when she was heard about a Hindu marrying a Hindu. She asked, "Is that sort of thing permitted?"

Naturally, the politics was cultural. It created a counter-culture. The impact was felt in the new writing - in novels, poetry, theatre, and in Dalit writing. Film clubs mushroomed. Reading groups discussed Ginsberg and Gramsci munching on dhoklas and theplas. Everyone had an opinion on Vietnam and the Emergency and on George Fernandes' strong-arm tactics. The Late Narayan Surve shared stories with me about "agitprop readings inside a moving BEST bus and even in public toilets."

And it was no tomfoolery. The movement was a powerful one. It managed to dethrone one Prime Minister. It fuelled social change. India was no longer what it claimed to be.

The youth mantra was simple: Don't trust anyone over 30.

The theatre contributed to the original youth movement. The youth mantra was: don't trust elders, since elders brainwash you with their baggage of chauvinism, communalism, casteism, and class-consciousness.

So, there was the Chabbildas movement which challenged the orthodoxy of the box-set and middle class values. Badal Sircar's plays JULOOS, SPARTACUS, BHOMA and EVAM INDERJIT were a rage among the college students. Vijay Tendulkar was looking back in anger. Khalsa College used to stage Mahesh Elkunchwar's HOLI which is about students protesting the institutes' decision. Satish Alekar broke rules with his masterly musical, MAHANIRVAN in which he questioned Hindu death rites. Achyut Vaze improvised a refreshingly new theatre form with CHAL RE BHOPLYA TUNAK TUNAK. Naushil Mehta penned the anti-establishment NAUSHIL MEHTA COMMITS SUICIDE. Premanand Gajvi's GHOTBAR PAANI evoked a drought-prone Maharashtra.

All of a sudden, the youth had a voice. This was a far cry from the social-realist plays which involved the three-pronged formula: "Ma, Matlo Ane Khatlo" (Mother, Water-Pitcher and Bed). Youth competitions like INT (Indian National Theatre) and "Copwud" ensured a ready-made platform. Thousands of young people participated in these competitions.

Today, the number of competitions has quadrupled. But the plays have nothing much to offer. So what has gone wrong? Is it burn out? Or have these myriad trends never mastered their own intensity, stay their course and keep a coherent track? Eventually colleges hunted for trophies. They hired professional directors. Everything became stage-managed.

That was then.

Why Badal Babu Is Relevant

Today in 2019, on the cusp of a major election decision on 23 May 2019, the question is: Will it ever happen again?

Now, there is talk of salvaging the movement. Of bringing together the Socialists, the Lohiaties, The Ambedkarites, the women groups, Sarvodayaites, the farmers, the Vidrohi groups, the NGOs, workers, anarchists, musicians, cynics, utopians, students, and the many unclassifiable individuals who share a similar perspective.

As Badal Babu said in an interview published 30 years ago. "We set out to expose commonly held myths. Quite often, therefore, our plays acquire a documentary nature. But we have to make it theatre, for it is the art form we have chosen. For example, it is said that India's agricultural produce has doubled since Independence. It is true. But if you stop there, it gives the impression we have developed economically, become wealthier. But there's another figure: that the number of landless agricultural labourers has also doubled during the last decade. That means poverty has also increased. You have to couple these two bits of information to arrive at the reality. That is what we do. We put both facts together and let audiences decide what is true."

To conclude: Let all theatrewallahs remember what Badal Babu said in 1993 (after the demolition of the Babri Masjid and the communal riots across the country) during the Sri Ram Memorial Lecture in Delhi, "Theatrewallahs need to have an unforgiving anger towards those who cause poverty and hunger, as well as to those who remain indifferent to them."

*Ramu Ramanathan is a Mumbai-based playwright.