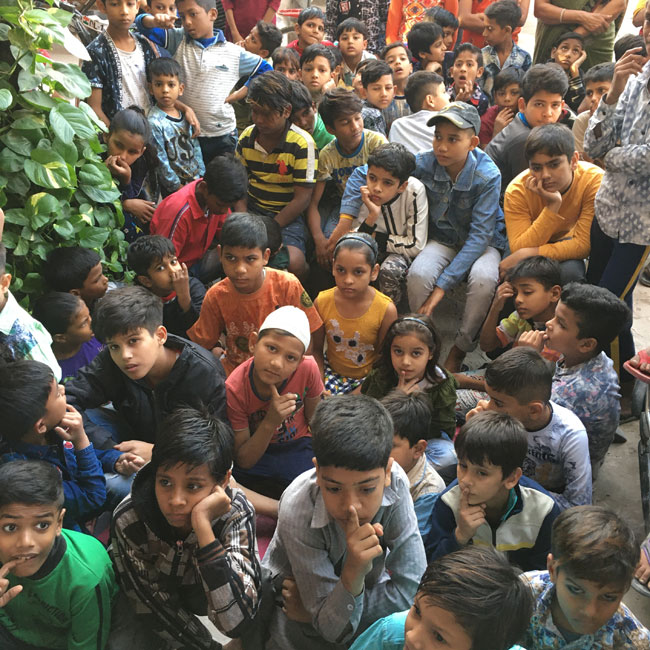 Young audiences at the Shadipur Natak Utsav.


Just as cities have their own economic geographies - some parts are more elite than others - cities also have their cultural geographies. Some parts of the city have cultural and artistic institutions, some don't. The cultural and economic geographies may or may not overlap. Take Delhi, for example. Cultural and artistic spaces are bunched around in central and south Delhi. Even though north, east, and west Delhi have pockets of affluence, and a sizeable middle class, there are virtually no cultural spaces in these parts.

This was one of the reasons we decided to set up Studio Safdar, an alternative theatre space in Shadipur, which is in west Delhi. Named after Safdar Hashmi, the legendary theatre artist who was killed while performing a play in 1989, it is a black box space retrofitted in an existing building. Located in a lower middle class and working class neighbourhood, Studio Safdar has engaged with the neighbourhood in a variety of ways over the past seven years.

The latest such effort was the Shadipur Natak Utsav, which is, so far as I know, India's first local community-curated theatre festival. We reached out to members of the community and invited them to curate plays from the nearly 50 applications we got. The curatorial team consisted of Ravi, a tea vendor; Kamlesh Kumar, a retired government employee; Poonam Chauhan, a school teacher; Naseem Akhtar, a local businessman; and Iqbal, a self-employed youth.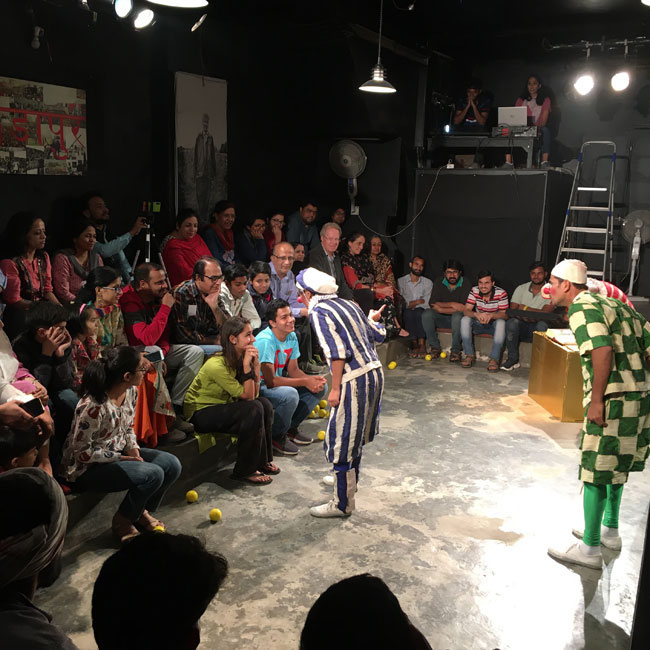 From the play: SHAKUNTALAM, AGAR POORA KAR PAYE TOH


The curators were led through a curatorial workshop by Sanjna Kapoor, who got them to think about what it means to 'like' or 'not like' a play; what kind of plays they'd love to bring to the rest of the community; and how variety is critical in curating a festival. She was also present during the curatorial meetings, where she quietly ensured that the discussions were in depth while also being democratic and friendly. As it happened, the curators had their own strong views on the plays, but were also accommodating of others' views. They selected 7 plays to be played over 6 days (2 short plays were performed on the same day); and we also invited some of the most exciting theatre artistes of Delhi to present short curtain-raisers before the main show.

The festival had an unusual pricing structure. The price of entry for the general public was Rs 200. Shadipur residents had to pay Rs 20. We had a large number of children watching the plays every day, and they could enter by paying whatever they could. So children typically paid 1 or 2 rupees each - sometimes two would come with 5 rupees, or 3 with 10. But what was wonderful was that everybody bought a ticket. The only people who got in free were daily wage earners or those from the lowest economic strata - rickshaw pullers, sanitation workers, etc.

The festival happened over two weekends, Friday-Saturday-Sunday. One or the other of the curators were present every day, and many of them could be seen welcoming their friends before the shows and talking to them about how they went about the task of curation. There was a visible pride in all this.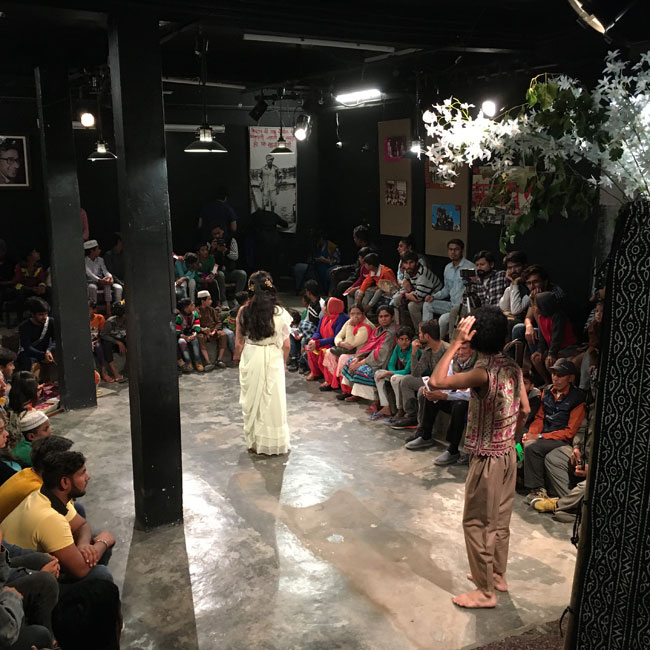 From the play: MEDEA


Over the two weeks, we found that the participation of locals kept going up, and their involvement in the post-show discussion also became more and more incisive and complex. For example, the last show was a production of the Greek tragedy MEDEA. One spectator spoke about how his father had abandoned his mother when he was still a child, but how his mother brought up the children singlehandedly. 'I understand what Medea went through, but I don't agree with what she does.' Another spectator said that she thought the play was not about 'right' and 'wrong', but was trying to say something else. A third spectator appreciated the fact that the play had the audience sitting all around, and that there was no curtain.

Many years ago, I had read an article that said that the biggest barrier to people from lower income neighbourhoods attending live performances in the UK was neither ticket price, nor content, nor lack of diversity of players. The biggest barrier was that they felt they didn't have the appropriate clothes to wear. That's the kind of barrier we fight to break every day at Studio Safdar, among others.

The Shadipur Natak Utsav has been one small step in that direction.

*Sudhanva Deshpande is an actor and director with Jana Natya Manch, which set up Studio Safdar.