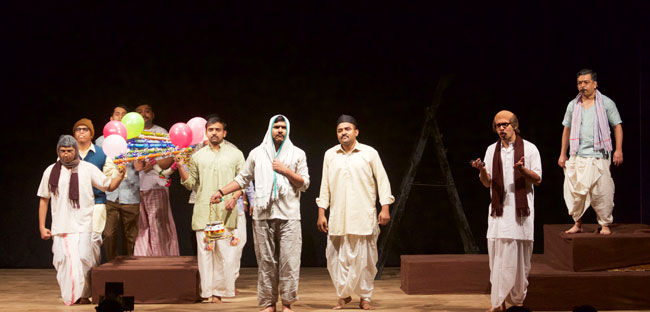 Continuing our series on classic Indian plays, with Satish Alekar's MAHANIRVAN, which managed the tricky feat of turning death into a musical farce.

A funeral is considered a solemn occasion, and mocking death would be considered sacrilegious. Satial Alekar's Marathi play, MAHANIRVAN, that first opened in 1974, produced by Pune's Theatre Academy, and directed by him, was a boisterous satire on funerary rituals in India, and the hypocrisy surrounding death. The play turned out to be a landmark in Indian theatre, has been done in several languages over the years, and was produced most recently (in 2018) by Pune's Natak Company-a version directed by Alekar himself. The production had a youthful verve that lent the timeless play a touch of freshness. (Multiple filmed versions, clips and discussions are available on the net).

MAHANIRVAN was set in a Pune chawl, where Bhaurao, a man in his fifties, dies in his sleep. He has to first convince his ditzy wife, Rama, that he is actually dead. He then imagines how his last rites will be performed, and how his neighours will react-they are, of course, all agog with the excitement caused by a sudden death. The day he drops dead, his son, Nana, is out of town, and the funeral has to wait till he returns.

When Nana arrives, mourners go with the body to the crematorium, only to find that it has been shut down by the municipality, and a new one set up at a distance. Bhaurao insists that he wants to be cremated at the old place, for which Nana has the near-impossible task of dealing with the bureaucracy, so is father's corpse lies stinking up the loft.






In the second act, the hapless Nana takes over as narrator, and Bhaurao, who wanders around waiting to be cremated, discovers that Rama, supposed to be the grieving widow, has developed a crush on one of the pall bearers, while the chaos surrounding the funeral just expands.

Add to that Hindu rites, pind daan, crows and superstitions that seem ridiculous when Alekar portrays them with dark humour. The irreverent tone is considerably enhanced with the Anand Modak's use of traditional folk form like kirtan and abhang.

Girish Karnad had written about the play when the Natak Company production was staged, "Satish Alekar's best plays are like jigsaw puzzles in which not all the pieces are designed to fit in exactly. Some do, some don't seem to, but no piece is random. The action often proceeds at a tangent to what the words are saying; the narrative gets refracted through subplots which seem unrelated. But the total effect is unified and disturbing. Alekar's sensibility is shaped by his Brahminism with all its certainties as well as lacerating self-doubts, by the vibrant heritage of his Pune ransacked by politicians, and by the rich lore of the musical theatre in Marathi which did not outlast its stars. Alekar exploits the multiple traditions he has inherited, wallowed in and resented to produce some of the most powerful plays of modern Indian stage," (source: naatakcompany.org), which sums up this classic perfectly.