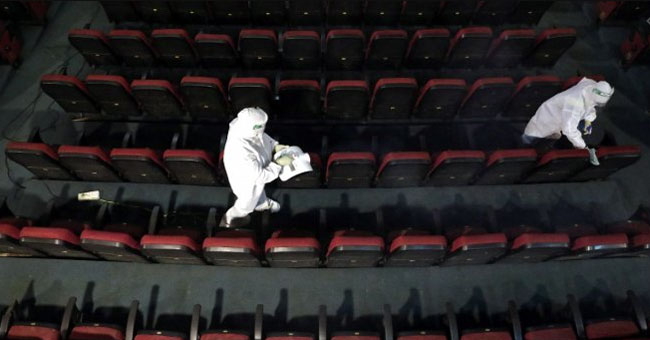 The Central and State Governments have already announced the unlocking of cultural and art events with SOPs in place but for Theatre to regain its successful run, it needs to bring in the patrons in large numbers. What is the probability of the theatre fraternity finding some succor amidst all the doom and gloom ... with Zoom?

The pandemic and subsequent lockdown has literally forced the theatre community to find new ways to stay connected with their audience. Facebook and Instagram live webcasts were used to put forward discussions and interactions related to form and content of the live arts but it was mainly innovative Zoom live streaming that was the predominantly chosen form of conveying the feel of live art to its patrons. But was the experiment successful and will it bring more gains to the theatre fraternity?

Theatres worldwide have been faced with the challenge of retaining subscribers and members during this period of lockdown and quarantine and have as a consequence, been forced to broaden their horizons to implement plans that allow for flexibility, making virtual content available beyond their local market and expanding that content into new areas. After Manhattan's Broadway theatre District shut down its performances, employer contributions largely dried up and their health fund was particularly compromised. Artistes there could of course access unemployment dole while in other developed nations, the culture and art groups were given access to a distress fund which went a long way in keeping them above the poverty line.

But in India there was no such hope. Most theatre artistes struggled to make ends meet during the lockdown period. Some even quit their passion, returned to their hometowns, or transitioned to the drudgery of earning a sustained living by entering into a new age business or moonlighting at a job. Even though theatre professionals in India did not entirely depend on the stage for their living, they found the lockdown particularly cruel because alternate revenue sources which they hitherto depended on, suddenly dried up. The pandemic has caused income streams to dry up and it's not only the theatre fraternity that bore the brunt. Even consumers have become less inclined to spend more. Consumer spending is after all, one of the most important driving forces for the economic revival of any art form. So if there is no spending on watching theatrical performances on new media then the motivation to keep things going also begins to flag. Whether it is theatre artistes or audiences, the common refrain is that very few people are willing to shell out money for the online experiment.

Lillete Dubey, theatre director and artiste doesn't feel compelled to step on that boat. "I really haven't felt inspired or motivated to get online. Though there are readings and conversations regarding theatre which I have done online, I just can't bring myself to do a play." Some production teams chose to wrest their laurels from old content. Recordings of successful performances were streamed for free to the general audience in an attempt to increase the consumer base for such events. And I daresay there were quite a few takers for the same. But there were others like Tushar Dalvi, founder and artistic director, Rangaai Theatre Company specializing in Immersive Sensory Theatre Performances who claims to have bravely attempted to explore theatre in the virtual space. "For the past few months, we have been rigorously working on #Gargikand - An Interactive Murder Mystery Play - a unique immersive virtual experience, performed via Zoom and WhatsApp. It is a 24-hour durational piece spread across two evenings - an inspired blend of escape rooms, role-playing games, and treasure hunts. The audience will not only be spectators but also participate as detectives in the play. We believe that this is a one-of-a-kind, experimental approach to the Indian theatre landscape considering the current scenario," he opines.

There are a few more like Vivek Madan and Coconut Theatre, who took the lockdown in their stride and made efforts to stay true to the art form by adapting to the new normal. Arvind Gaur, the founder of Asmita Theatre, Delhi, provided the audience the thrill of watching its plays at home through the first Qurantine Theatre Festival in the world. Their Quarantine Online Theatre showcased successful plays like Swadesh Deepak's Court Martial, Mahesh Dattani's Final Solutions, Bhisham Sahani's Manoosh, Dario Fo's Operation 3 Star, Munshi Premchand's Moteram Ka Satyagrah, Jin Lahore Nahi Vekhya O Janmya Hi Nahi, Pagdi Sambhal Jatta and a few more. Manoosh, in fact had its Youtube debut in April. That was obviously a pre-recorded version. The response, generally, has been 'tremendously heart-warming' Gaur claims. Tathagata Chowdhury's Theatrecian from Kolkata also followed suit, but with live online performances.

Actor Shernaz Patel who is also one from the triumvirate who founded Rage theatre productions, supervised the transition to online form, for Aadyam, the Theatre Production wing run by the Aditya Birla Group. That effort will be seen this month mainly in the three rehearsed and recorded plays which will be streamed for a worldwide audience. Akvarious kept their interests going with weekend talk soirees on instagram and Facebook while some of their better known performances found an outlet on OTP platforms. Akarsh Khurrana, who heads Akvarious believes "It's necessary to keep the interest in arts, theatre and culture alive in order to successfully transition to a much more universally acceptable new normal – whatever that may be. "

But, the forced incarceration of people due to the COVID-19 doesn't necessarily mean that their attention could be held throughout the digitized run, however temporary. Most Zoom performances were plagued by technical glitches and the time lag – a given with such live performances does not allow for an intimacy which live in-person theatre afforded.

But it's not all doom and gloom for theatre worldwide, if news snippets are to be believed. The latest news is that in Atlanta, the Alliance Theatre has rolled out a membership flexi-pass which provides patrons with a self-service way to book and exchange tickets, including within the theatre's app. A move they claim, that has improved their subscriber base by getting many younger people into the net. Theater Mu in St. Paul, Minn., went one better and paired food and cooking with their virtual subscription packages. In Chicago, Steppenwolf Theatre Company stepped on the ball with their new Steppenwolf NOW virtual platform and subscriptions to expand the company's reach. Thickskin Theatre's Matchbox Productions has innovated with a virtual reality component – an aesthetic crossover with video gaming with story and live performers rooting it to theatre.

Meanwhile, as theatre slowly reopen, it is certainly heartening for purists who trust in the shared experience and have been waiting patiently in order to return to the stage. It also lends weight to artist's like Lillete Dubey's steadfast belief "Live theatre has survived since Greek times--or maybe even before--and I'm convinced that that's where it belongs- on a stage with a live audience."

*Johnson Thomas is an independent critic and columnist.