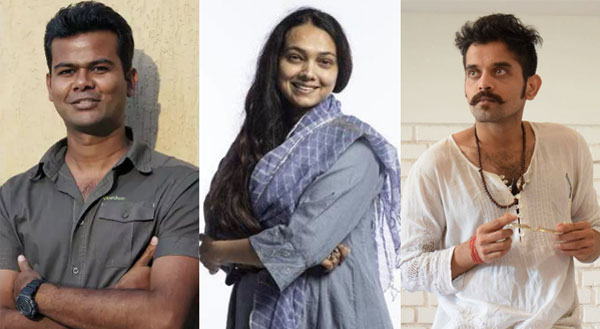 It has been more than a year since the novel corona pandemic hit us. Artistes have found multiple ways of discovering and adapting to new ways to present their work. Some have adapted to the virtual medium, some haven''t. To each their own. While writing is primarily an isolated activity, playwrights Purva Naresh, Ram Ganesh Kamatham, Niketan Sharma and Dipti Bramhandkar share their experience of how their work got affected and what keeps them inspired in such times.

Ram Ganesh Kamatham, who was recently awarded the Sultan Padamsee Playwriting Award 2020 for his play, UNDAUNTED, shares, 'Prior to the lockdown in March 2020 I was working on a play about Indian seafarers - lascars - who served aboard British steamships. Inadvertently I was also monitoring present-day sea traffic and closely followed the cruise ship, Diamond Princess, as it was quarantined outside Yokohama with nearly 3600 people aboard. The ship was described as a 'floating petri dish' for covid-19 researchers, because so many of the issues that would go on to be very critical such as effective quarantine protocols, inter-agency coordination, case-fatality rates, and so on, were already evident at a smaller-scale. The modern cruise ship became a physical setting for UNDAUNTED, which I wrote during the first lockdown in May-June 2020. The setting on a ship is also a metaphor for the times - the feeling of being cut-off, isolated, adrift and unmoored from the familiar.'

Talking about his work on the online medium, he shares, 'I wrote and co-directed DRAGONFLY, a short performance for the virtual launch of a museum, and am co-writer on a stage play HIDDEN IN PLAIN SIGHT, that has been 'adapted' for a digital showing. The most difficult challenge is to remain true to the 'experience' of watching a play, where there is a whole-body active engagement with the performers and the physical space of the theatre. The shift to virtual forces you into a realm of trade-offs, where sometimes you have to concede to the power of the camera, or sometimes you have to sculpt an image instead of a live moment. One way to describe this is hybridity - where you combine different kinds of visual grammar to tell the story. Online theatre teaches us two things - what we are 'not', and as a result the value of what truly 'is'. Theatre is the polar opposite of binge-watching a web series. The closest OTT has to offer as an equivalent to the theatre is in online stand-up comedy, as a kind of recorded live performance. Theatre predates ocular culture, so we 'listen' to a play in the theatre. Before the pandemic, I invited someone to a rehearsed reading of one of my plays, and he did not know what that was. So, I said it''s the play but with actors reading the lines out loud for an audience. And he said, ah ok like an audiobook! The shift to online has highlighted an old Aristotelian truth, that before the spectacle comes the substance.

'We are experiencing a once in a generation catastrophe, so while I hesitate to call it 'inspiration' - this global crisis requires a committed artistic response. I think the real work for artists is going to be post-pandemic because we are going to be entering a period of high youth unemployment, economic uncertainty, and weakened democracy. Anti-science voices which were fringe elements are now more powerful and dangerous. The pandemic has shown how fragile our public institutions really are, and how horribly civil liberties and freedom can be curtailed. I believe the heart of playwriting is dialogue - and that the conversations we have in the present, shape future outcomes for the better. So, we really have our work cut out for us... dreaming up a better future.'

Purva Naresh shares her experience 'The second wave was huge and it just came like a tsunami, we were caught unaware. The cases had increased, there were so many people who were dying, and there was mismanagement. We were reacting to the lockdown and not the pandemic as such. This time there was so much more grief. Keeping all that in mind, I didn''t feel like writing. I need to process what''s going on. We need to figure out what''s happening, need to maintain our sanity first. My time went into arranging and sharing leads for beds, cylinders, oxygen and we were all hassling as a community. Since there are so many other concerns right now, writing didn''t really happen as such. During the first lockdown, we jotted down few plays, did try to take them online. But I quickly realized it''s a whole new grammar. Digital Theatre, is a new medium, and we need to understand what its requirements are. That will take some time, you have to think about it, understand its features. A lot of people are doing experiments. It''s too overwhelming for me personally. Digital Theatre has its own format and one needs to accept it and learn its grammar. We will have to allow it, experiment with it. These experiments will pave the way forward.'

Niketan Sharma, a writer, actor, and director, known for BUNDLE OF QUESTIONS (2016) and CUBICLES (2019) and his work as a director and actor in the play ADRAK, says, 'A recent play I worked on as a writer and director,,PHOTO COPY, opened in 2019 in Serendipity Film Festival, then lockdown was imposed in 2020. Then recently, I got in touch with Prithvi Theatre and we planned to perform the show this year. We started our rehearsals online and we were looking forward to it but as the opening date was coming closer, things were getting bad outside in terms of the rise in the number of cases. So, it eventually got canceled because of the lockdown being re-imposed. We were frustrated at that time but, we eventually understood this is for the bigger and greater purpose. The pandemic has affected my writing. There were a lot of projects going on before the pandemic hit us which kept me busy but post covid, one main change that happened with me as I got a lot of time to write, I penned down a lot of ideas. Whenever things get back to normal, I would like to execute these ideas. I have realized that personally for me, reading and researching are very important for writing. So, I got a lot of time to read and research before I could dive into writing. There have also been days when I felt frustrated due to circumstances outside. So, for me, the pandemic has been a mix of creativity and a roadblock.

'Going online and trying theatre virtually was something I did indulge at the beginning of the lockdown, around last year. I did a few play readings, attended and conducted workshops. There were opportunities to read/perform or play pre-recorded shows of the plays which I had already done but I didn''t feel like doing it. My heart was not into it. So, I haven''t specifically made any piece for the virtual medium. I am sure there''s a lot that can be done online, but I am still understanding and searching for my space in the virtual medium. I feel the essence of doing theatre can never be replicated. With this new medium, the ways, strategies are different and it is different from what we do in theatre in real space. For me, presence is really important, for example, touch, is really important for me. The dialogue is between two people, the feeling of this presence is something I miss in the online medium. I also think we need to coin a new term/word for what is happening online and it shouldn''t be constantly compared to theatre. I am not sure, whether we should call it theatre or film, there''s no name to it. Like we have film, theatre, OTT platforms, we should come up with a separate term for the performances happening online as the virtual medium has its own characteristics.

Overall, I think being optimistic and not losing hope is what has worked for me throughout the pandemic. You know, one part of being creative, being an artist, is that there''s already an aloofness and waiting period that an artist goes through. Also, I am very good at adapting, so that helped me adjust and accept the circumstances.'

Dipti Bramhandkar is a Mumbai-born, NYC-based writer, whose first play, THE ACCIDENT, won Best Drama at the Frigid Festival. 'When the theatres closed in New York City, it was an opportunity to reassess how to continue and writing is a primarily an isolated act, to begin with, so that part didn''t change but what ended up happening is, it gave me a chance to look at new formats of how I might create and share my work with other people. So that was the main change for me. It''s sort of given me time to dig into what I want to do, who I want to collaborate with. I consider myself lucky that I was able to continue my writing during the pandemic. But the writing itself has deepened. When there are all these changes happening around you, it ends up as an inspiration to writing about new things. So, it''s kind of interesting.

'Honestly, I know it has been really difficult for a lot of artists to continue working There are a lot of theatre companies that are struggling to make ends meet so I want to acknowledge the pain and stressed that has been caused. I have been very prolific during the pandemic. I have done several projects, all virtual, but with a different point of view. The most recent was called Island of contentment and it had a global cast and many Indian actors like Kalki Koechlin, Suraj Sharma, Sumit Vyas, and some others were part of the cast. What we did there was combined a live ensemble, that was performing the work from their apartments with filmed monologues from people around the world. So, it was a combination of pre-filmed and live happening at the same time, I think the interesting thing about it is that it enabled me to take some risks in writing, which I wouldn''t have taken if it was sort of a traditional in-person event. I have also written 20 short stories that are about 3-8 minutes long, and they are on sound cloud and each of the stories is a character that focuses on one very specific aspect of the pandemic. Now I am working on two new pieces, one is a partly improvised full-length play and one is involving musical accompaniment. For people to say that theatre has taken a hit, that''s true. But to say that the work having gone virtual is in danger of not being theatrical, in my experience, I think it is in fact. I am an NY-based playwright, someone living in another part of the globe altogether would be able to experience the work I have done. I would love to see when the theatre reopens, we can take some of this virtual learning outside and work on something new altogether.'

*Parul Rana is a theatre enthusiast and movie buff.