Naya Theatre & Habib Tanvir



By Deepa Punjani



The first words that come to my mind about Habib Tanvir and his Naya Theatre are that it is theatre at its humbling best and the man in question, Habib Saahab is a living legend. Indeed, there are very few like him who chose to enrich the world of Indian theatre by not only questioning the accepted canon and traditions of nineteenth-century European theatre but by also promoting an indigenous type of theatre in the face of many a hurdle.

His brand of theatre defies categorization of any sort unless one would come up with neologisms like "modernist folk" or "nouveau folk". Even then, such labels are unable to justify the ethos underlying Habib Tanvir's take on Nacha, a folk form popular in the state of Chattisgarh in India.

Today, theatre aficionados, academics and regular theatregoers across India and in other parts of the world too are very much aware of this great man's contribution to the field of theatre. It is not surprising to know therefore that he has won many prestigious awards for himself like the Padma Shri. His Naya Theatre too has been a recipient of many a known award, including the Edinburgh Fringe Award for the play CHARAN DAS CHOR.

Naya Theatre can well be regarded as an institution today with some of its oldest actors being in their seventies. Habib Tanvir himself is around eighty years old today. Just as families thrive on their generations to come, Naya Theatre too is like one extended family with actors largely from Chattisgarh. And herein, lies the uniqueness of this theatre.



Habib Tanvir was foresighted enough to realize that there was no point in thrusting upon the local folk theatre artistes of Chattisgarh, conventions of a theatre completely alien to them. Why not then create an idiom that would not only be familiar to them but one that would also acquire a modern sensibility with the passage of time? Though this not being an easy thing at all to achieve, Habib Tanvir persisted with the help of his wife and daughter.

Credit is also due to the actors of Naya Theatre who are performers par excellence. These people "live" their theatre and some of them are indeed competent dancers and singers. One cannot surely learn this kind of theatre. It can only grow on you, as when these actors are not doing theatre, they have their farms and small shops to take care of. Perhaps this is also one of the rarer theatre companies that has actors as young as three-year olds!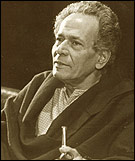 The range of Habib Tanvir's plays is wide and far-reaching. Whether it is the celebration of plebian poet Nazir Akbarabadi's poetry in a play like AGRA BAZAR or the mockery of religious hypocrisy in PONGA PANDIT, a play that came under intense pressure of censorship, theatre aesthetics are never sacrificed.

The seamless transition of a busy market place from one scene to the other is but one of the beautiful qualities of a production like AGRA BAZAR. Today Naya Theatre's repertory can indeed be seen as a culmination of one man's indomitable will, his vision, his secular ideas and concern for the proletariat. It is indeed no wonder that many people today regard Habib Tanvir as "A citizen of the world".