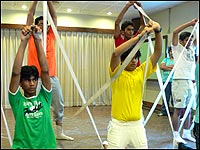 Originally written by the renowned Badal Sircar, Moksh Theatre Group's adaptation of JULOOS is garbed in clown costume and focuses on the sacrifice of individual identity at the altar of globalization. The play revolves around Munna, split into an older and younger version to reflect the common man trapped in his manipulated life.

Adapted by Aslam Parvez, directed by Khushboo Shroff and with a cast of 25, JULOOS is, as its name suggests, a procession-a way of making a point behind the strength of its numbers.

On Tuesday, 7th and Wednesday, 8th August 2007, at 9pm, at Prithvi Theatre, Juhu.


Thespo at Prithvi also presents a FREE Theatre Workshop on Protest Theatre by Salim Arif.

Tuesday, 7th and Wednesday, 8th August 2007, at 3pm, at Prithvi Theatre, Juhu.
For registration, contact Sananda on 98204 80583.

Thespo at Prithvi is a monthly initiative by Thespo - the annual Theatre Group youth theatre festival, and Prithvi Theatre, to promote youth theatre by giving young theatre-wallahs an opportunity to perform on the Prithvi stage on the first Tuesday and Wednesday of each month.

For more information and any other details, please contact,
Bhagirathi.
Q Theatre Productions
98201 50173

          or

Christophe Samuel.
Q Theatre Productions
+91 98216 24146.

*The above information is courtesy Thespo. Mumbai Theatre Guide takes no responsibility for change in schedule.