Thespo 15...One of India's prominent youth theatre festivals is back this December...



December 3, 2013 12:21:27 PM IST
MTG editorial


India's prominent youth theatre festival Thespo is back for its 15th annual edition. This year the festival is bigger than ever. This year's activities start early December before finally culminating in the Thespo 15 awards night on December 15 2013.

Each year Thespo features some of the best youth productions from around the country. This year over 120 plays were registered. The curators, ex-Thespoans, Abhishek Saha and Shruti Sridharan finally decided on the five plays to represent the next generation of youth theatre in India. Says Shruti Sridharan: "We were on the road for almost 4 weeks, watching plays twelve hours a day. It was invigorating and wonderful to watch the healthy state that India youth theatre is at. We wish it could be a month long festival, but at the end we had to whittle it down to five. And all five picked themselves on the merit of their strong performances. It's an interesting mix of locations, styles, and languages. Both Abhishek and I are very excited."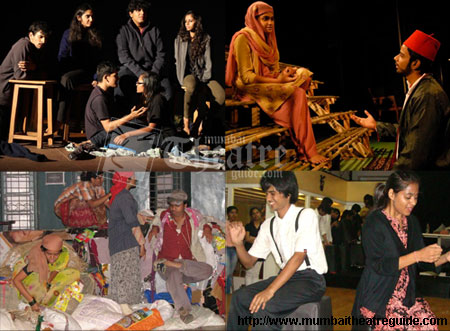 This year three cities have found representation at the main festival, once again like the last year - Pune, Delhi, and Mumbai. Pune is represented by two plays - KABADI UNCUT, a story of a documentary film that is being shot in a garbage land fill; and MI...GHALIB which takes a look at one the greatest Urdu poets but with a more contemporary view. Ramjas college in Delhi brings NORWAY.TODAY, which is about two teenagers who are contemplating suicide, and find meaning in life instead. Mumbai will be represented by two plays- THE E.Q. from Mithibai college which is a dissection of Albert Einstein's brain and also 786, an unusual take on superstitions. These plays will be staged from 10 to 14 December at Prithvi Theatre.

While the plays form the base of the festival, each year Thespo offers new things. This year there will be international workshops and a number of performance oriented workshops. Says Festival Co-Director Mithila Palkar "The major feedback from young people is the paucity of training opportunities, so this year we have decided to really focus on that. We have a record number of workshops, and quite a few of them are longer in duration and culminate into short performances which will be featured in the 'other' spaces of the festival."

Slovenian theatre director Barbara Anders is working with a group of 7 young Indian actors to stage three modern Spanish one-acts. The British Council has helped youth theatre specialists Clerke & Joy come to Thespo to conduct two projects. One is a workshop production based on News Headlines, and the other is an unusual workshop about creating weather for stage. American Ellen Dash Walter, who is a theatre educator at the Singapore International School, is using her Thespo workshop as an opportunity to stage a short musical. Since the theme was Nautanki Ka Junction, a lot of the workshops were aimed at trying to cover and capture different genres of theatre. So Shaun Williams is doing one on Improvised Comedy, and Choiti Ghosh is creating an Object Theatre performance. Deepal Doshi is doing a clowning workshop, Arghya Lahiri is conducting a lighting workshop and Ameen Sayani is doing a session on taking care of voice.

Thespo started as a small little festival in 1999. Bit by bit it has spread its wings. People from Pune, Chennai, Delhi, Dharamsala, Chandigarh have been flocking to be part of the team that puts together this significant youth theatre festival. Says Festival Co-Director Saatvika Kantamneni: "Thespo is like a big banyan tree of theatre where people come to take shade under. I first came into contact with Thespo when I directed a play for college two years ago. Although the play didn't make it to the festival, I built a connection with the festival. As soon as I graduated I came to work for Thespo. Last year was my first time at the festival. And this year I'm getting to shape the festival, and make other youngsters like myself showcase their work. Not sure where else I would have met such a diverse bunch of people from all over the country all unified by their love of theatre."

The festival culminates on December 15 with an Awards Ceremony, where statuettes are handed out for excellence in Acting, Direction, Production Design, and Writing, as well as overall Play. But the special award of the evening is the Lifetime Achievement Award which is being presented this year to Sabira Merchant. Says Alyque Padamsee, President of Theatre Group Bombay, who founded Thespo, "Sabira Merchant has spent her entire life in theatre. She is one of the best known actresses of the city's stage. Although many know her for training Miss Indias, or even for the television show of the eighties 'What's The Good Word', it all stemmed from her firm grounding in theatre. And she has always remained a regular fixture in Bombay's theatre productions. Theatre Group is overjoyed to present her with the Thespo for Lifetime Achievement."

Click here for the schedule

Mumbai Theatre Guide takes no responsibility for change in schedule.