Pradeep Mulye, the well-known set and light designer working mainly in Marathi theatre, has received the "Tanveer Natyadharmi Puraskar" at the hands of the veteran theatre personality Dr Sriram Lagoo. Pradeep Mulye has designed sets for over 150 plays and has been involved with theatre production since 1979.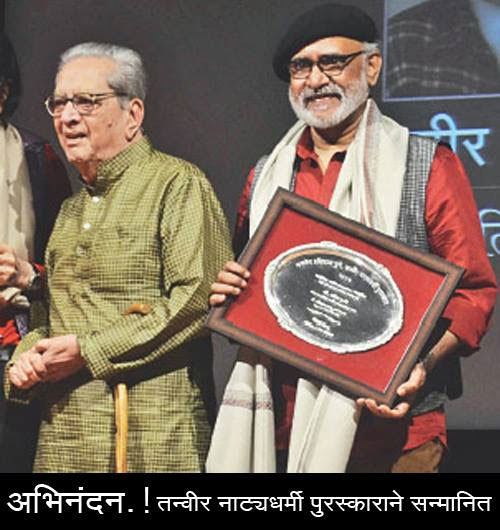 He is also a recipient of several other awards such as the Mahrashtra State Awards.
Some of the best known productions he has been involved with include
INDU KALEVA SARALA BHOLE, SARE PRAVASI GHADICHE, DRY DAY
, etc.
When contacted for the news of his award, he said, "It felt nice, receiving the award from Dr Lagoo. It is a prestigious award in Marathi theatre. My generation has grown up appreciating the work of
Dr Lagoo
,
Deepa Lagoo
,
Arvind Deshpande
,
Vijay Tendulkar
and
Damoo Kenkre
. It was possible in our time, unlike now, to work not just in drama and theatre but be influenced by all the Arts."
Mulye has worked with top directors in Marathi theatre and his sense of design and aesthetics have won him critical appreciation for several productions.
He has also worked as an actor, has sung for the theatre, and has designed costumes too.
Click here
for a YouTube video to know more about him.