THODA DHYAAN SE by Mallika Taneja in Mumbai...



September 30, 2016 6:12:38 PM IST
MTG editorial


Caution is central to a woman's experience of life in India. It is prescribed, imbibed and practiced with rigour, so that women can be 'safe'. THODA DHYAAN SE (Be Careful) is a satirical piece that challenges this notion of safety.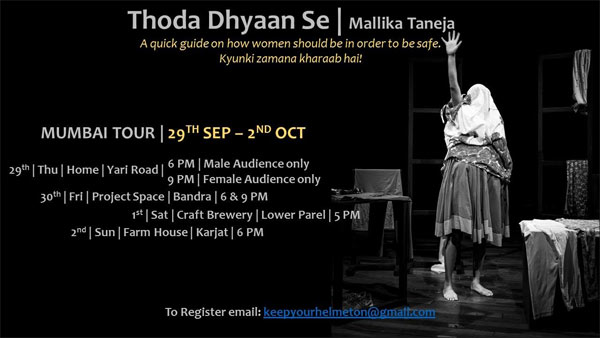 THODA DHYAAN SE

THODA DHYAAN SE was awarded the ZKB Acknowledgement Prize at Zurich Theatre Spektakel in August 2015.

This show has been performed at several venues and festivals across India and Europe such as the International Theatre Festival of Kerala, Goethe Institut Banglare, Goethe Institut Delhi, Jaipur Theatre Festival, Alchemy Festival London, La Villette Paris, Mladi Levi Ljubljana and is on it's way to the Colombo Dance Platform in Sri Lanka.

This is the first time the show will be performed in Mumbai.

Mumbai Tour:
• September 29 | Thursday | Home | Yari Road | 6pm | Male Audience
• September 29 | Thursday | Home | Yari Road | 9pm | Female Audience
• September 30 | Friday | Project Space | Bandra | 6 & 9pm
• October 1 | Saturday | Craft Brewery| Lower Parel | 5pm
• October 2 | Sunday | Farm House | Karjat | 6pm

FB Event: https://www.facebook.com/events/188098234945293/

Please note:
• All shows are private.
• You may choose the date, time and location of the show you would like to attend and register by emailing us at keepyourhelmeton@gmail.com along with your preference and your contact details.
• Prior registration is mandatory.
• The show is suitable for people of ages 18 years and above only.
• Unless specified, the shows are open to both male and female audiences.
• The address of the venues will be shared closer to the date of the performance.
• A hat will be passed around at the end of shows. The collections will pay towards expenses for this tour.

THODA DHYAAN SE Mumbai Tour has been made possible by the support of Theatre on the Rocks, PUSH AND PULL Theatre, Shapeshift Collective, Mumbai, Playpen Performing Arts Group, Stage Impressions & Samagra Creations.


The show was first created at The Tadpole Repertory.