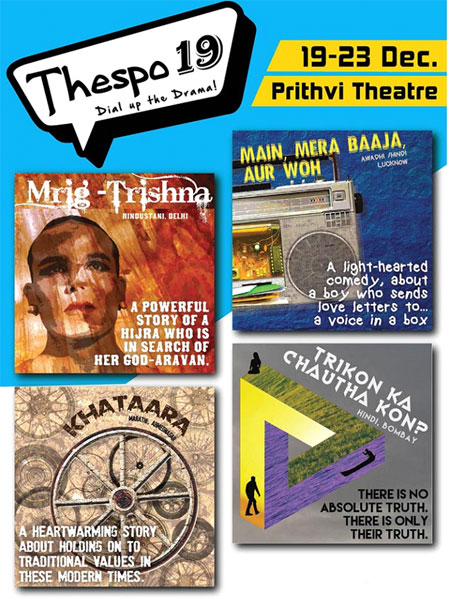 Thespo
is abuzz with festival fervour. The prominent youth theatre festival, now in its
19th edition
, will showcase very carefully selected plays by young people, all
below the age of 25
, and from places outside Mumbai as well. Not only that, you will get to watch platform performances, take part in workshops (If places are still available) and enjoy music among the other programmes that are planned.
Thespo
is an exciting place to be, especially for young people interested in the theatre. Do attend this festival for its youthful vibe and support its unwavering spirit. The festival has stood the test of time, opening doors to professional theatre for many a young person, and for encouraging their work, without compromising on quality.
All plays at
Prithvi Theatre
.
The Plays:Vairagi's MRIG-TRISHNA (Delhi)
Hindustani
Tuesday 19th & Wednesday 20th Dec. 2017 - 9 pm
(A powerful story of a Hijra who is in search of her god - Aravan)
Karooj Theatre Group's MAIN, MERA BAAJA, AUR WOH (Lucknow)
Awadhi & Hindi
Thursday, 21st Dec. 2017 - 9 pm
(A light-hearted comedy, about a boy who sends love letters to... A voice in a box)
Nirmiti Rangmanch's
KHATAARA
(Ahmednagar)
Marathi
Friday, 22nd Dec. 2017 - 9 pm
(A heartwarming story about holding on to traditional values in these modern times)
Actomers's TRIKON KA CHAUTHA KON? (Mumbai)
Hindi, Urdu & English
Saturday, 23rd December 2017 - 5 pm & 9 pm
(There is no absolute truth. There is only their truth)
For other performances and workshops,
here's the schedule
,
and for more information, please visit
Thespo 19
.
Be a Friend of Thespo and support the festival
*Mumbai Theatre Guide takes no responsibility for change in schedule.