THODA DHYAAN SE by Mallika Taneja, DOHRI ZINDAGI by Gurleen Judge and AAYDAAN by Sushama Deshpande.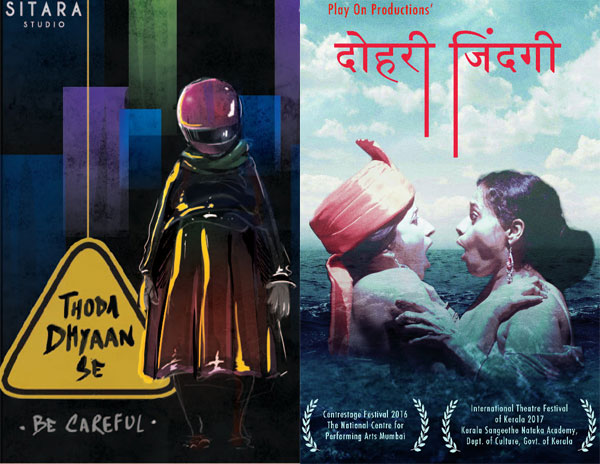 THODA DHYAAN SE
Friday, 10th March 2017 at 5 pm and 8 pm
Caution is central to a woman's experience of life in India. It is prescribed and practiced with rigour, so that women can be 'safe'. Rooted in a widespread anger over the everyday violence against women,
THODA DHYAAN SE
is a satirical guide for women on how they must be in order to avoid any trouble that they might encounter.
The performance will be followed by a Q&A with the audience.
Language:
Hindi
Devised and performed by
Mallika Taneja
Production Managers:
Paushali Priya Dutta & Pranav Sawhney
Strictly for 18 years and above only.
Prior registration is required to attend the performance.
Please email KeepYourHelmetOn@gmail.com to register.
Tickets:
Rs 400

DOHRI ZINDAGI
Directed by Gurleen Judge
Saturday, 11th March 2017 at 5 pm and 8 pm

When two miserly traders, living in two villages separated by a distance of 24 kilometres, form a marriage pact between their unborn children, all seems well. That is, until they both have daughters. Greed for dowry tempts one of the traders into declaring his daughter a boy. However, on the night of the wedding, his deception is revealed and this revelation will shake the foundations of morality, sexuality and society.
Language:
Hindi
Theatre Company:
Play On Productions
Producers:
Neha Singh & Dhruv Lohumi
Cast:
Neha Singh, Bhumika Dube & Krishna Kant
Director & Light Design
Gurleen Judge
Lights Operator
Mandar Gokhale
Production Manager & Sound Operation
Moumita Ray
Production Assistants
Suhel Banerjee & Dhruv Lohumi
Tickets:
Rs 300 (available at the venue before the show or online on Insider.in)
AAYDAANDirected by Sushama Deshpande
Sunday, 12th March 12 2017 at 5 pm and 8 pm.AAYDAAN
is an autobiography of a Dalit woman. It is written by the renowned writer and activist, Urmila Pawar.
Aaydaan is also a name for articles made from bamboo - trays, baskets, straw removers, hand fans, etc. Urmila Pawar´s mother created aaydaan - bamboo handicrafts.
Born in a Dalit family, Urmila grew up in the Konkan. She is aware of being born a Dalit. At a later stage, her realisation of being born a woman raises her consciousness to another level. Urmila travels this journey. She documents it with wry humour. She gains strength because of this journey. Like aaydaan, Urmila weaves through words, the life stories of many Urmilas, Vimalas, Sushilas, who represent Dalit women. Almost all women. The lives of many women unfold through an autobiography, whose story needs to be told.
Language:
Hindi (otherwise usually performed in Marathi)
Producers:
Awishkar & Anjor
Script:
Urmila Pawar
Concept:
Ramu Ramanathan
Stage version:
Sushama Deshpande
Director:
Sushama Deshpande
Stage-design:
Niranjan Rudrapal
Music:
Nitin Kayarkar
Lights:
Ravi-Rasik
Actors:
Nandita Dhuri, Shubhangi Sawarkar, Shilpa Sane
Tickets:
Rs 300 (available before the show at the venue or online on Insider.in)
Late entry will not be permitted.Venue:
Sitara Studio, National Engg Compound, Garage Galli. Opposite Tilak Bhavan, KG Marg, Elphinstone West, Mumbai.