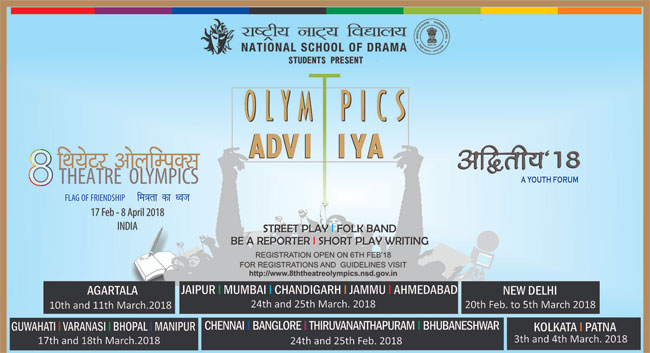 Given ancient Greece's role as a precursor to theatre in the West, it is not surprising that the
Theatre Olympics
was established in 1993 in Delphi, Greece, at the initiative of the famous Greek theatre director,
Theodoros Terzopoulos
.
Its 8th edition now takes place in India
.
Professor
Waman Kendre
is the Festival Director. He is supported by
Dr Arjun Deo Charan
,
Ratan Thiyam
,
Dr Mohan Agashe
, Dr
Chandrashekhar Kambhar
and others in the Advisory Committee. Given the scale of the festival there is an Observation Committee, as well as other functions such as Finance and Accommodation to enable the coordination and the functioning of this mega event, organised by the
National School of Drama (NSD)
and the
Ministry of Culture, Govt. of India
.
Plays from India and from abroad are part of the festival. An estimated 25000 artistes from over 30 countries are said to take part in this event, which is scheduled to run from
17th February to 8th April 2018
across seventeen cities in India, with its concluding leg in Mumbai.
The festival's theme
"Flag of Friendship"
seeks to celebrate universal friendship and human values.
In order to know more about the event in detail and the participating performances visit
*Mumbai Theatre Guide takes no responsibility for change in schedule.