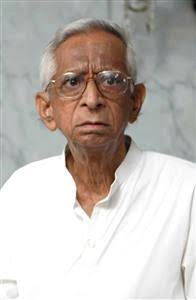 Dr Hemchandra Adhikari
or
Hemu Adhikari
as he was popularly known was among that rare breed of actors who combined his background in science with his political activism. He was closely involved with the
People's Science Movement (Lok Vignyan Chalwal)
, and had taught at the Chhabildas school in Dadar.
Hemu Adhikari
acted in Marathi plays like
DHOL TASHE
,
SANDHYA CHHAYA
,
HASVA PHASVI
. His acting career spanned 45 plays, around 16-17 films in Marathi as well as Hindi, and around seven tele-serials. He had spoken a great deal on acting and was also a director.
He had been ailing for quite some time and passed away at his residence at Shivaji Park on
Monday, 21st May 2018
. He was 81 years old.
A man of reason,
Hemu Adhikari
, was among the last of his generation to provide Marathi theatre with an intellectual voice that was rooted in ideology as well as aesthetics. He was also among the few vocal voices in theatre that spoke up against the authoritarian and divisive nature of the present day government. He will be greatly missed.