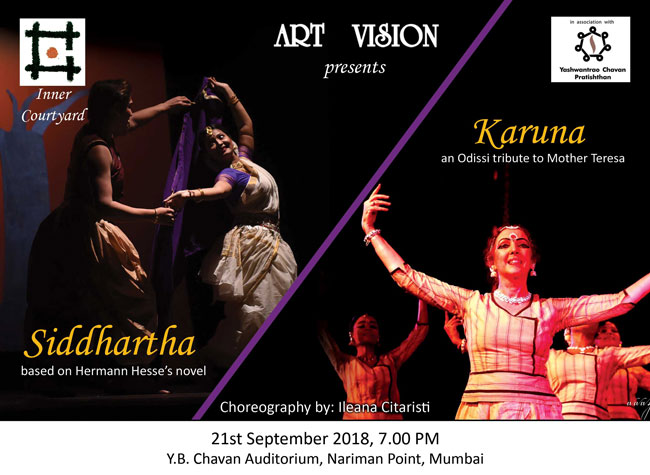 SIDDHARTHA
Hermann Hesse's 'Siddhartha', written in 1922, is a book which, in the early 70s, inspired a whole generation of young people on their spiritual journey in search of a deeper meaning of life. The protagonist, a young Brahmin, is in search of his self-realization and to reach this goal abandons the paternal home and takes to the life of a wanderer. But an ascetic life and shunning all temptations , does not give him a sense of fulfillment either. He experiences the highs and lows of the sensual pleasures, the lure of money and addiction to gambling, until, almost on the verge of desperation, he finally finds peace on the bank of a river, where an old boatman teaches him the meaning of life the way he has learnt it from observing and listening to the river. He directs Siddhartha to listen to the river and search within himself for an understanding of what the river says.
Script:
Devdas Chhotray
Music
: Annada Prasanna Pattnaik
Choreography
: Ileana Citaristi
Odissi Dancers
: Minati, Mohapatra, Anindita Parida, Mousumi Mohapatra, Upasana Mohanty, Dibya Supakar, Khashis Bharati, sagarika Mohanty, Saswat Joshi and Ileana Citaristi
Mallakhamb artists
: Surya Narayan nayak, Kharim Khan, Pratap Naik, Santosh Senapati, Gyana Mohanty
Light
: Lalatendu Panigrahi.
KARUNA
This is the story of a woman who, at a certain point of her life, leaves everything behind to follow a call towards the unknown, carrying with her only her unshakable faith and her love for the poorest of the poor, the dying people abandoned on the road, the children without parents and the hungry humanity. From one she became many, hundreds, thousands who wanted to follow in her holy path. She conquered even the priests of the Kali mandir who saw in her the reincarnation of the true 'mother'. She has been able to celebrate life in all creatures especially in those most neglected and less considered by society. The dance composition is an humble tribute to her. She is Mother Theresa.
Concept, choreography and costumes
: Ileana Citaristi
Music composition and vocal
: Laxmikanta Palit
Lyrics:
Devdas Chhottrai, Prafulla Kumar Mishra
Dancers:
Ileana, Citaristi, Saswat Joshi, Sagarika Mohanty, Anindita Parida, Minati Mohapatra, Upasana Mohanty, Dibya Supakar, Kashish Bharati.
The two shows have been organised by
Inner Courtyard
.
Show Date:
21st September 2018
Time
: 7 pm
Venue
: YB Chavan auditorium, Sachivalaya, Mumbai.
Passes will be available from 10th September 2018 at:YB Chavan
, Opp. Sachivalaya, Gen Bhosle Marg, Mumbai - 400 021.
Timings: Mon – Sat 11.00 am – 5.00 pm.
Somani Academy of Art, Music & Culture
, Shreeniwas House, Gr Fl, H. Somani Marg, Behind Bombay Gymkhana, Fort, Mumbai – 400 001
Timings: Mon – Fri 11.00 am – 6.00 pm.
Maharashtra Watch & Gramaphone Co
., Gr Fl, Kohinoor Cinema Bldg, Ranade Rd, Near Dadar Station (W), Mumbai – 400 028
Timings: Tues – Sun 9.30 am – 8.30 pm.
*Mumbai Theatre Guide takes no responsibility for change in schedule.