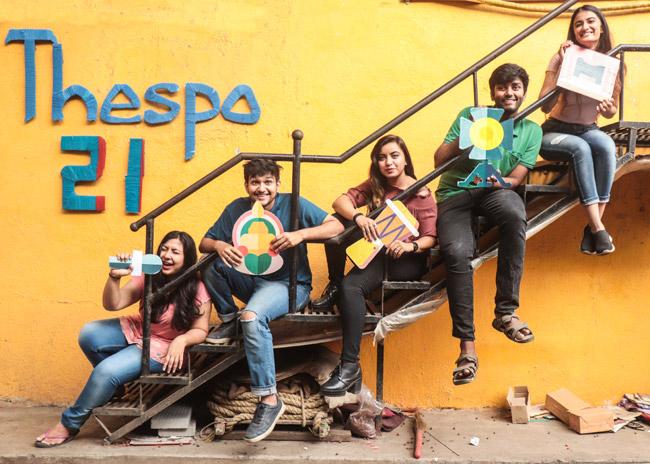 Thespo
, a youth theatre movement, will be celebrating its
21st edition
, at
Prithvi Theatre
from
16th
to
21st December 2019
.
This prominent youth theatre movement based out of Mumbai, started in 1999, as an evening's programme of theatre. Since then it has has evolved into a full-fledged, round-the-year movement. Today,
Thespo
focuses on training and mentoring young talent, giving them a platform to showcase their work, creating collaborations between national and international theatre-makers, all aimed towards building a global community of young theatre professionals. It is run by a team – organisers and participants under 25.
Over the last few months,
more than 200 young groups from 27 cities
, covering over
15 languages
have registered their performances and a screening panel consisting of two proficient theatre professionals has gone around to watch these plays, giving feedback and curating few for the festival.
The festival is filled with
full-length plays, platform performances, fringe performances
- one of which is in collaboration with Canadian theatre maker
Kathleen Duborg
- intermediate extensive workshops, and play readings. This year
Thespo 21 will feature a full-length play from Jabalpur for the first time ever!

As tradition calls,
Thespo
celebrates the stalwarts in theatre. To this end, they have instituted a
Lifetime Achievement Award
. Being an intricate web of nuances, Indian theatre constitutes a lot of luminaries that often escape our attention. One such unsung hero is
Farrokh Mehta
. With an extensive repertoire, he is an artist who passionately believes in the solidarity that theatre accords to its practitioners. Sharing this sentiment of camaraderie and in the hopes of faithfully continuing this legacy, Thespo presents this year's
Lifetime Achievement Award
to
Farrokh Mehta
.
Commenting on
Thespo21
,
Quasar Thakore Padamsee
, theatre director, and one of the founders of
Thespo
commented, "I don't know how they do it, but each year the newer generation keeps surprising us with their talent and drive. Honestly it makes me very jealous as a theatre-maker. This year's festival is a really proper tribute to the two decades that the movement has been going. How the team has managed to curate the line up and the incredible workshops is really impressive."
Nishika Mehta
(19), one of the Thespo Fellows said, "
Vikram Phukan
and
Alok Rajwade
scoured the country for over six weeks before finally deciding on the line up. They saw plays from over 15 cities & towns, and in more than ten languages. We've been very fortunate to have two such experienced and dedicated curators. And the four plays that have been short listed are varied in content, style, and form. It really promises to be a very exciting 21st year!"
The full-length plays that would be showcased are:
BAIN
(Mumbai – Hindustani, Urdu);
BAKSA
(Bengaluru – silent play);
SANE ANI COMPANY
(Pune – Marathi) and
AGNI AUR BARKHA
(Jabalpur - Hindi)
The awards night will be held on
21st December
at
Godrej Dance Theatre, NCPA
.
To view the schedule of the festival, please
click here.
*Mumbai Theatre Guide takes no responsibility for change in schedule.