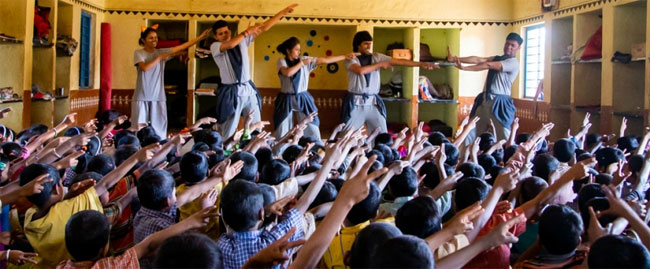 First generation learners – children whose parents were not educated – do not come from a reading and writing culture. They often come from castes and communities who were historically denied access to reading and writing. Such children tend to struggle with reading and writing in school, even more so as the language taught in school tends not to be the language spoken at home, leading to a high dropout rate in schools. How can this situation be addressed?
Goshtaranga is a unique theatre-based effort that seeks to inculcate a reading culture in first time learners. Run as part of the library programme of QUEST (Quality Education Support Trust), and headed by the wonderful actress Geetanjali Kulkarni, Goshtaranga adapts delightful children's stories into pieces of theatre and takes these to children across government and tribal schools in Maharashtra. Barely three years old, the project has already increased its reach to 22 districts of Maharashtra, and is bent on being a movement that transforms the experience of literacy and education for first-time learners in the state.
We are delighted to invite Geetanjali Kulkarni - day dreamer, theatrewali - to Mumbai Local to share with us the story and aspirations of Goshtaranga. Come hear how the effort started, how the theatre-loving culture of Maharashtra is being harnessed to scale up the impact of the programme, and how pedagogy meets theatre as actors, directors and educators work together to make children fall in love with books and reading.
We look forward to seeing you on Sunday. Please also share this email with at least 5 of your friends who may be interested in this session – anyone who believes that education has the power to transform lives. It will take two minutes of your time, but may make someone else's evening. And do remember, if you are unable to make it to the venue, we'd love to have you join us on live feed on our Facebook page.
*Mumbai Theatre Guide takes no responsibility for change in schedule.