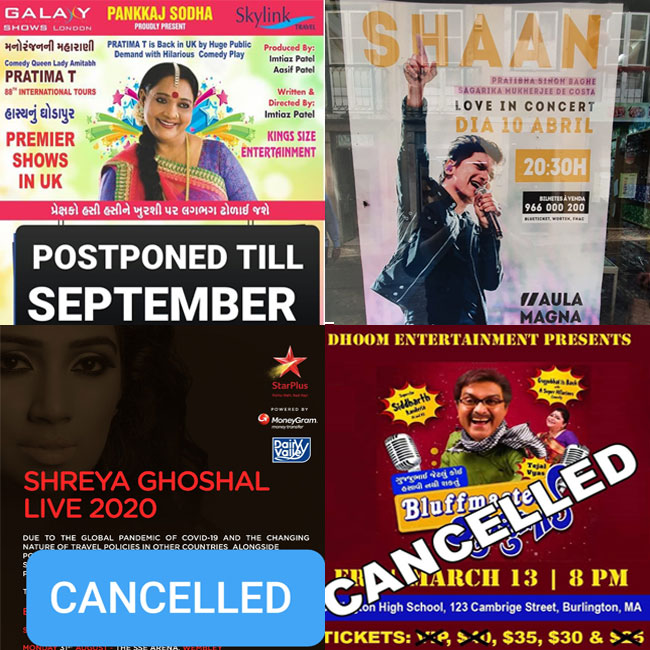 The Corona virus pandemic has had a devastating effect not only on the health and mortality of individuals and communities worldwide but also on the business of entertainment too. Johnson Thomas takes stock of the crisis across the world...
While the health and economic impacts of the worldwide COVID-19 epidemic are evident, the effects have also rippled into the cultural sector. Arts institutions and events across the world are adjusting schedules and operations to ensure the safety of spectators, employees, and performers. Much of the entertainment world has shut down. Broadway theatres, major museums and theme parks have closed their doors. Concerts have been called off. Indian artists Sajjda sisters who were to perform in Birmingham UK had to cancel, Bollywood Singer Shaan's solo show 'Love in Concert' in Spain also received the same treatment while the Gujarati theatre schedule ( several shows of hit plays) in the USA got entirely wiped out. Dhoom entertainment's Bluffmaster, with Siddhart Randeria, which was being performed mid-February onwards in a school auditorium in Burlington, MA, USA had to be cut short on March 13th and the 11 member cast and crew had to return to India in a rush. For Siddhart and team, this was a big hit financially and professionally. "The promoters have already suffered huge losses, artists will not get paid for the dates assigned for the shows that have been cancelled and the audience is bound to feel cheated even though I am planning to return back with my team and reschedule the shows once the virus pandemic has ended. Unfortunately, we have no idea how that future will unfold." The Indian Idol UK tour has been rescheduled for June 2020 while Shreya Ghosal Live 2020 at Wembley has also been rescheduled for August 2020. According to Sanjay Goradia, a successful Gujarati theatre producer who has in the past had many performances abroad and recently had to truncate schedules across Gujarat - of several hit theatre performances," Its better to be safe than sorry. I am glad to have done my bit for the interests of the nation. I will definitely take a hit financially but it is small when compared to the well-being of the nation." Festivals including South by Southwest in Austin, Texas, and the Tribeca Film Festival in New York have been cancelled or delayed. Most film, TV and theatre productions have been put on hiatus.
Concerns over coronavirus are having a deep impact on performing arts and cultural institutions across China, United States, South America, Europe, Canada, UAE, South-East Asia. The worldwide coronavirus epidemic has caused many domestic theatre chains to go to reduced seating and many international territories to either completely or partially close all theatres.
Hollywood also has postponed most of its upcoming releases Countries are shutting its borders(latest is Australia), non-residents are prevented from entering foreign shores and Flights to and from destinations considered to be Virus epicenters have been culled unilaterally...so foreign contingent led events are obviously going to take a heavy hit in such a scenario. While big screens are either being temporarily shut or running on empty even the theatre circuit has had devastating fallouts. Health officials urged people to stay home and minimize social interaction, especially in countries that have instituted bans on larger gatherings. While the desi scene is yet evolving considering that we are at stage 2 (officially) and community transmission is supposedly yet to take place, theatre circuits abroad are either rescheduling or cancelling shows and Indian theatre performances scheduled across the globe are also getting the short end of the stick. Los Angeles, New York City movie theaters were ordered to close while AMC Theaters ( largest chain in USA) decided to limit attendance to 50 people per showing.
After New York governor Andrew Cuomo's call to ban all gatherings of more than 500 people, all Broadway theaters and the Metropolitan Museum of Art, Carnegie Hall, the Metropolitan Opera and Lincoln Center announced that they are locking their doors.
In Paris, the Louvre closed for three days starting Sunday, March 1st, later, reopened on Thursday, March 5th. Employees were given gloves and masks and were kept away from the room where the Mona Lisa hangs, as it draws a considerable crowd. Paris' annual half-marathon planned for March 1st was canceled after the French government ordered the cancellation of all public events assembling 5,000 people or more.
In the United States, operations of major museums continue with more precautious health measures in place. The Metropolitan Opera in New York was shut for 2 weeks. In Austin, Texas, the annual South by Southwest music, arts, and technology festival got canceled after major companies including Apple, TikTok, Twitter, and Amazon withdrew their appearances. Clubs, theaters and concert halls are withdrawing permissions for performances. Performances by the Los Angeles Philharmonic and the Philadelphia Orchestra have also been cancelled.
Dublin, Ireland announced the cancelation of its annual Saint Patrick's Day parade, which usually draws large crowds.
In Japan, the Cherry Blossom Festival in Tokyo and the Azalea Festival in Okinawa have been canceled.
The K-Pop group BTS announced the cancellation of a series of four concerts in Seoul, South Korea.
Museums across Italy are closed. Public gatherings have also been banned, causing the annual Carnivale festival to come to an early finish. COVID-19 has already taken the heaviest toll across Europe, in Italy, with the death numbers rising every day.
According to Bhavik Shah, Founder Mumbai Theatre Guide, "The economic fallout of all these cancellations are immeasurable. For those travelling abroad to do shows the airline tickets might get refunded but entry visa fees, organizers' guarantee money etc. will be lost. Artists who work on contracts will obviously not be earning any income during the no-show period. There won't be any value for those free days because even in India, performances are likely to be cancelled." Cancellations and postponing of performances raise concerns about compensation for artists and questions on how to make up for the loss of ticket sales. While prevention is the yardstick used for such extreme measures it remains to be seen whether the industry will be able to bear with the economic fallout. A lot of people will be coming out of this crisis with deep holes in their pockets...if at all.