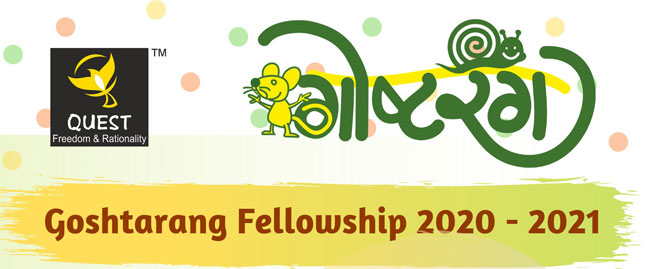 The Goshtarang Fellowship has been announced by the Quality Education Support Trust (QUEST), a group led by Geetanjali Kulkarni. The Fellowship is a residential, full time program of ten months. Young artistes interested in theatre are selected for this fellowship. The fellows are selected using a rigorous recruitment process conducted by renowned theatre artistes.
QUEST is a not-for-profit organization,was formed in 2007 as a constructive response to address the pedagogical issues related to deteriorating standards in the quality of education, especially in government and aided schools. Over the 12+ years of operations, QUEST's programs are spread across 27 districts in Maharashtra.
In rural and tribal areas, most children are first generation school-goers. In the interiors there is an absence of print rich environment. School going children do not have access to any books other than their school text books. Hence, the world of books is unknown to them. As a result, their command on literacy remains limited. This makes it difficult for them to complete their formal education meaningfully.
Engaging children with books other than textbooks aids to increase the effectiveness of language and literacy programs. Library activities have proven to be a great support for inculcating the reading habit in children in the absence of any motivation from their home environments. In rural and tribal areas, extra efforts are required to bring about this change.
Goshtarang is an initiative which attempts to bring children's literature into the day to day learning experience of the children. With the help of performing arts and theatre, this initiative creates a special and unique experience for children which in turn helps to enhance their basic literacy. The Goshtarang initiative is a part of QUEST's 'reading and writing enhancement program' which focuses on the reading and writing skills of children from different age groups. This is achieved by effectively using a blend of age appropriate children's literature and different genre of performing arts.
As the entire program is designed based on research in language and literacy pedagogy.The activities under this program create opportunities for children to experience the world of books in a unique way. Blending theatre with planned library activities creates an enriched learning experience for the children.
The Goshtarang Fellowship provides a great opportunity to the participants to work in the field of children's theatre and literature and gain an exceptional experience as an actor. During the fellowship, fellows work in rural and tribal areas. This helps them to gain a perspective on working with minimal available resources while creating an enriching theatre experience for children.
The last date for applying for the Fellowship is March 30, 2020.
Click here to Apply :
https://tinyurl.com/Goshtarang-admissions2020
*Mumbai Theatre Guide takes no responsibility for change in schedule.