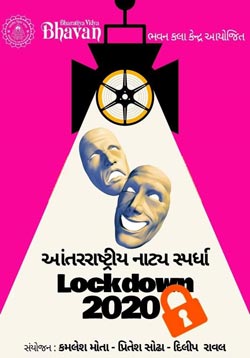 DIGITAL INTERNATIONAL GUJARATI NATYA SPARDHA🎬
In keeping with the lockdown imposed due to COVID19, the Gujarati Theatre Competion goes digital this year. Read on for details:
*Rules*
🔊. You will have to observe Lockdown rules as prescribed by the Government of India. The location of the rehearsal /performance has to be your home or the terrace, or may be balcony and fellow actors in case of duologue or a skit needs to be your family members or roommates. 📍One participant can perform in one catagory only.
🔊. Catagories of performance: MONOLOGUE, DUOLOGUE or SKIT
based on the writings of the bellow mentioned writers.
Ajay Oza
Bhagvatikumar Sharma
Bindu Bhatt
Chandrakant Baxi
Chunilal Madia
C. C. Mehta
Darshak
Dhruv Bhatt
Dhumketu
Himanshi Shelat
Ishwar Petlikar
Jayant Khatri
Joseph Mcwan
Ketan Munshi
K. M. Munshi
Kundanika Kapadia
Pannalal Patel
Ramanlal Vasantlal Desai
Ramnarayan- V Pathak
Sarang Barot
Sundaram
Suresh Joshi
Umashankar Joshi
Varsha Adalja
Vithal Pandya
Zaverchand Meghani
🔊. Performance : 7 Mins to 15 Mins
🔊. NO EDITED VIDEOS. It has to be a single shot performance. Background music can be added (however no additional points will be given for it)
🔊. Videos could be recorded from either a digital camera📷 or a mobile camera📱. (No additional points will be given for video quality)
📍. Final videos should be sent to
bhavanskalakendra@gmail.com
by 31st May 2020 I 7.30pm
Along with video You will have to Mention in mail:
Artist name:
Characters name:
Name of writer & book:
Mention chapter or page no.
Your residential address:
Contact numbers:
7. Ratings will be based on Grammar, Voice, Tonation, Script and Overall Presentation. (There is no rating for costume, Make-up, props, set or lights)
Query 🎭
Pritesh Sodha : 98202 29970
( For Literature 📚📜 )
Viral Rachh : 70165 26796
Dilip Rawal : 98205 40690
For further details keep watching bellow mentioned link
https://www.facebook.com/bhavanskalakendra/