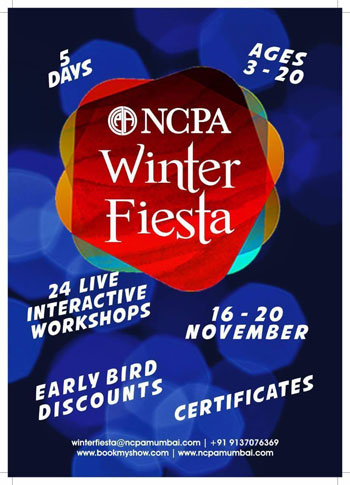 The lockdown has compelled every cultural centre to go online. The National Centre For The Performing Arts (NCPA) has lined up a series of workshops for children, over the Diwali vacation.
Scheduled to be held from 16th - 20th November, the five-day festival will offer a variety of workshops for kids across the age group of three to 20 years.
Click here for the Winter Fiesta Schedule
Commenting on Winter Fiesta, Bruce Guthrie, Head of Theatre and Films, said, "Going virtual is the need of the hour. Today everyone is consuming information and entertainment virtually and kids are no exception to this. It has been NCPA's constant endeavor to curate world class arts and culture experiences for the younger generation and hence, we decided to introduce Winter Fiesta in a virtual format given the current situation. The five-day long festival will act as a catalyst in providing both, the kids and youth, a unique and vibrant opportunity to learn, play, and be active while staying at home"
*Mumbai Theatre Guide takes no responsibility for change in schedule.