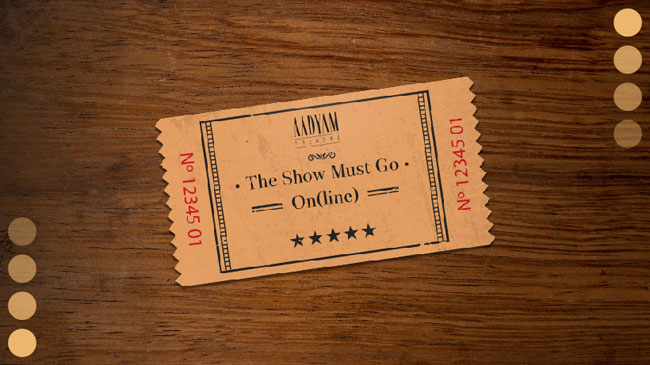 The theatre initiative by the Aditya Birla Group, started in 2015, under which a series of new plays are produced each year, has also been compelled, by the pandemic, to change its format and take a selection of its past production online, by introducing Aadyam: The Digital Edition.
According to a note by Aadyam, they are also launching their new community platform Theatre Ink by Aadyam which will feature all things theatre. "When faced with challenges, our core strength in hardship is to adapt. Theatre is one such persistent art form that is always ready to adapt and bounce back with dramatic re-entries.
"As the coveted art form cried SOS, the theatre community in the not so recent past has pledged to Save Our Stage by taking the Stage to Screen. While the pandemic renders the live arts futile, we encourage fellow thespians to stand tall and come forth to share the spotlight. For we believe it's time that Theatre swipes right."
"This is a tough time for theatre...very tough," says Shernaz Patel, returning Artistic Director of Aadyam. "We excel in the live, we thrive on the immediate and tactile communion between us and the audience. This love, passion, need...call it what you will...brings us back to the stage year after year, even as sceptics debate if theatre is dying. Theatre has survived centuries. With every catastrophe, we have found ways to reinvent ourselves. Death has never been an option for us. So, in 2020 if we have to perform in 920 x 1080 pixels, we will. We accept the challenge. Because this is what we do. We will find a way to share stories, to entertain and inspire. For me personally, as Artistic Director, it is incredibly heartening and reassuring to know that even in these difficult times Aadyam continues to thrive...that the Aditya Birla Group continues to believe in the theatre and stands behind us with all their might. That is reason enough to celebrate. So even though we are narrowing the expanse of the stage to your TV screens, we promise to entertain you in style - the Aadyam way - professionally, with great production values and meticulous attention to every detail."
Starting October, three plays from Aadyam's repertoire built over the last five seasons will be streaming via Insider.in--BANDISH 20-20,000 HZ'
(Hindi),
I DON'T LIKE IT, AS YOU LIKE IT'
(English)
and
THE HOUND OF THE BASKERVILLES
' (English)
starting October.
"Delivering an authentic theatre experience is Aadyam's virtual audience room," promises the team. "In case you arrive early, there will be exciting pre-show activities waiting. During the performance, the audience can enjoy an engaging experience through live polling and mini quizzes which they can participate in. The backstage isn't a concept of the past either, as Aadyam curates virtual meet-and-greets with the artists for Aadyam Spotlight members.
"Starting 8th September, Aadyam will launch an exciting, entertaining and enriching community platform for theatre lovers-Theatre Ink--featuring original content written and presented by theatre practitioners and reputed writers from across the country, Theatre Ink will serve as a hub for all things theatre. To be presented in a blogging format and edited by Shernaz Patel, it will feature interviews, insights, articles, advice, tips, news, behind the scenes snippets and much more, catering to both the industry and the audience."