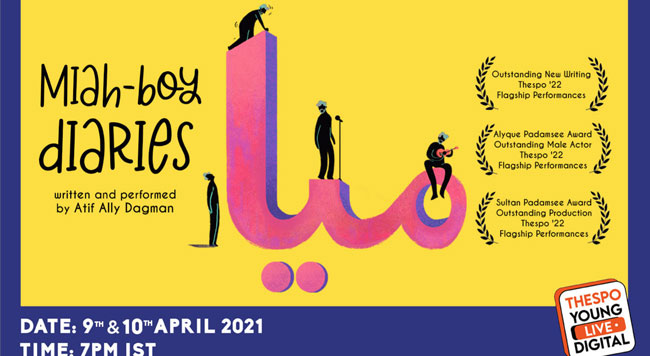 Thespo is launching a digital initiative called
Thespo: Young Live Digital!,
which will be a curated programme of innovative digital performances by young artistes every second Friday and Saturday of the month, April 2021 onwards.
The first edition of TYLD is taking place on
9th & 10th April 2021
with MIAH-BOY DIARIES, a one-man musical about youth and identity from Kolkata that premiered at the Thespo 22 Festival in December 2020.
According to a note, "
Thespo: Young Live Digital!
encourages and trains emerging theatre-makers and groups to showcase their work digitally, and explore the potential of the digital medium for storytelling. Thespo will curate a theatre production by artistes under 25 to be performed live and digitally. MIAH-BOY DIARIES is a musical from Kolkata-based theatre-maker Atif Ally Dagman, that won three awards-- Sultan Padamsee Award for Outstanding Production, Alyque Padamsee Award for Outstanding Actor (Male) and Outstanding New Writing."
The show is about a young man who starts keeping a diary to cope with the isolation of the pandemic. He writes about losing his job, making music and exploring stand-up comedy. Interspersed with anecdotes from his late grandfather's dusty notebooks, he takes us on an introspective journey of his world, to find what it means to him to be a Muslim in today's day and age.
WHEN: 9 & 10 April 2021 at 7PM IST

WHERE: Digitally, via Insider.in

Click here For more information

*Mumbai Theatre Guide takes no responsibility for change in schedule.