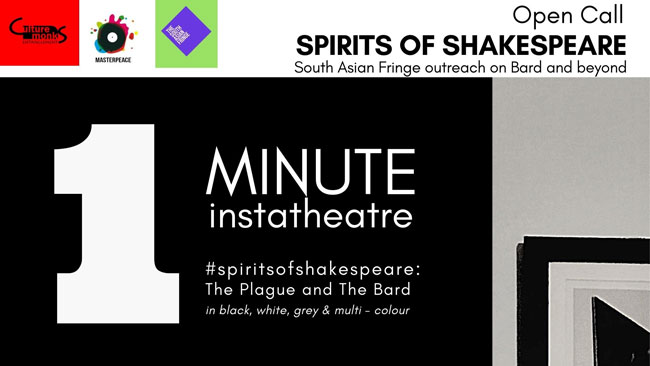 Kolkata-based Culture Monks in collaboration with MasterPeace Global has announced an initiative called Spirits of Shakespeare, as an outreach for the South Asian Fringe: : Bard & Beyond, which will be held from April 23 – June 23, 2021.
A note from them calls for videos of two-minutes' duration. "Videos could be of performances – theatrical, movement (non–verbal), dance, storytelling, performance art, video art, poetry reading, music and spoken words as well as visual arts and animation. The call is dedicated to Shakespeare and with focus on his creations during and on the plague, exploring aspects of power, gender, desire and sexuality."
"Although, the Bard is the anchor, we are also open to intertextuality. Hence other past artistic works which references or have relations to epidemics, may also be contexts of the performance/s."
"Videos will be accepted till June 23, 2021, and the selected works will be posted on instagram handles, websites and other social media platforms of our network partners."
For details and technical requirements, check:
culturemonks.in