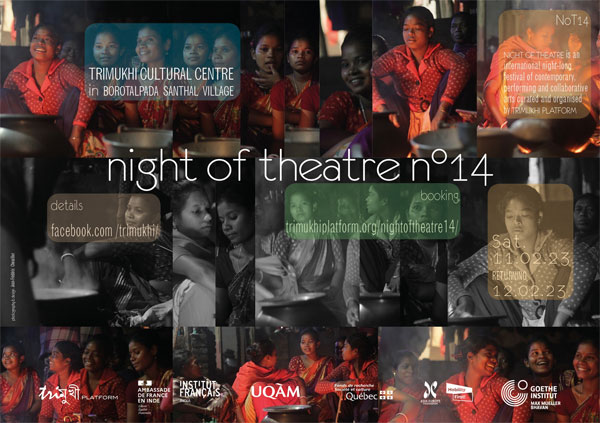 The NIGHT OF THEATRE n°14, an international night-long festival of contemporary, performing and collaborative arts curated by Trimukhi Platform will be staged at Trimukhi Cultural Centre in Borotalpada Santhal village, West Medinipur on Saturday, February 11, 2023.
NIGHT OF THEATRE Teaser Video:
Held in partnership with the French Embassy and the French Institute in India, the Goethe-Institute / Max Mueller Bhavan Kolkata and the University of Québec in Montréal, the 2023 programme involves around 50 Santhal performers from Borotalpada village with a solo dance and a trio directed by French-Senegalese Amala Dianor, an open air exhibition designed by Bengali Sumantra Mukherjee, a dance-theatre performance, an happening in memory of Jean-Luc Godard and a video art installation directed by French Jean-Frederic Chevallier and Bengali Sukla Bar Chevallier, a sound art piece in memory of Samantak Das designed by Canadian Andre Rric Letourneau and introduced by Bengali Nikhilesh Bhattacharya, a series of Santhal dances selected by Falguni Hansda and Molina Soren, a midnight dinner, a multicultural dance party and a philosophical conversation with the artists about theatre and community moderated by Ashoka University Performing Arts director Justin McCarthy and Rouen University professor Mariana Camargo.
NIGHT OF THEATRE n°14 is supported by the French Embassy in India and Institut Français, the Goethe-Institut / Max Mueller Bhavan Kolkata, the University of Québec in Montreal (UQAM), the Fonds de Recherche du Québec. Two of the artworks to be showcased during the festival are co-produced by Danse élargie 2020 (Théâtre de la Ville, Paris) and the Asia-Europe Foundation (ASEF).