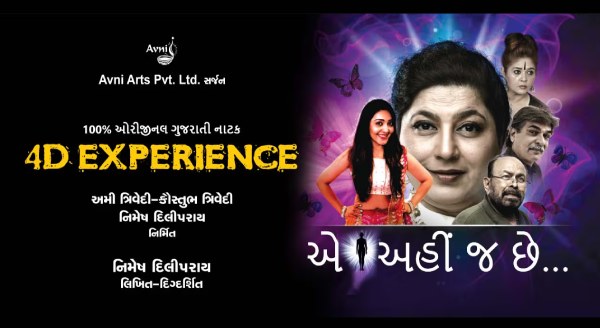 Amee Trivedi's new Thriller AE AHI J CHE, written and directed by Nimesh Diliprai, will be the first 4D experience for Gujarati Theatre audiences.
Amee Trivedi, an actor-producer who is enthralled by the 4D notion, proclaims, " I want the audience to see this 4D performance live. We are striving to offer the Gujarati theatrical audience a novel experience." Continuing the conversation, "Rajul Diwan and I are working together on a project again after a very long break," and she adds, "Nimesh is a terrific director, particularly in terms of conviction and vision. Regardless of whether the audience accepts the concept, our fundamental goal is to introduce new ideas to the public. I think the pandemic drove audiences away from the theatre, and it is the production house's duty to entice them back. Theatre groups are working extremely hard to win back the audience at the theatres."
"The show is Gujarati theatre's first 4D experience. The usage of 4D was essential to the plot of AE AHI J CHE since it is a supernatural thriller," according to director Nimesh Diliprai. "It took us some time to figure out how to make 4D work. To give the audience a chance to experience 4D, we are adding extra aspects."
The play embodies the quest of the mother Shailja to find out about the death of her daughter Juhi who is a perfumer and has invented an anti-depressant perfume. Shailja is an overprotective single mother, estranged from her husband Mukund Acharya, who is accused of killing his daughter Juhi. Shailja strongly believes in the soul being eternal and the fact that Juhi is very much around her and is constantly trying to communicate and tell her something.
Produced by Amee Trivedi, Kaustub Trivedi, and Nimesh Diliprai AE AHI J CHE premieres this Sunday, 30th April 2023 at Tejpal Auditorium, Mumbai.
*Mumbai Theatre Guide takes no responsibility for change in schedule.