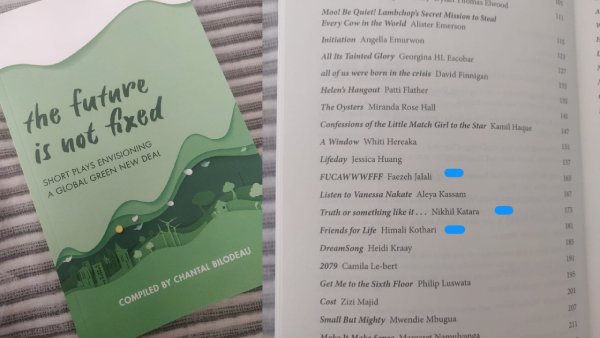 Founded in 2015, Climate Change Theatre Action aka Arts and Climate is a worldwide series of readings and performances of short climate change plays presented biennially to coincide with the United Nations COP meetings.. The plays are then made available for free to theatre groups, schools, universities across the world to choose and perform to their audience.
CCTA uses theatre to bring communities together and encourage them to take local and global action on climate. By providing tools (a series of plays) free of charge, some guidance on how to produce events, marketing support, and a model that encourages leadership and self-determination, they make it easy for everyone to engage with an art form they may not be familiar with, and empower them to harness their creative potential and put it in service of the greater good.
Every other year, 50 professional playwrights, representing all inhabited continents as well as several cultures and Indigenous nations, are commissioned to write five-minute plays about an aspect of the climate crisis based on a prompt.
Few of India's playwright and theatre group have contributed.
2019
- Mumbai-based READING IN A SHED participated as a theatre group.
2021
- Nikhil Katara, Faezeh Jalali and Himali Kothari were commissioned by them as playwrights. Himali Kothari's play was performed by the Performing Arts University students of Graz and in June 2022 included in the Playwright Festival in Graz.
2023
- Chantal Bilodeau, head of the organisation again asked Katara and Kothari if we would contribute plays again. She asked Kothari to recommend one more Indian playwright. Based on her enormous amount of work for Project 87 (a repository of contemporary theatre in Indian English language playwriting), Kothari recommended Manjima Chatterjee from Gurgaon.
These sets of plays will be made available to theatre groups later this year and will later be published in another anthology.
(With inputs from Ramu Ramanathan)
*Mumbai Theatre Guide takes no responsibility for change in schedule.