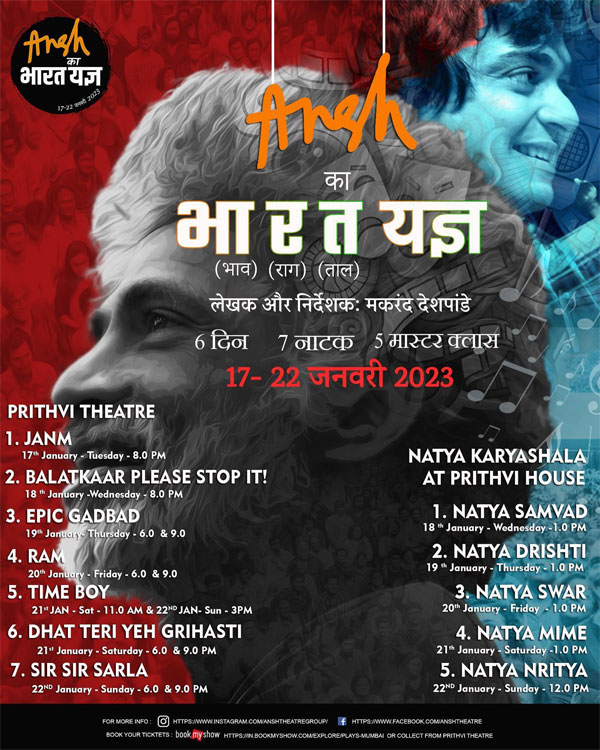 Makrand Deshpande's Ansh Theatre Group is back with their yearly festival at the Prithvi Theatre. For their thirtieth-year celebration, they have a theme to fuse Bhav, Raag, and Taal - what they believe is integral to the craft of theatre. The six day festival, from Januaru 17-22, will kick start with JANM, a collaborative performance between Sitar Maestro Niladri Kumar and Makrand Deshpande.
Know More About Ansh ka Bharat Yagya Festival
According to their note, "The festival aims to cater to a younger and young-at-heart audience with their various productions. Apart from the performances in the theatre, the festival will also open up conversations between Deshpande with guest speakers like Chandrapraksh Dwivedi, Sheetal Talpade Amogh Phadke, Kedar Bhagat, Tejas Malap and others at Prithvi House. This series of conversations is named Natya Karyashala and will have conversations about sets and lights, music, mime, and taal in classical dance.
The schedule includes BALATKAAR, PLEASE STOP IT!, EPIC GADBAD, RAM, DHAT TERI YEH GRIHASTI, SIR SIR SARLA and TIME BOY (Children's Play).
*Mumbai Theatre Guide takes no responsibility for change in schedule.