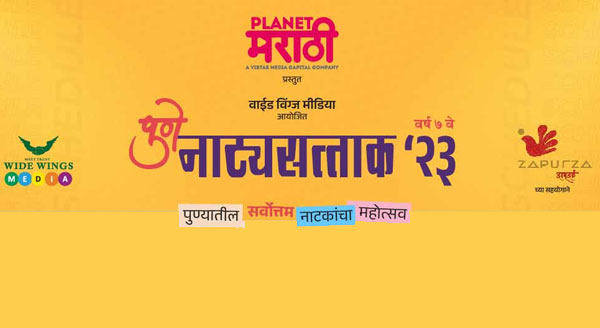 The Pune Natyasattak Festival 2023 will be held from January 13-22. Presented by Planet Marathi and organized by Wide Wings Media, this festival includes drama, music, reading and other cultural activities.
click here for PUNE NATYASATTAK 2023 Schedule.
A spokesperson for the Festival says, "Pune has a big festival related to theatre where commercial plays happen in Pune and Mumbai, but apart from that there are lot of experimental groups which keep on doing various kinds of shows. Six to Seven years back we decided to have the concept of taking all theatre groups in one platform. What happens is that, there are competitions is going on, various theatre groups keep on doing plays. So, many audience miss the plays due to timing and scheduling. So, we decided to have best of plays (which has happened in the last 1.5 years) in the festival so that even audience (right from kid till aged) can witness the play on one platform. We have also taken some plays from Mumbai from last 2-3 years which we have incorporated in this festival."
He further adds, "Due to Covid last year, we couldn't have the festival, so we have selected some plays which has happened in the last 2 years across Pune which will be performed on 13th - 15th and 20th - 22nd Jan 2023. The other advantage is that we have kept the venue according to the plays on their basic requirements. So, the festival is happening at 5 venues which happens every year in that way that too only on weekend. So, that will be easier for audience to witness the plays and enjoy the weekend."