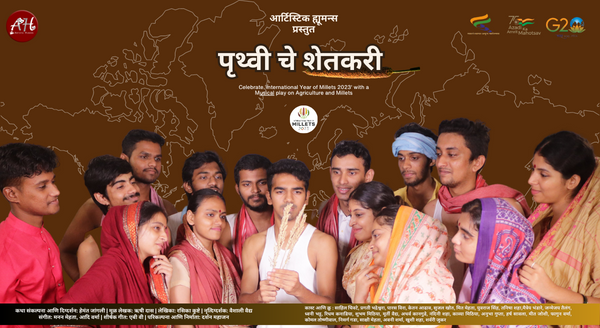 Plays are a medium of entertainment is something we all know, but the horizon of theatre is not bound by mere entertainment. Plays also have multiple vital roles, some are for creating awareness about some subject, some have the intention to educate the masses, while some others are made to support different causes and so on. And one such play is PRITHVI CHE SHETKARI, in Marathi, which is first of its kind, which is made with the sole intention to aid our honourable Prime Minister's (Narendra Modi's) new vision and mission about positioning India as a global hub for millets.
Darshan Mahajan, whose organisation Artistic Humans has produced the play, elaborates about the purpose behind it and why it is called first of its kind, "For centuries millets were the staples of India, in fact India has been the largest producer of millets. Moreover millets are known for high nutritional value, they are soil friendly, farmer friendly, pocket friendly and essentially strengthen immunity. So in order to create domestic and global demand and to provide nutritional food to the people, the Government of India in 2021 had proposed to United Nations for declaring year 2023 as the International Year of Millets. The proposal of India was supported by 72 countries. The Prime Minister had a vision to make millets a people's movement. So there are a lot of government projects with regards to promotion of millets because India was the proposer of this idea. There is a document from the central government that every state government should take respective measures to promote millets. Now in spite of these exercises the purpose is not reaching on ground and many don't even know what millets are."
He further adds, "So Artistic Humans is the first organisation which has produced a play like PRITHVI CHE SHETKARI, which promotes the idea of millets in a very unique way. It is a first-of-its-kind because we are the first organisation to make a play on such a subject and we want to create an opportunity to do something for our farmers, for our agriculture, for our motherland and what can be better than Theatre to do this."
Darshan believes that Theatre will create awareness about the subject. He affirms, "Theatre as a medium will create awareness by leaps and bounds and reach out to different corners of the world. When you will watch it you will understand that this play is not just informative because when you use the medium of theatre you also have to create a memorable experience and PRITHVI CHE SHETKARI will certainly leave a mark. The audience would get a very different experience. Moreover, we have strategically priced the tickets which will be affordable for one and all."
PRITHVI CHE SHETKARI is narrated by a Kirtankaar, who sings about about mother nature and soil, through a metaphorical format where 20+ artists take the audience to a musical ride of information, emotions, conflict, and a journey reflecting on every individuals role as Farmers on the Earth!
A story of hope, change and trust, travelling through the lives of Indian farmers. A grand celebration that pays homage to the very essence of our existence. The remarkable symphony between agriculture, soil, land harvesting.
Originally written by Rishi Das, the play is written by Rasika Kushte. Produced by Darshan Mahajan's Artistic Humans Organisation, PRITHVI CHE SHETKARI is directed and conceptualised by Hemant Jangli.
*Mumbai Theatre Guide takes no responsibility for change in schedule.