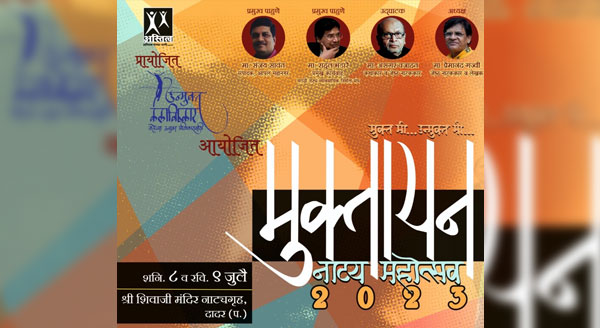 'Muktayan' Natya Mahotsav - organized by Unmukta Kalaviskar and Astitva Sanstha will held on the 8th and 9th July at the auspicious Shivaji Mandir, Dadar. The 2- day theatre festival which is organized by the writer-director of the organization, Advocate Shilpa Sawant (Urmi) and her entire team is a festival for all the theatre lovers and gives them a chance to binge watch 7 different concepts within the span of 2 days.
Right from touching down concepts like, the hazardous and difficult lives of the manhole workers in their cult classic play 'ANDHE JAHAAN KE ANDHE RAASTEIN' and a woman who fights against the male ego and the patriarchal mindset of a toxic dominating husband in POSTMORTEM, Natya Mahotsav' has selection of different concepts.
The writer and director, Urmi, has been single handedly directing, writing and brainstorming with all the actors and is one of the first female directors to bring something of this sort on stage.
Schedule Plays for 8th July 2023:
10:00 AM - BARBIE DOLL
03:30 PM - CHANDNI RATRA AANI KAGDI PHOOL
06:30 PM - DESTINATION WEDDING
Schedule Plays for 9th July 2023:
10:30 AM - POSTMORTEM
03:00 PM - BULLDOZER
05:00 PM - KALOKHACHYA KALYA CHATA
07:30 PM - ANDHE JAHAN KE ANDHE RAASTEIN
*Mumbai Theatre Guide takes no responsibility for change in schedule.