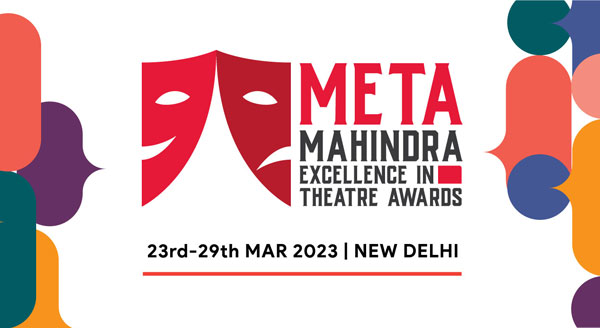 The Mahindra Excellence in Theatre Awards (META) have announced 10 nominations for their 18th edition, which is scheduled for March 23, 2023, in New Delhi. Instituted by Mahindra Theatre Group, these nominated plays will be staged during the festival, followed by the Red Carpet Awards Night on March 29 at Kamani Auditorium in New Delhi.
The nominated plays are: BURN OUT (Assamese), CHAAI GARAM (Assamese /Baganiya /Gibberish), DAKLAKATHA DEVIKAVYA (Kannada), HUNKARO (Marwadi /Hindi /Awadhi /Haryanvi), LAVANI KE RANG (Hindi/Marathi), NAMAK (Hindi), NOTION(S): IN BETWEEN YOU & ME (English), NOORAMMA: BIRIYANI DURBAR (Tamil), THE DEPARTED DAWN (Non-Verbal) and VIA SAVARGAON KHURD (Marathi).
These 10 nominated plays have been selected in 13 categories, including best original script, best stage design, best lighting design, best innovative sound design, and best costume design.
Check out the full schedule:
About META:
Over the years, META has given voice to diverse themes ranging from contemporary and pressing social issues, mythology, religion, gender, caste, politics, and classics, through the plays it has showcased.
META aims to increase awareness and appreciation of Indian theatre and is the only national arena for recognizing and rewarding the country's best productions and theatre-practitioners. Out of over 400 plays received every year, 10 are nominated to be staged over a week in Delhi and vie for the coveted awards. The Awards Night is the most awaited across theatre communities in the country, when awards in 13 categories and a Lifetime Achievement Award, are given out.
*Mumbai Theatre Guide takes no responsibility for change in schedule.